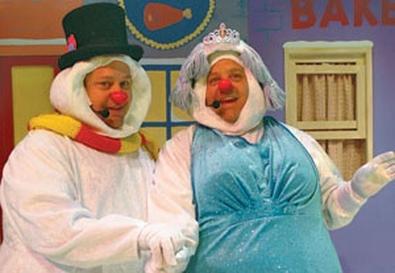 For a fanilow—credit director Matt Walker for the designation—of Barry Manilow, this show provides a pleasant sojourn to Troubadour Theater Company Land for the holidays. The vibe is mild spoofery matching Manilow's soft pop-music style. Based loosely on the familiar "Frosty the Snowman" television show, this creation boasts two Frostys (twin brothers Paul C. and Peter Allen Vogt), humorously alternating as they exit and enter with split-second timing. Peter also shows up as Crystal, Frosty's love interest. Frosty's nemesis, the evil magician Professor Hinkle (Walker), is there along with his adorably humping bunny, Hocus (Lorin Shapiro). Karen (Christine Lakin), the little girl who helps Frosty along the way; Jack Frost/Station Master (Rick Batalla); and narrator/Santa Claus (Jack McGee) also drive the story of the snowman who needs to find a cold place to survive. Popping in from "Santa Claus Is Coming to Town" is the Winter Warlock, played by an engaging Beth Kennedy, whose droll delivery and stilts-craft provides extra laughs.
Choreographers Nadine Ellis and Ameenah Kaplan create some of the best moments of the show as the company dances to some of Manilow's jingles and reworded hit songs. The Popsicles (Molly Alvaraz, Leah Sprecher, Lisa Valenzuela, Jill Morrison, and Shapiro) and their dancing partners (Joseph Keane, Jimmy Lambert, Andy Lopez) are remarkably lithe and graceful.
Costumes by Sharon McGunigle add color and sparkle to the production, nicely lighted by Christian Epps. Sherry Santillano's multilevel village set offers opportunities for cast members to appear in open windows above the stage. The heart-stopping acrobatics on the Troubadours' trampoline are always a showstopper, and Walker and his youthful cast don't disappoint.
Presented by the Troubadour Theater Company with and at the Falcon Theatre, 4252 Riverside Drive, Burbank. Dec. 11–Jan. 17, 2010. Wed.–Fri., 8 p.m.; Sat., 4 and 8 p.m.; Sun., 4 and 7 p.m. (Dark Dec. 24, 25, and 31 and Jan. 1.) (818) 955-8101. www.falcontheatre.com.