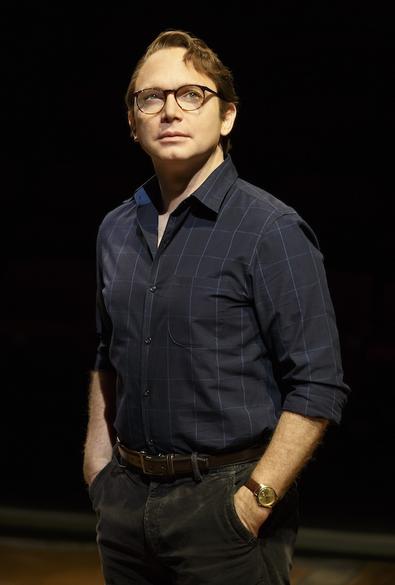 Performing on New York stages since 1984, Tony winner Michael Cerveris ("Assassins," "Sweeney Todd") is constantly looking for ways to challenge himself and improve upon his craft. Luckily, there are countless ways to do so in "Fun Home," Lisa Kron and Jeanine Tesori's musical adaptation of Alison Bechdel's graphic novel.
Bechdel's memoir recounts her childhood and youth in Beach Creek, Penn., focusing on her complex relationship with her father Bruce—a small town high school English teacher and funeral home owner with an affection for restoring his family's Victorian home, as well as young men. As a lesbian herself, Bechdel's novel explores sexual identity, familial dysfunction, and her father's untimely suicide.
With Cerveris as the patriarch Bruce, Alison's character is divided into three: Small Alison (Sydney Lucas), Medium Alison (Emily Skeggs), and Alison the narrator (Beth Malone).
From its wildly successful run at the Public Theater beginning in 2013 to its current Broadway run at Circle in the Square Theatre, "Fun Home" opened on April 19. Cerveris opens up to Backstage about keeping the show fresh, his preparation for the role, and his advice for aspiring theater actors.
On his knowledge of "Fun Home" prior to accepting the role.
"I somehow had missed the graphic novel," Cerveris admits. "I kind of came to it completely as a blank slate. Actually, I've played a fair number of historical figures and real people before, and I've always kind of prided myself on doing really extensive research, but with this I didn't really do so much of that because Bruce wasn't really so much of a hugely written about historical figure.
"The one great source material that I had was Alison's account of their life," he adds, noting that he began to read the novel in preparation for the role, but quickly decided against it.
"I stopped kind of early on because I sort of felt like this was Alison's memory and version of the story, and I'm sure it's detailed and accurate, but I was gonna have to sort of place Bruce's version of his own life. So I kind of wanted to figure that out first before I took on all of Alison's account."
But what he ended up with, according to many people from Beach Creek who've seen the show, is a "version of Bruce that Alison and her brothers recognize," Cerveris says.
"People who knew him have told me [my portrayal] is very accurate to the actual Bruce, which I find kind of weird cause I've never seen a video of him, don't know his mannerisms or anything," he adds. "I think Alison captures him so much in the book that I ended up in that place anyway."
On visiting the real-life "Fun Home."
Before Broadway rehearsals began, Cerveris jumped at the opportunity to stay at the Bechdel family home, which has been converted to a bed and breakfast.
"Alison and [her brother] Christian met us there and they showed us around the house. The wallpaper that Bruce put up is still there; the furniture's all different, but the fixtures and a lot of the details that he slaved over are still there."
The actor says he and a few cast mates "were just running around with copies of the book just comparing the drawings to the actual things.
"I stayed in Bruce and Helen's bedroom and got up and took a shower in Bruce's shower, so I now have a really tangible association with the physical world that this all takes place in," Cerveris adds, allowing himself to be fully immersed in the character and the role despite his initial lack of knowledge.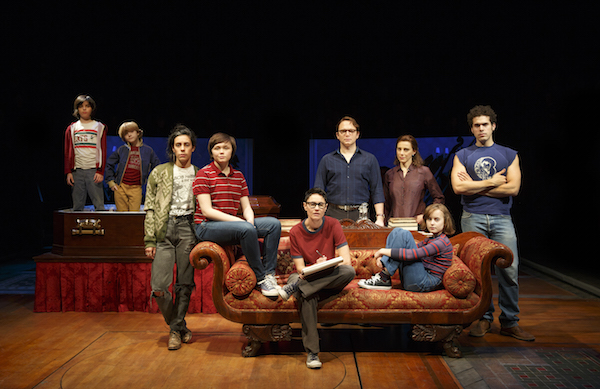 The cast of "Fun Home." Photo: Joan Marcus.
On adapting the show for Broadway.
Because "Fun Home" went from the Public to the distinctly in-the-round Circle in the Square Theatre, Cerveris, the cast, and the creative team saw the opportunity to do something new.
"You're always worried about, when you're trying to remount something that you've done very successfully someplace else, you kind of are afraid that you're gonna spend the whole time trying to capture lightning in a bottle again. We didn't have any of that feeling because we weren't redoing what we did before anyway; we were creating something new specifically for this space," he says.
"And then to move uptown and go into all that commercial Broadway means but to actually get smaller and more intimate [theater-wise] than your actual downtown production is pretty unheard of and so perfect for us. We're just surrounded by the audience now, and from what people tell me, it's an even more visceral and immediate and compelling experience for them, and that's really exciting for us."
On what "Fun Home" means to him.
With over 1400 performances of "The Who's Tommy," along with nine other Broadway productions and countless other roles, Cerveris's career has been speckled with shows he loved "so passionately and was so proud of that were extraordinary and were in some cases really groundbreaking."
So after 30 years on stage, when something speaks to him as distinctly as "Fun Home" has, you know it's something special.
"I think it feels like something very personal to me, that I'm very invested in beyond simply as an artist and a performer, but just as a human being," he says.
"Someone on Twitter said that it's really only for people who have either been a father or a daughter or a mother or a son. So pretty much anyone who's ever been in a family can connect with the show on some level. I just feel like we have this really beautiful gift of a chance to get to tell this story right now...and beyond the acting challenge that it is—because it's a huge acting challenge—and emotionally it's just kind of overwhelming for all of us sometimes, and certainly for myself.
"But I've just never had the kind of reactions in the lobby.... I feel like people are receiving it the same way we feel it—that it's more than just entertainment and it's more than just a play; that it's actually speaking to people's lives in a way that you hope theater does and that you want it to, but that it often doesn't," he says. "And here's one of those chances where we really get to and you can't put a price on that kind of thing."
On his advice for aspiring theater actors.
"One of the things that I love about working at Circle in the Square is that there's a theater school there going on while we're doing our matinees, and we walk through the lobby on our way to work in the afternoon sometimes and have to kind of weave our way through sword fighting class, mirror exercises, and stuff, and it just kind of keeps you grounded," Cerveris says.
"It takes me back to where I was when I first got to New York. I just finished being a student, the paint wasn't dry yet, and I of course learned eventually that you never stop being a student. I guess that's part of my advice: I think you have to approach your career like that always. There's always an experience to learn from. Sometimes it's to learn what not to do and sometimes it's to learn what to do, but I think that kind of approach leads to a long and healthy and satisfying career."
Inspired by this post? Check out our theater audition listings!