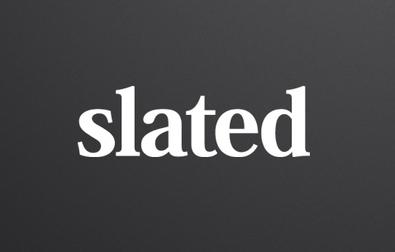 "While it's never been a piece of cake for indie filmmakers to raise financing, it's much harder now than ever," actor and former SAG national board member William Mapother ("Lost," "Another Earth") writes on his website. "But finding investors shouldn't be so difficult and random. Given the right opportunity, many investors would love to invest in films. Unfortunately, these investors usually don't know any filmmakers. So, lacking connections and/or choices, most of them never get that opportunity."

A new site called Slated.com, of which Mapother is a co-founder and board member, aims to remedy that by creating an online marketplace connecting independent filmmakers with a trusted network of companies and investors who can finance their films.

When Slated CEO Duncan Cork and chairman Stephen Paternot launched the site during the Sundance Film Festival in January, with initial backing from angel investors in the entertainment and finance sectors, it had already begun attracting additional investors and industry players such as production companies, sales agents, distributors, talent agents, actors, and filmmakers. The Slated team has experience at studios and companies like Paramount, Sony, and Netflix as well as several Fortune 500 companies. Hollywood agencies including Gersh, WME, and ICM are among its members.

As Slated expands its initiative, the company announced Sept. 18 that it has added even more of the film industry's biggest influencers as partners. Participating U.S.-based companies now include the Black List, Deluxe, Film Independent, IM Global, Independent Filmmaker Project, International Documentary Association, Sundance Insitute, Technicolor, Tribeca Film Institute, and more. The first international investors are France's Backup Films and Rezo Films, the U.K.'s Bankside Films, Prescience, Salt, Stargate Capital, and WestEnd Films, and Colombia's Dynamo.
Christine Vachon, Damon Lindelof, Jane Lynch, William H. Macy, Sandra Oh, Nia Vardalos, Matt Damon, Jean Reno, Kevin Costner, William Hurt, Jennifer Hudson, and Kiefer Sutherland are among the producers and actors whose projects are listed on Slated. Slated's membership also includes Ashton Kutcher and casting directors Heidi Levitt, Todd Thaler, Rick Pagano, Paul Schnee, Sherry Sims, and Richard Hicks.

The service is free to join, but applicants must be approved by two Slated members before they can sign up. All members are vetted prior to becoming part of the online community, thereby guaranteeing that experienced and established film producers and directors can gain access to accredited individual and corporate investors who are looking for quality projects. Because Slated endorses every film and community member, while also tracking the "buzz" and "packaging" of each project, financiers can invest with more confidence and knowledge.
"Slated is an amazing way to solve both sides of the financing and deal-making equation," Josh Welsh, co-president of Film Independent, said in a statement. "It creates a platform for connecting some of the most original, high quality independent film projects directly with vetted inanciers, sales agents and distributors."

Unlike other crowdfunding sites such as Kickstarter or IndieGoGo, which rely on a series of small donations from multiple donors, films on Slated are more likely to find financiers who can invest a majority stake in a project and are seeking a return on their investment. Ideal projects are narrative feature films with budgets $500,000 to $15 million or more, and documentaries with broad commercial appeal with budgets between $250,000 to $2 million. Cork told Deadline.com that Slated plans to register with the SEC as a broker-dealer by next year, which would allow the company to charge a finder's fee for its services.

Upcoming films that have sought deals or financing using Slated include "The Way, Way Back," starring Steve Carell;"Some Girl(s)," starring Adam Brody and Kristen Bell; "Ping Pong Summer," starring Susan Sarandon; and the documentaries "Casting By," "Roman Polanski: Odd Man Out," and "Don't Stop Believin': Everyman's Journey," which have been hits on the festival circuit this year.