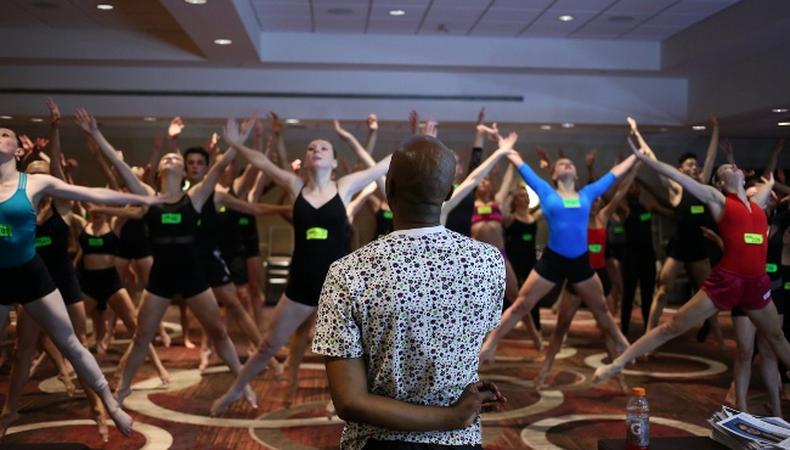 In the ballroom at the Sheraton Hotel just north of Times Square, dozens of dancers draped their legs over the backs of chairs and stretched on the carpeted floor for their shot at a college scholarship. With chairs used as barres, dancers culled from New York City Dance Alliance's 24-city tour performed for representatives of dance departments from Marymount Manhattan, Pace University, Point Park University, Mercyhurst University, Dean College, and Chapman University.
"The colleges will really focus on even how someone handles a ballet barre, which is a big part of being in a four-year program," said Joe Lanteri, executive director of New York City Dance Alliance, which is celebrating its 20th anniversary this year. "It speaks a lot to your training, so they're going to pay meticulous attention to even how [dancers are] handling that, and then they'll be broken down into smaller groups and they're going to see their performances."
This year's auditions, which took place July 3, saw $3,875,000 in scholarships awarded to high school junior and senior students. In addition to auditioning for financial aid, the dancers were required to participate in the four-day workshop comprised of 80 classes taught by top dance professionals such as Troy Powell, Tony Dovolani from "Dancing with the Stars," and dozens of other teachers of different styles including jazz, tap, ballet, hip-hop, contemporary, and musical theater.
"We want to elevate what is being done at the local dance studio—which is tremendous, so we can't take credit for the training," admitted Lanteri. "But our job is to help [parents] help their kids take that next step. So we're trying to elevate that to a preprofessional place so they get a taste of the real world."
The workshop, combined with the auditions, is meant to give students a shot at advanced training, as well as a chance to fund it. "We're very blessed that people [from these] dance departments can come and make the offer, and it's on the dancer to then figure out the next step," Lanteri said. In the spirit of helping students find that next step, the NYC Dance Alliance works to instill a different mindset than students would have in their hometown's dance competition.
"It's reality—the colleges aren't interested in knowing whether you ever won a high school solo at some dance competition; you're never going to go to an audition where that comes up," said Lanteri. "It's really going to be based on what you are presenting, so I think the journey and the education of these dancers is the part that's going to pay off for them in the long run. The prize is never going to matter, and I think that becomes part of our education, what we try and teach these dancers as well."
Inspired by this post? Check out our audition listings!