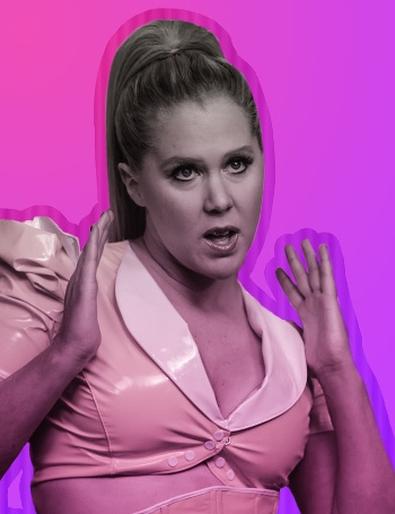 We're not arguing that Julia Louis-Dreyfus isn't awesome on "Veep," but here are 20 other actors who have never won an Emmy for their performances that deserve to at least be nominated this year!
And be sure to check out "20 Dramatic Actors Worthy of an Emmy Nom" while you're at it!
Best Actor in a Comedy
Gael García Bernal, "Mozart in the Jungle"
Capturing the peculiar mannerisms and unpredictability of a musical prodigy is a challenge Bernal is up for in this Amazon Prime comedy series. He's pitch-perfect as Rodrigo, the irresistible, bold new conductor of the New York Symphony. His comedic timing is almost as good as his ability to command any room he enters.
Will Forte, "The Last Man on Earth"
Forte is beyond convincing as the self-serving Phil Miller in this Fox series. The show's creator and lead actor uses his knowledge of both his character and the postapocalyptic world he lives in to bring to life the ultimate man-child hilariously struggling to grow up again when he encounters other people.
Jonathan Groff, "Looking"
Instead of trying to encompass all 21st-century gay experiences, HBO's "Looking" simply follows the lives of some pretty ordinary guys (emphasis on "pretty"). But its lead, Patrick, as portrayed with believably awkward specificity by Groff, does grapple with the questions facing 20-something singles today: How do you find love? How do you hold onto it? And how do enemas work?
Chris Messina, "The Mindy Project"
In its three seasons, the Fox sitcom has been all over the place tonally—especially when it comes to Messina's Dr. Danny Castellano, who began the show as Mindy Lahiri's antagonist and ended this latest season as her babydaddy. Yet Messina makes all the abrupt dips and swerves in his character's behavior work, and instead of loving to hate him you just love him.
Jeffrey Tambor, "Transparent"
It takes bravery and grace to come out as transgender in middle age. In creating a nuanced character based on her own father, writer-director Jill Soloway has also provided Tambor with the role of a lifetime; his performance as Maura is darkly comic, heart-wrenchingly vulnerable, and both brave and graceful in its own way.
Best Actress in a Comedy
Aya Cash, "You're the Worst"
As one half of the toxic couple at the center of FX's comedy, Cash proves that she is far from the worst by the season's final episode, in which she makes a heartfelt plea to her boyfriend for being together mere hours after literally shitting all over herself during an ill-fated attempt at healthy living. Trading whimsy for hard-edged, cocaine-fueled tartness, Cash successfully reinvents what we expect from our female rom-com protagonists.
Gina Rodriguez, "Jane The Virgin"
On paper, a sitcom about a chaste young girl who finds herself pregnant by artificial insemination might not sound like a smash hit, but thanks to Rodriguez in the title role, that's exactly what the CW's dramedy has become. After winning a Golden Globe last year, Rodriguez solidified her star power as Jane Villanueva—and her performance is as enchanting as she is.
Tracee Ellis Ross, "Black-ish"
Rainbow is your typical sitcom mother: frazzled but poised, put-upon yet supportive, attractive if not terribly glamorous. But Ross and the creators of ABC's subversive comedy have turned that trope on its head by adding some new qualities: goofy, badass, often borderline deranged. Forget Uzo Aduba—Ross has the craziest eyes on television.
Amy Schumer, "Inside Amy Schumer"
There's a reason practically every sketch in the revelatory third season of Schumer's Comedy Central series makes headlines: Its writer-director-producer-star has her finger on the pulse of the myriad issues facing women today. Her brand of feminism is shrewd and incisive but always hilarious; Schumer takes no prisoners yet never fails to make us laugh.
Constance Wu, "Fresh Off the Boat"
You can actually see the writers fall in love with Wu's performance as the archetypal tiger mom as the first season of ABC's comedy progresses. From her love (and fear) of Stephen King novels to her proclivity for singing, Wu upends every cliché imaginable to craft a warm-hearted, terrifying portrait of mother love.
Best Supporting Actor in a Comedy
Tituss Burgess, "Unbreakable Kimmy Schmidt"
Surprises abound in Netflix's latest hit, but Burgess proves nothing short of a revelation. The actor delivers Tina Fey and Robert Carlock's signature zingers like he was born doing it, and his effortless sass and vocal prowess gave rise to television's most sublime comedic moment in years: the kooky ode to eleganza "Peeno Noir."
Laurence Fishburne, "Black-ish"
As the grandfather in an upper middle-class black family living in Los Angeles, Fishburne is the omnipresent voice of reason on this ABC comedy. He's the grounding element on a show that tackles a few uncomfortable issues with a comedic flair.
Jaime Camil, "Jane The Virgin"
The CW's critical darling can vary in tone from high-camp to earnest, but Camill never wavers as the preening telenovela star with a connection to our virginal mother.
Russell Tovey, "Looking"
He cheated on his longtime partner with an employee, but somehow Tovey's Kevin comes across as romantic instead of sleazy—even as his character checks Grindr while new squeeze Patrick moves in. Part of it is charisma and part of it is Tovey's uncanny knack at zeroing in on the motivation behind bad behavior—and almost excusing it.
Sam Waterston, "Grace and Frankie"
Waterston's turn as the newly out and liberated Sol—former husband of Lily Tomlin's Frankie—is a late-career revelation, a riff on Edward Everett Horton's flighty characters from the golden age of Hollywood who have a bruised heart beating beneath the surface. You can see his pain at finding happiness at the expense of his wife's—but you can also see how that happiness outweighs its cost.
Best Supporting Actress in a Comedy
Jane Krakowski, "Unbreakable Kimmy Schmidt"
In the two years since "30 Rock" ended, audiences have been patiently waiting for Krakowski's next laugh-out-loud performance, and as Jacqueline Voorhees on "Unbreakable Kimmy Schmidt," she doesn't disappoint. As someone so rich she throws away bottled water and takes the compliment "You look like a million bucks" as an insult, the actor's comedic take on this New York socialite is just one reason to binge the breakout Netflix series.
Kate McKinnon, "Saturday Night Live"
The MVP of "SNL" 's ambitious 40th season has that enviable ability to turn mediocre sketches into brilliant ones with a simple head tilt or widening of the eyes. Let's hope Hillary Clinton makes it all the way to the White House so we can continue to enjoy McKinnon's blisteringly funny impression of her.
Niecy Nash, "Getting On"
As no-nonsense nurse DiDi, Nash has the unenviable task of being the voice of reason amid the insanity of her co-workers and the elderly patients in the geriatric care unit where she works. And yet Nash's quietly observed performance this past season is memorable precisely because it provided a counterpoint to the selfish behavior of everyone else. Almost no other performance made you laugh and then made you cry the same way Nash's did.
Hayley Orrantia, "The Goldbergs"
Whether she's singing "Love Ninja" or becoming a yenta against her will, Orrantia's performance as oldest child Erica Goldberg has gone to the next level in the series' second season. Petulant and headstrong, she's also the first to see how her independence wounds her possessive mother (Wendi McLendon-Covey) and the push-pull between the two has made for some hilarious and heartwarming moments along the way.
Miriam Shor, "Younger"
As boss-from-hell Diana Trout, Shor expertly delivers laughs at the expense of her staff. The actor's take on Diana is so delectably cruel and patronizing, she could make even the most fed-up worker appreciate his or her boss. And if that's not a testament to great acting, what is?
Inspired by this post? Check out our television audition listings!