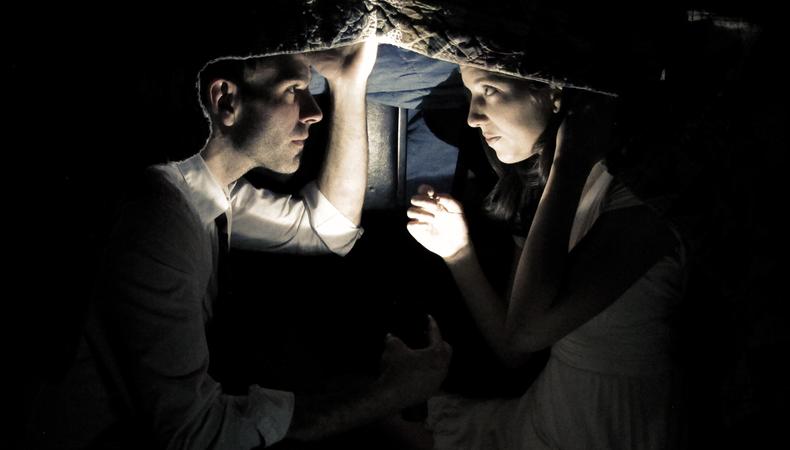 Colleen and Terry are in love. As they cuddle beneath a sheet, Terry tells Colleen that he loves her eyes, because they look like two reflectors on the back of a boat for him to follow home. He asks her if she likes his eyes. "Yes," the scatterbrained Colleen says, "because they're just like two human eyes." Bizarre moments of levity such as this are hard earned in Dutch Kills' production of "The Sister," a bleak fantasia of a play by Eric John Meyer that investigates the cruelties of familial relationships. Though Meyer's commendable script occasionally leaps into full fuming life with the help of director Jess Chayes' cunning staging, the play is hard to love, because it too looks and feels just like what it is: a downer.
When we first meet Colleen she lives with her sister and brother-in-law, Leanne and Bob, who are in the process of fixing up their house. There's a lot of wallpaper to scrape off and a lot of painting to do, but most important is the machine in the backyard. We never learn what this unseen contraption does, only that it is extremely dangerous to operate. Since Colleen moved in, running the machine has been her job, along with accepting the shameful and absurd abuses Bob and Leanne continually hurl her way, such as being made to wear a dog collar if she misbehaves. However, when Terry, an upbeat widower neighbor, sweeps Colleen off her feet and away from her tormentors, the pecking order shifts. With no one to run the machine, things in Bob and Leanne's house get even stranger.
Bob and Leanne's wild, expletive-laden shouts at Colleen and each other are often played well for laughs, as are the more absurd embellishments, such as an impromptu shadow-puppet show. But Meyer has woven a dark sentiment about the way some people damage and frighten those closest to them throughout "The Sister." Colleen and Terry may not yell as their relationship sours, but they can still be cruel. "I've been sitting here for the past few days trying to decide what it is about you that I find so unsatisfying," she says to him. Such harsh remarks carry a jarring sting when delivered with convincing disgust by the cast.
It's easy to appreciate the dedicated actors in director Jess Chayes' expert close-quarters staging on designer Sara C. Walsh's ingenious set, which presents Bob and Leanne's living room as a renovation project in the round. Erin Mallon is enthralling as Colleen, magnificently reconciling the character's naive submissiveness and righteous fury. The excellent Jeb Kreager plays Bob with booming volatility, and Alley Scott effectively renders Leanne's need to keep her marriage and life together. Levi Morger acquits himself well as Terry, who is the only consistently upbeat presence in an otherwise gloomy piece.
Ultimately, Meyer's bluntly funny and mean play proves to be something like his mysterious offstage machine itself: abrasive, hurtful, but inexplicably necessary.
Presented by Dutch Kills at the Fourth Street Theatre, 83 E. Fourth St., NYC. March 28–April 13. (212) 352-3101, (866) 811-4111, www.theatermania.com, or www.dutchkillstheater.com.
Critic's Score: B