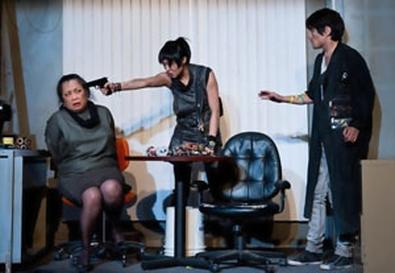 Typography registers as a surprisingly lively and engrossing topic during the first 20 minutes or so of Jordan Harrison's "Futura." In this opening sequence, Professor Wexler, portrayed by Mia Katigbak with a compelling underlay of simmering passion beneath a professorial manner, discourses in a smartly illustrated lecture on the history of typefaces. She goes from Gutenberg's heavy gothic letters to the streamlined look of the 20th-century design of the title.
But the professor has more than typefaces on her mind. She begins to quietly rant about the disappearance of books—physical books, printed on paper—and the control of knowledge in cyberspace by an apparently totalitarian government known as "the company." She reveals that her husband was murdered because of his opposition to this collective knowledge. And in the midst of her talk, the lights go off and she's abducted. In the next scene, we find her bound and gagged in a cramped room and being watched over by two apparent terrorists, played with varying degrees of threat by Christopher Larkin and Angela Lin.
From this point on, Harrison's play moves unsteadily into the realm of futuristic melodrama, shaping up as little more than a muddled rehashing of such seminal works as "Fahrenheit 451" and "1984." It also mixes into the stew some articulate and poetic defenses of the reading of actual books as opposed to the electronic dissemination of knowledge and literature. But as relevant as this may be in the age of Kindles and their ilk, the play's discursive nature and plotting seem to work toward opposite ends, each diluting the other.
Director Liz Diamond tries to ratchet up the tension with pounding electronic music between scenes and some bursts of stage violence, but these devices can't prevent the feeling of slackness that begins to pervade the enterprise. Even the appearance of the professor's supposedly dead husband (Edward A. Hajj) fails to ignite much real drama.
The show has been given an ambitious physical production, from the handsome slides used in the typography lecture (Kate Katigbak is the graphics designer) to the ingenious settings designed by David Evans Morris. But it's the writing that, while often smart, needs more than just a change in font.

Presented by the National Asian American Theatre Company at TBG Theater, 312 W. 36th St., 3rd floor, NYC. Oct. 28–Nov. 13. Mon.–Fri., 7 p.m.; Sat., 3 and 7 p.m. (212) 864-4444 or www.smarttix.com.