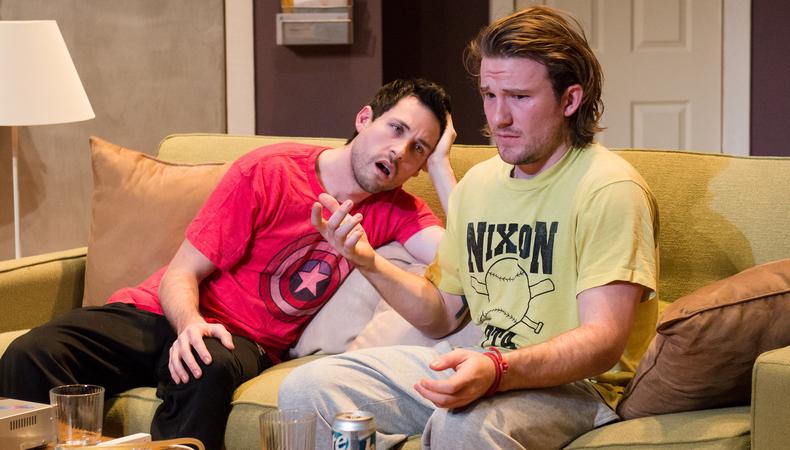 Playwright and actor Michael Rabe seems to be at a crossroads between inspiration and organization. "The Future Is Not What It Was," his New York debut in both aforementioned roles and the inaugural production of the Kindling Theater Company, is a veritable hodge-podge of intriguing philosophical sayings and laugh-worthy one-liners floating around in a soup of a play. But if you look closely enough, Rabe boasts the fixings of a potentially great artist. He just needs more time to gestate.
Rabe should be applauded for this ambitious if not altogether successful attempt. Five out of six cast members are making their New York stage debuts, and all are graduates of the William Esper Studio. And while Rabe and his co-star Maya Kazan are descendants of theater royalty—Rabe is the son of Tony-winning playwright David Rabe and the Oscar-nominated actor Jill Clayburgh, and Kazan is the granddaughter of famed director Elia Kazan—the downtown setting and low-budget production demonstrate an eagerness to make DIY theater, as the program calls it.
The play deals with questions of causality. How did we get to where we are, and how do the choices we make take us to where we may or may not be going? While this concept appears linear enough, the dramatic conflict remains buried, and the character arcs are fairly flat. Director Jay Stull utilizes too many blackouts and breaks between scenes, which don't help the piece's slow clip.
Roommates Sean and Tom lead boring lives. Tom has a job he hates and resents Sean for basking in his boredom instead of trying to do something with his life. When cute girl Laura moves in down the hall—the character enters 45 minutes into this painfully long play—the pair bickers over who saw her first. Sean makes a game out of meeting girls, introducing himself with a different fake name each night. When one of Sean's earlier one-night stands ends disastrously, larger philosophical issues of life and death enter the increasingly blurred spiral, and Matt and Sean's friendship wavers.
Rabe has a captivating stage presence. Fascinating to watch, he makes Sean seem unpredictable, even though the character really isn't. Rhett Owen plays Tom a little over the top but relishes the role's multiple drunken scenes. Kazan has a magnetic energy onstage and delivers the most three-dimensional performance. Maryam Hassouni steals the proceedings in her short appearance, earning mid-show applause at the performance attended. Eddie Liu and Katie Blake round out the cast nicely.
"The Future Is Not What It Was" isn't groundbreaking or even always compelling, but if you want to support young artists in their nascent stages, it's worth witnessing.
Presented by Kindling Theater Company at Walker Space, 46 Walker St., NYC. Jan. 21–Feb. 2. (800) 838-8006 or www.brownpapertickets.com.
Critic's Score: C-