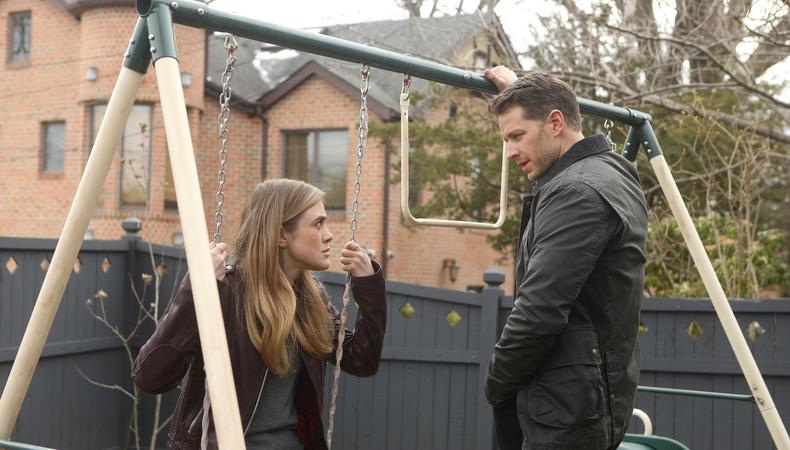 If ever there was something that doesn't go out of fashion, it's the shadowy escape of science fiction and the nostalgic pull of reboots. With networks giving shows less time to catch on and taking fewer risks (leaving that to their streaming sisters), the fall schedule is full of reboots, sci-fi, and a little magic. Here are some highlights from the networks' offerings.
CBS
For the fall season, CBS is reaching into the not-too-distant past to bring back even more reboots after its previous attempts with "MacGyver" and the long-running "Hawaii Five-0" proved successful. Next up is "Magnum P.I.," with creators Peter M. Lenkov and Eric Guggenheim making a conscious decision to walk the series into the present, taking a character who was male in the original version and casting a woman (Perdita Weeks) to play Higgins.
"We're trying to keep the spirit alive of the show, but make it fresh," says Lenkov. The most important characteristic they wanted to capture was Magnum's charm. "He was an everyman in that sense. Even though he was over [six-feet] tall and he looked like an action hero. Vulnerable. Funny. Charming. Those are things that Tom [Selleck] had that are ingredients that are very hard to find in one actor." But Lenkov says that's exactly what they found in Jay Hernandez.
NBC
Following "Timeless" and "Reverie," NBC's fall offering of "Manifest" continues the sci-fi trend. The drama, starring Josh Dallas ("Once Upon a Time") and Melissa Roxburgh ("Valor"), offers fans a new mystery to solve. While it's may not be magic, exactly, viewers are left to wonder what sorcery is at play when a plane mysteriously disappears, only to resurface five years later with all its passengers on board as if no time had passed. Mainly concerned with the turmoil surrounding one family on the flight, the series is set to blend drama with a deeper, ongoing mystery.
If missing time and psychic abilities don't quite fit the bill, a more humorous take on family is also on the slate. "I Feel Bad," from executive producer Amy Poehler and starring Sarayu Blue, Paul Adelstein, Zach Cherry, Johnny Pemberton, and James Buckley, forgoes missing time and instead plays with the idea of being OK with missing a little sanity.
ABC
With so many of its longtime series missing from the lineup this fall ("The Middle," "Scandal," "Once Upon a Time"), ABC has a plethora of new shows on its schedule. Jumping from the supersecretive B613 of "Scandal" to the FBI, Scott Foley as Will Chase teams up with Lauren Cohan's ("The Walking Dead") CIA operative Francesca "Frankie" Trowbridge for "Whiskey Cavalier."
Though the action-comedy-romance blends comedy and crime in a fashion reminiscent of the network's long-running "Castle," don't expect to see Nathan Fillion popping up; he's nabbed his own headliner, returning to the network in "The Rookie." The dramedy follows Fillion's John Nolan as he joins the police force after a hostage situation makes him rethink his life. Alyssa Diaz, Richard T. Jones, and Titus Makin Jr. also star.
Returning to the network as well is former "Desperate Housewives" star Eva Longoria, who stirs up a little trouble with her telenovela-style drama "Grand Hotel," starring Demián Bichir, Roselyn Sanchez, Denyse Tontz, and Bryan Craig.
Fox
For the fall, Fox will offer laughs in the form of "Rel," starring Lil Rel Howery in a comedy based on his life, as well as reviving the ABC transplant "Last Man Standing," starring Tim Allen. Holding its new dramas for the chilly midseason in January, Fox will double down on sci-fi content, adding "The Passage" to its existing offerings of "The Gifted" and "The Orville." "The Passage," based on the book trilogy by Justin Cronin, plays in an apocalyptic world in which one girl holds the key to saving all of humanity. Adapted for television by Liz Heldens and executive produced by Ridley Scott, the series stars Saniyya Sidney as the young savior and Mark-Paul Gosselaar as the agent-turned-rogue protector sent to retrieve her.
The CW
Following sister station CBS' reboot trend, the anticipated "Charmed" reboot is finally hitting the air this fall. Creator Jennie Snyder Urman was originally developing a version set in the past but says the project "suddenly became a show that wanted to be very much in the present, and all of these things that we thought we were going to be excavating in the past still needed to be excavated right now. I think that clicked on a creative level." She notes the importance of keeping the central love story focused on the love between the sisters, as it was in the original. "That sense of three women working together...It's about empowerment. It's about 'We can do this,' and I think that that was the core essence that we wanted to carry into this reboot."
CBS All Access
Despite the end of "Grimm" and "Once Upon a Time," fairy-tale lovers need not despair. Kevin Williamson's "Tell Me a Story" will bring modernized fairy tales to CBS All Access. Unlike the Spanish version it was adapted from, the fairy tales and characters will be woven together and intersect throughout the series rather than focusing on stand-alone stories. "It's a little bit of a grown-up 'Vampire Diaries' without the supernatural thrown into it," says Williamson. Set in modern-day NYC, the series will star Danielle Campbell and Kim Cattrall in the "Little Red Riding Hood" storyline. And Williamson isn't the only "Vampire Diaries" veteran on the show: Paul Wesley will star as one of the "Three Little Pigs" characters—who is now a drug-dealing bartender. Also joining the "Little Pigs" storyline is former "Zoo" star James Wolk, who says his character, Jordan, starts out as a happy guy "and then tragedy befalls him and it drives him down this maddening path." The star also notes that because it's CBS All Access, viewers can expect a little more violence and intensity. "It's tastefully done for the sake of the story, but we're not bound by these certain limitations, and I think that's going to make the show feel really authentic."
For info on more of the television shows in production visit our production listings.