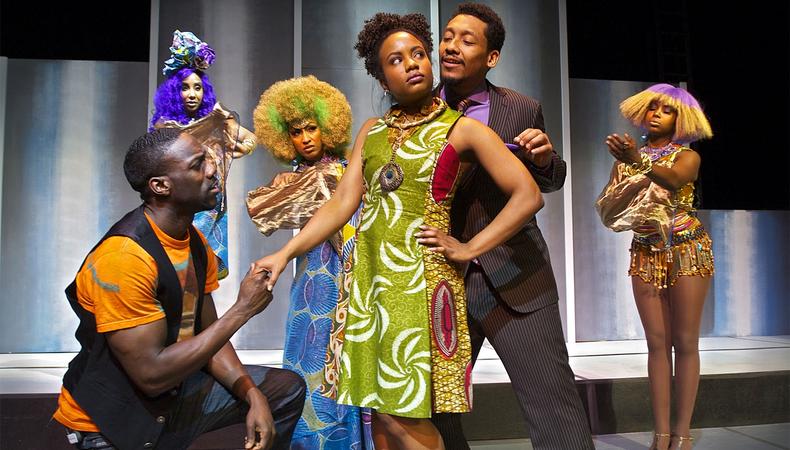 Playwright and filmmaker Tyler Perry launched his career with the kind of show that "Futurology the Musical" aspires to be: a pop tuner with flash, sass, and a moral tacked on at the end that soothes those in the crowd who didn't appreciate the flash and the sass. Such "urban theater circuit" shows are not to everyone's taste, but at their best they can pull you in with a combination of showy musicianship and raucous, cartoonish humor.
Before the first preview performance began, the show's director, Charles Weldon, addressed the audience, apologizing for the rough patches he promised would come—and come they did. The biggest technical problem was a sound system that popped, crackled, hummed, and left the actors either blaring or mute. That can be fixed before future performances. It's probably a bit late in the game, though, to do anything about some of the more essential errors.
The book—by Anthony J. Dixon and Sandra J. Barnes, who also co-wrote the workable but generic-sounding songs—concerns a young woman named Darima (Hillary Hawkins), who is supposedly torn between community-activism work with her affectionate boyfriend Gregory (Rodrick Covington) and her dreams of becoming the next Beyoncé. Things get complicated when she is wooed by a too-cool-for-Sunday-school music producer named Gravy Train (Khahlil Kain). That Darima will see the light—and end up at a rally to perform a rousing anthem at show's end—is never in doubt, especially because she has unwittingly come under the influence of three feminist time travelers from a few centuries hence. These cosmic sherpa guides dress in costumes (designed by Danese Smalls) that seem to have come from a particularly loopy episode of the original "Star Trek" series. But it's hard to take Darima's dilemma seriously, as she's all about the fame and glitz from the outset.
The biggest problem with "Futurology" seems to be Weldon's direction. The pace is deadly slow, the transitions from scene to scene are clumsy, and at moments the actors mill about gracelessly. Except for a couple of routines late in the show, Deborah Y. Wilson's choreography is perfunctory. The musical sequences featuring the time travelers—which could have been campy and engaging—are studies in enervation and humorlessness. The fact that the performers vocalize to a prerecorded soundtrack only reinforces the impression that with few exceptions we're watching a bunch of tentative karaoke singers. (The recorded voice of Sheryl Lee Ralph, as the Commander, is heard in the opening song; she gets top billing.)
A few performances redeem the show at moments. A shirtless Kain has nasty fun, dancing with the ladies, rapping, and preening during the taping of a music video. Covington has a strong and appealing, if melisma-swamped, singing voice. Tara Taylor is pleasing as a mousy friend of Darima's who makes a predictable but enjoyable transition into a confident, sensual woman. And though Yvette Williams is stuck playing a stereotypically vain, mouthy floozy—an indispensable type in shows like this—she at least has the kind of exuberant comic energy that the rest of the vehicle needs.
Presented by Paper to Pen Production, in association with the Negro Ensemble Company, at the Theatre at St. Clement's, 423 W. 46th St., NYC. April 6–May 5. (212) 352-3101, (866) 811-4111, www.theatermania.com, or www.futurologythemusical.com. Casting by Jaki Brown and Eileen Oberholtzer.
Critic's Score: D