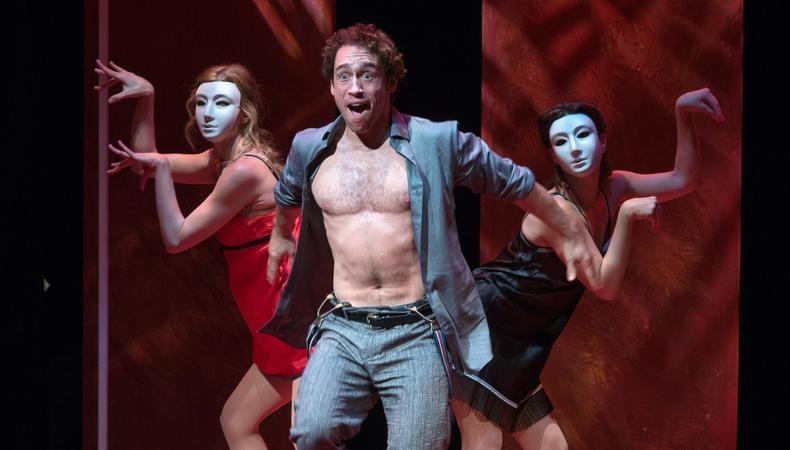 When the movie version of "Love in the Time of Cholera," starring Javier Bardem as a man lovesick for 50 years, was released in 2007 to generally unfavorable reviews, critic Roger Ebert wondered whether the works of the great Nobel Prize–winning novelist Gabriel García Márquez were worth trying to translate to the screen. Too much is lost, he said, when you "extract the story without the language." Playwright Caridad Svich's theatrical adaptation of Márquez's beloved novel, launching Repertorio Español's 45th season, achieves a better albeit imperfect transition from the page.
Unlike film, theater is as much a verbal as a visual medium. In contrast to the movie, which was in English, the show's four-member cast speaks in Spanish, the language in which Márquez wrote. But Repertorio Español also has a captioning system, a little screen in front of every seat that offers the option of a simultaneous written English translation. I cannot praise the company enough for installing this new system, which should serve as a model for other theaters. It allows those who don't speak Spanish access to both the music of the language and the meaning behind it.
At its most basic, "Love in the Time of Cholera" is a love story that unwinds (and rewinds) in an unnamed Latin American country over the course of the 19th century. Luis Carlos de la Lombana portrays Florentino, a young man who is struck by the beauty of a teenager, Fermina Daza (Zulema Clares), and vows to love her forever. Her father disapproves, and she marries a physician (Pep Muñoz, in the production's most plausible performance). But Florentino never gives up.
Svich and director José Zayas, who also partnered to adapt Julia Alvarez's "In The Time of the Butterflies" and Isabel Allende's "The House of the Spirits," here attempt to capture Márquez's more complex shifts back and forth in time and tone—from soap opera to satire to magical realism—with uneven results. On a minimalist set, they add some poetic monologues and a few original songs and dances, including a Latin-tinged ode to promiscuity, but they are at their most effective when dramatizing certain passages from the book. The most memorable is a subtly comic set piece showing the good doctor's supposedly clinical examination of the woman who will become his wife, a first encounter that is perhaps more motivated by lust than he can admit.
The challenges of interpreting Márquez's sprawling trickster novel may be greatest for the actors, who must continually adjust their posture and vocal inflection to reflect their multiple ages and roles. (Only Clares plays just one character.) The acting too often offers momentary confusion rather than moments of bravura performance. For example, a scene between Florentino and Fermina's father, both played by de la Lombana, falls flat. Silvia Sierra stands out for distinct characterizations in four minor roles, ranging from Florentino's mother to "Mujer 650," Florentino's 650th female conquest, each of whom he pursued while declaring his commitment to his one true love.
Presented by and at Repertorio Español, 138 E. 27th St., NYC. Oct. 15–April 20. (212) 225-9999 or www.repertorio.org.
Critic's Score: B