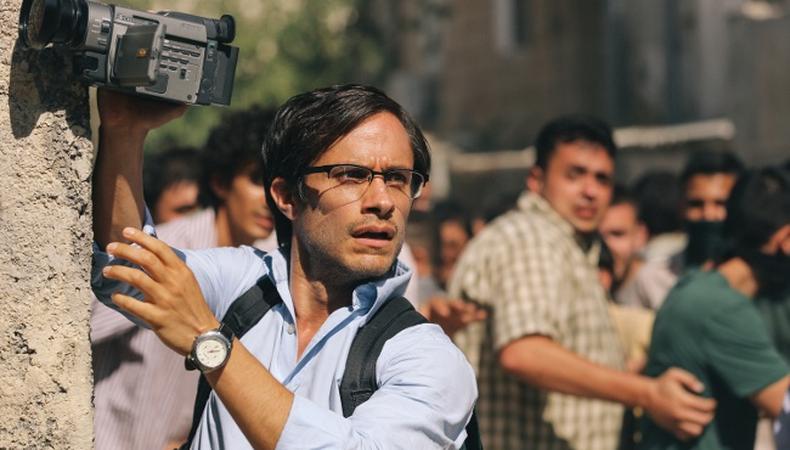 There comes a moment about two-thirds of the way through "Rosewater," Jon Stewart's directorial debut, when Gael García Bernal begins dancing alone in a prison cell. The moment comes as an abrupt and most welcome surprise, like a mirage in the desert that turns out to be real. Until that moment, "Rosewater" is a very intense film detailing the imprisonment and solitary confinement of Newsweek journalist Maziar Bahari by the Iranian government. Accused of being a spy for the CIA, cut off from the outside world and interrogated endlessly, Bahari's story doesn't have much lightness to it.
To give away the reason for the impromptu dance party would be to upend Stewart's carefully constructed story, but for Bernal, the moment was indicative not only of Bahari's happiness but of the entire production.
"To dance is always a relief," he says. "We did that scene when already we were halfway through the shooting of the film—it was a five-week shoot, which is quite quick, but it felt very intense. So it's kind of an interesting moment, a sublime moment of thinking, We're all in this together, and it came out in that scene. I'm really happy with how it came out."
Bernal has much more to be happy about; his intense performance as Bahari is an impressive feat of finding all the colors in quietness. Bahari is originally presented as something of a cocky journalist, an Iranian who has made a home in London and returns to cover the 2009 presidential election. When he films an outbreak of violence after protests erupt over what many saw as a fixed election, he is arrested and put in solitary confinement for over 100 days. But Bernal brushes aside all compliments, pointing to the real-life Bahari's struggles.
"It feels very humbling," he says. "All the hardships and the victories and the greatness of that country, I can relate to. I can empathize with what it would be growing up like Maziar did under those circumstances. But to be 100 days in solitary confinement, I cannot imagine how it would feel. So it was just, grab onto his experience and empathize with it and start from there."
Bernal was able to spend time with Bahari—who wrote a memoir upon which the film is based, "Then They Came For Me." "There's so much he's been through that I feel sort of overwhelmed, but I cannot dare say anything!" Bernal says. "Whatever I say is nothing compared to all of what he's been through. And he's a very friendly, loving, positive person who, out of this event, wrote a wonderful book. One of his conclusions is that he realized that solitary confinement, which happens everywhere in the world, is a way of torturing people. It's the best way of making people accept guilt."
Originally intended to be filmed in Farsi with Iranian actors, the complications required by that plan quickly meant that the casting process opened up. Stewart called Bernal about reading the script, and the actor swiftly signed on. As for working with a first-time director on such a difficult project, Bernal has nothing but praise for Stewart and his openness.
"He's the most intelligent, lovely, fun person to work with and he has a way of handling a team," Bernal says. "He's very humble and he knows where his limitations are; he would come and ask for advice from people who have been doing this for a while. Or we would go up and ask him, 'Is this your instinct?' And that's always better. It's so nice to work with a director who asks for advice!"
Inspired by this post? Check out our film audition listings!