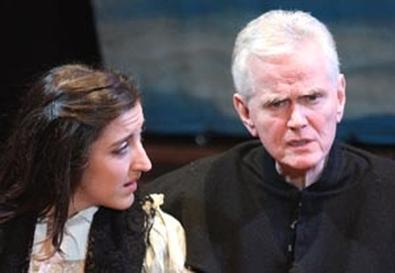 The Milk Can Theatre Company does not lack ambition. For its spring 2009 season, the company focuses on the world of science, with Bertolt Brecht's
Galileo
played in repertory with
The Science Plays
, six new 10-minute plays examining the complexities—intellectual and ethical—of science.
Galileo
is a large, lumbering drama, giving not only a full-length portrait of this revolutionary scientist but also having as a principal theme the dogmatism of the church versus scientific evidence. In the program there is no indication from what translation this version has sprung. There are several versions available, most notably the one Charles Laughton made for himself when he played the role, most recently one by noted playwright David Hare.
Director Julie Fei-Fan Balzer has reduced the unwieldy play to 14 scenes, working with a cast of only eight players, one basic set, and suggested rather than full costumes. Balzer presents a brisk staging that seems fearful of the language, as if aimed at the attention-deficient. The rambling story refuses to fit easily into this format; poor Brecht is hardly allowed to breathe.
The chronicle begins with Galileo (James Caulfield) living in Padua with daughter Virginia (Natalie Caruncho); his housekeeper, Mrs. Sarti (Maria Silverman); and her son Andrea (Alex Herrald). After gaining knowledge of the telescope from Virginia's intended, Ludovico (Jed Peterson), Galileo develops the invention to begin his observations of the heavens. His discovery that the earth revolves around the sun places him in direct conflict with the teachings of the Catholic Church. Threatened by the Inquisition with physical torture, he recants and believes he is a traitor to science.
With Caulfield alone playing a single role, the other seven actors must cover multiple parts, resulting in the spectacle of the young playing old and other overplayed, unconvincing contrivances. In addition, director Balzer seems to take the play's theme of new versus old to heart and gives the production not-so-new postmodern trappings. Thus we have the cast visible on the sides of the stage as they change costumes, make sound effects, and generally prove to be distracting. Instead of introducing each scene with Brecht's direction of a legend or banner, Balzer has the cast reciting doggerel accompanied by foot stomping and hand clapping; initially effective, the device wears out its welcome long before the play is over. All this busyness takes its toll, and only in the young monk's declaration of scientific dedication and Galileo's final scene does the play find breathing space to move the audience.
Amid this hubbub, Caulfield's Galileo is sensibly straightforward. From the rest of the cast, which Balzer seems to have drilled with military precision, there is pleasing support from Peterson, Caruncho, and Matt Biagini.
Presented by the Milk Can Theatre Company at Urban Stages, 259 W. 30th St., NYC. April 30–May16. Thu. and Fri., 8 p.m.; Sat., 2 p.m.; Sun., 6 p.m. (212) 868-4444 or www.smartix.com.