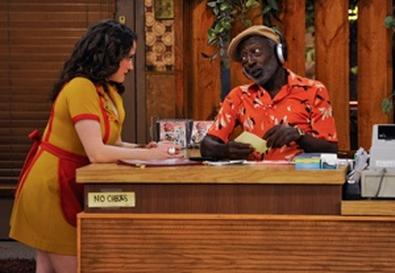 Garrett Morris
began his career as a singer alongside Harry Belafonte and in Broadway musicals like "Show Boat" and "Ain't Supposed to Die a Natural Death." He studied at HB Studios with Alice Spivak and Uta Hagen herself. He earned an Independent Spirit Award nomination for his dramatic turn in the 2001 movie "Jackpot." Yet he will forever be known as one of the original cast members of "Saturday Night Live," where he created such characters as Dominican baseball player Chico Escuela, who spoke only limited English, and the president of the New York School for the Hard of Hearing, who would "translate" for people by screaming.
Morris is currently earning laughs on the CBS comedy
"2 Broke Girls,"
where he plays Earl, the cashier at the Brooklyn diner where the title characters work. In addition, he owns and operates the
Downtown Comedy Club
in Los Angeles, where he can be seen performing on Friday and Saturday nights. With "2 Broke Girls" already picked up for a second season, Morris is looking forward to spending his upcoming hiatus shooting an untitled film with Bob Newhart and Rob Reiner. Asked about the plot, he says succinctly: "It's about some old, crazy people in an old folks' home."
Back Stage: How did the role of Earl on '2 Broke Girls' come your way?Garrett Morris
: I found out about it through my agent and went and auditioned, along with a lot of other actors. I loved the character; an old guy who had a career in show business, was a saxophone player. He works at the restaurant to keep his brain going and loves working with the people there.
Back Stage: Do you find you still have to audition much, or do a lot of things come as offers?Morris
: Some things come as offers and some you have to audition for. But Marlon Brando auditioned for "The Godfather," so it doesn't bother me.
Back Stage: You've done a lot of television over the years. Have you shot a lot of pilots that didn't go to series? And did you know this one was something special?Morris
: I worked on a lot of pilots, some that went to series and some that haven't. That's the way of life in television. I haven't kept track of the number, but I've been in the business over 50 years, so you can imagine. But I had a good feeling about this one from the beginning. [Creator-executive producer] Michael Patrick King has such a positive energy and the entire cast and crew was terrific. And I knew it was really, really funny.
Back Stage: You started in the business at a young age, and you've had a varied career before breaking out on "Saturday Night Live."Morris
: I've been singing since I was 4 and I've been acting since I was 15. I'd been acting 17 years before "Saturday Night Live." I worked with Harry Belafonte as an arranger and a singer from 1958 to '68. During the '60s, I was acting on and Off- Broadway. Then I got on "Saturday Night Live" after all that. So I was discovered after 17 years in the business.
Back Stage: How did "Saturday Night Live" come about?Morris
: I had written a play and Lorne Michaels was looking for black writers. He read my play and asked me to be one of the writers on "Saturday Night Live." From there I graduated, through a series of events, to being one of the Not Ready for Prime Time Players.
Back Stage: Prior to that, you'd done a lot of dramatic work. Did you know you had a facility for comedy?Morris
: Actually, I had not thought of myself as a comedic actor or as a comedian. Since "Saturday Night Live," I've had that mantle, though even to this day I don't regard myself as a comedian. I do have a comedy club in downtown L.A. right now and I perform there, but I consider that more of a one-man show. When I go onstage, it's never thinking I'm a comedian, just an actor up there trying to get some laughs.
Back Stage: You impersonated everyone from Muhammad Ali to Tina Turner in your time on "SNL." Did you ever meet anyone you mimicked?Morris
: Honestly, it's hard for me to remember. I can't even remember all the imitations I did. I did find out that Tina Turner requested the video of me playing her for her library. But I've never met her. I would love to, she's one of my idols.
Back Stage: Did you find yourself being typecast in comedic roles after "SNL"?Morris
: Yeah, that's been a problem. Since "Saturday Night Live," very few people know me as a dramatic actor, or as a singer, or a composer, or any of the other things I've done. It can be hard to get people to even think of you in a drama. But that's show business; I'm not complaining. I'm just glad to be here working. If all I've got to worry about is being typecast, then I'll deal with that. At least I'm being cast!
"2 Broke Girls" airs on Monday at 8:30/7:30c on CBS.