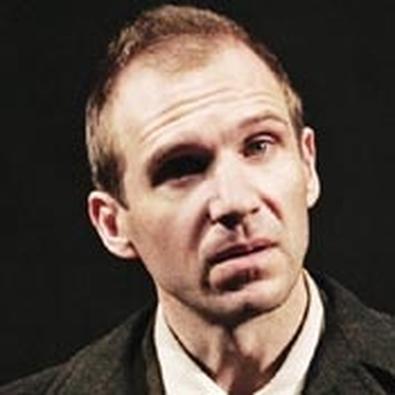 In the film All About Eve, Bette Davis is seen at the end of the curtain call for a play that her character, Margo Channing, appears in. As the curtain rises one last time, we only see her back. As the applause swells, Margo turns, "discovers" the audience, expresses false modesty, and humbly bows.
For the man whose back is the first image of First Love, a theatrical version of a 1946 short story by Samuel Beckett (staged by Michael Colgan, artistic director of Dublin's Gate Theatre), being discovered by outsiders is the last thing he wants. Nor does he wish to be touched, loved, or acknowledged. Still, under the hazy lights designed by James McConnell, he's in our sights. Reluctantly turning to face us, we plainly see that the man is actor Ralph Fiennes, but then again, it isn't. That shaved head, those sallow cheeks, those eyes as melancholy as a murder victim — this man is infinitely more haunting. In an hourlong monologue that shifts from hostility to reticence to firearm-lethal sarcasm, we learn just how soul-deprived this fellow is.
Beyond a flat bench and a scrim that occasionally permits an outline of windows and the door to a home, Eileen Diss' set design delivers little information about the man's location. His father's death, he explains, forced his exit from dingy and claustrophobic but nevertheless safe quarters. Dressed in a smeary beige greatcoat, tie, trousers, shirt, and hat, the man's irises appear to be miniaturized jots in this harsh and unfamiliar daylight. Consistent with Beckett's sense of the scatological, the text for the man contains many allusions to bodily functions, to the smells and sounds of healthy human life, even as he expresses his contempt for it all.
As the title of First Love implies, soon the man abandons the background of his tale and relates how and when he met a woman; how his interactions with her, sexually and otherwise, affected him — or didn't. From any other middle-aged man, perhaps, this memory would have a wistful glow, a yearning to re-experience that first orgasm, that first hormonal flush. Beckett's idea is the opposite: This is a man who recoils, almost retches, he says, when touched by the woman in the dark. He's a man who, before drifting off to sleep, requires his hat in his hand and assurance of a vessel nearby in which to defecate.
At extreme ease with Beckett's jewel-encrusted language, Fiennes is like a poet of performance interpreting a poet of pain. However hard it is to appreciate why this man is so repulsed by humanity, the actor refuses any opportunity to merely make him morose or despairing, mad or disillusioned. The man is, rather, all of those things, an irrational lost soul who tells an anecdote about piling up furniture in the hallway of the woman's home to illustrate a personal catharsis, not his paranoia. He's a man who hears the wail of the baby he fathers with this woman as a signal to run for his life. Not that he wants that life, of course, which is why this piece is essential Beckett. Indeed, the price we pay for discovering the man is abandoning him at the end of the play, his back facing us once more, knowing he would have enjoyed his life more had it remained unlived.
Presented by Lincoln Center as part of Lincoln Center Festival 2008 at the Gerald W. Lynch Theater at John Jay College, 899 10th Ave., NYC. July 20-27. Schedule varies. (212) 721-6500 or www.lincolncenter.org.