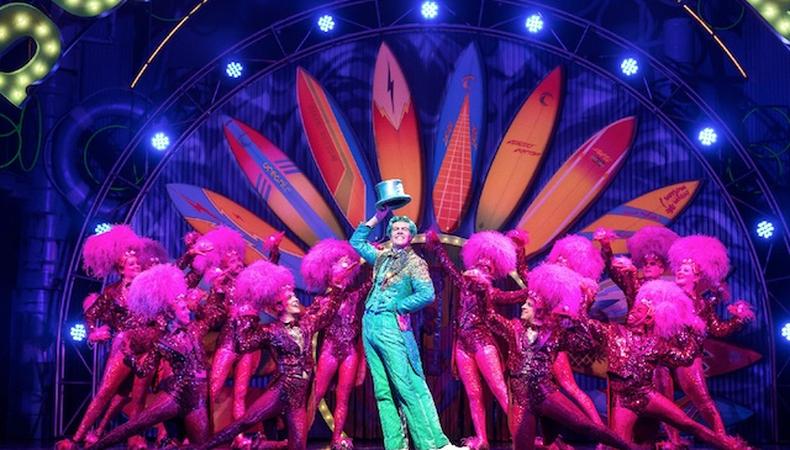 Bringing to three-dimensional life one of the most ubiquitously known animated characters on TV is no small feat—and Gavin Lee is doing it while wearing a pair of prosthetic legs. Currently bringing the house down eight times a week in the "SpongeBob SquarePants" Broadway musical, the Tony-nominated performer dropped by Backstage HQ to discuss the process for finding his own Squidward Tentacles (both in voice and essence) and why this production is providing the most unencumbered joy on the Great White Way.
The musical is like the best episode of 'SpongeBob' you've ever seen.
"It is just joy, joy, joy when you walk into the theater. The lobby has been painted bright yellow; I'm sure the Palace Theatre has never been that color before. All the chandeliers have been made to look like pineapples, and you walk into the main orchestra of the theater and you already feel like you're under the sea, like you're in Bikini Bottom. We're all playing sea creatures but…we're these human versions. Everyone in the show looks like a person, but there's an odd little [flourish] in their costume of something under the sea. This show, many people have said, is like an extended version of the best episode of 'SpongeBob' you've ever seen on TV."
The musical is adding dimension to the animated world.
"All our characters have the essence of the TV characters, but they're 2-D cartoons. So Tina Landau, our director, really wanted to fill out these characters and make them human. We are actually playing humans even though we're under the sea. I do think I am a person but I'm playing Squidward, who's actually an octopus."
Landau has encouraged exploration.
"My journey with 'SpongeBob' started about two and a half years ago. They were doing a four-week workshop and it just said 'the untitled Tina Landau project'…. I hadn't watched 'SpongeBob,' so of course I crammed 10 episodes, mainly watching Squidward, trying to get the voice, [and] Tina said, 'We don't just want a carbon copy of that 2-D character that millions of people around the world already love.' We're trying to make something different."
He's had to find his own voice—literally.
"The great thing about this show is, I'm not Rodger [Bumpass], who does the voice in the show so brilliantly, and Tina doesn't want me to be him. I'm a human version of Squidward who has taken his voice, and hopefully made it my own. There are certain parts in the show where I still say the line now and I'll come off stage and say, 'I didn't really sound like Squidward.' But I don't want to be down there in the depths [of the character's voice], because it's an emotional point in the show so you have to come out of it a bit. I love that Tina wasn't expecting us to do a certain carbon copy of the voice."
Ready to hit the stage? Check out Backstage's theater audition listings!