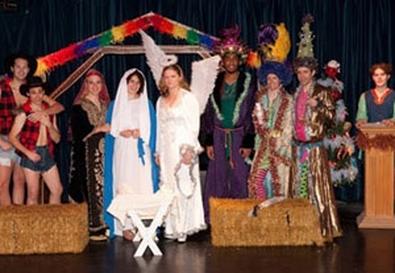 Playwright-director Joe Marshall throws in everything but the kitchen sink in his zany mess of a holiday play, "The Gayest Christmas Pageant Ever!" The press release boastfully states that 24 actors play 40 characters, with Marshall enumerating them as "straight, African-American, gay, lesbian, Christian, Jewish, young, and old." To coin a phrase, the author has bitten off more than he can chew.
Chaos reigns as an LGBT theater company mounts its annual yuletide extravaganza. The plot veers into "I Love Lucy" land as the producer attempts to replace the group's flop-prone resident dramatist with a hot new author. Then we take a hairpin turn into fantasy territory when the straight technical director encounters Jesus Christ, who is a gay Latino. Marshall seems to want to make some kind of political statement with this flouncy Messiah, but the character doesn't make much of an impact outside of a few magic tricks à la "Bewitched."
Dozens of pop-culture artifacts come under satiric scrutiny, from "Brokeback Mountain" to the decade-old controversy surrounding Terrence McNally's "Corpus Christi" to nativity plays. An occasionally funny bit emerges, but all too often Marshall stoops to stereotype and the easy laugh. Too many of the gay male characters are drama queens, swishing and screeching like Bette Davis on acid. A gangsta-ish African-American hetero youth who wanders into the wrong audition and a butch lesbian playing an angel are thrown in for good measure.
Most of the supposed yucks are derived from the ineptitude of the final production, which is replete with missed cues, fumbled props, and awful acting. Of course it's a hit. When things are flagging, Marshall sends in an addled old woman—either the flatulent, nearly comatose rehearsal pianist or the TD's bigoted mother, who suffers from narcolepsy and Tourette's syndrome. There's nothing wrong with outlandish parody, but even the wackiest send-ups contain at least a grain of honest behavior. The objective here is to get a guffaw at all costs rather than to poke fun at society's flaws.
Marshall's staging is as frenetic as his script, and the limning ranges from amateur to over the top. Only Crystal Cotton as Margie, the black lesbian director, manages to etch out a believable character. It's clear Margie is a professional woman vainly trying to make sense of an overcooked stew of a play—much like this critic.
Presented by Alternative Theatre Company and the Actors' Playhouse at the Actors' Playhouse, 100 Seventh Ave. South, NYC. Nov. 29–Jan. 3. Fri., 8 p.m.; Sat., 3 and 8 p.m.; Sun., 5 p.m. (No performance Fri., Dec. 25.) (212) 279-4200 or www.ticketcentral.com.