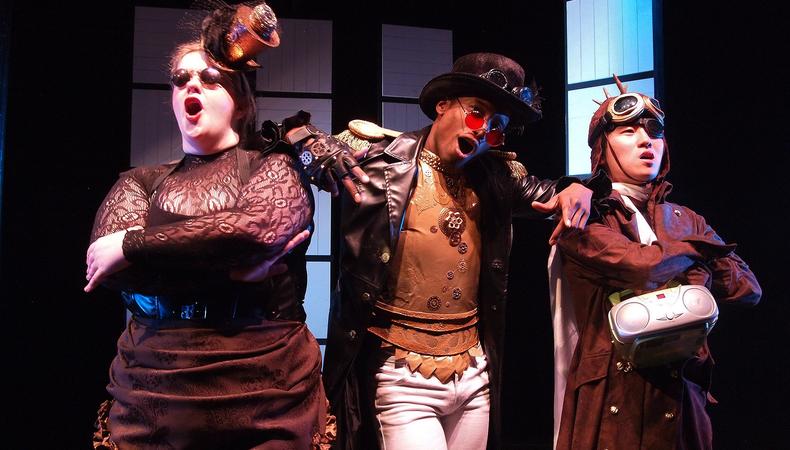 Back after a two-year hiatus Vampire Cowboys returns with a less-than-thrilling new play, Crystal Skillman's "Geek!" The pop culture–obsessed company, which has given audiences some of the most entertaining Off-Broadway productions of the last five years, took a major—if flawed—step forward with its last production, "The Inexplicable Redemption of Agent G," which married the company's genre-blending style to something more ambitious. "Geek!," however, is a step backward, a play that is suffused with action but lacking relatable characters.
At Dante's Fire-Con in Columbus, Ohio, Honey and Danya have come straight from the wake of Honey's sister and Danya's best friend. As they battle to find their hero, the creator of graphic-novel character Dante, they meet a range of people, from 30-something "devil cats" to former high school rivals. It's a coming-of-age story that never quite takes off, due to some sloppy staging from director Robert Ross Parker and flimsy storytelling.
Even the fight sequences, which Vampire Cowboys usually do better than anyone else, seem lackadaisical. The problem is Skillman's script, which offers almost no backstory and seems to rely on Honey and Danya being likable enough to convince audiences to root for them. Because we meet them at the doors of the convention center whining to be let in despite not having tickets, relating to them takes too long.
Part of the problem is the cast. Becky Byers is adorable as Honey, but she must be the bustiest 13-year-old imaginable. Her presence continually points up the silliness of the plot, which is filled with fifth graders in underground fight clubs and elevators taken over by Steampunk armies composed of high schoolers. One keeps wondering where all of the adults are as teenagers turn the convention center into their personal playground.
As "Geek!" goes on the performers relax into the tone, with previous Vampire Cowboys collaborators Sheldon Best and Eugene Oh delivering the most consistently entertaining performances. Emily Williams and downtown stalwart Rebecca Comtois also do fine work as a variety of characters, but Allison Buck's Danya remains an enigma throughout. Belligerent and grieving, she's supposed to have a breakthrough by show's end, but Buck can't believably navigate the character's arc.
The technical elements are up to the company's usually high standards—though the costumes from Kristina Makowski and Jessica Wegener Shay are frequently unflattering—but the physical production probably needs a few weeks before it coalesces. When a play ends with an awkward dance party during which the actors' feet are louder than the music, something has gone awry along the way.
Presented by Incubator Arts Project at St. Mark's Church in-the-Bowery, 131 E. 10th St., NYC. March 22–April 13. (212) 352-3101, (866) 811-4111, or www.theatermania.com.
Critic's Score: C