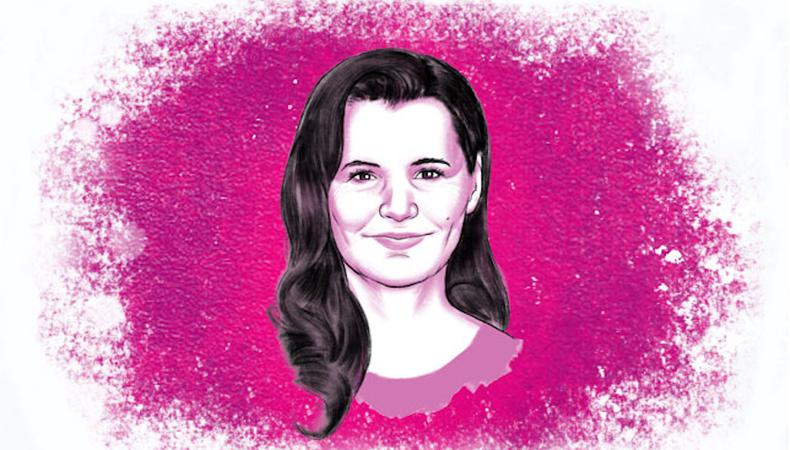 Geena Davis, soon to be seen on Fox's new series "The Exorcist," has been part of our collective cinematic consciousness since she first appeared onscreen as April in "Tootsie." She solidified her status with "A League of Their Own," "Beetlejuice," and, of course, "Thelma & Louise," before founding the Geena Davis Institute on Gender in Media. We chatted with the Oscar winner about why playing Thelma was so impactful, how she pitched Ridley Scott for the part, and which actors she wants to star alongside next!
Which of your performances has left a lasting mark on you?
The film that had the most impact definitely was "Thelma & Louise." None of us expected the reaction that it got. It was so shocking. It was like a small-budget film, really, and we just hoped people would come, but that it got the reaction that it did was remarkable—from women, especially. I have people recognize me here and there, but women were like, "I have to tell you! Here's what I thought! Here's how many times I've seen it and who I saw it with." It's been 25 years this year!
On whom do you have an acting crush?
Well, I have crushes on actors, for sure! Oh God, so embarrassing. One time I was at the Oscars with my husband [Reza Jarrahy], and as we're leaving, Hugh Jackman was in front of us. My husband knew I had a crush on him, and he goes, "Hey, my wife wants to meet you. She has a crush on you!" And his wife was with him! He was very sweet, but it took 20 minutes to get out of the theater so we're just moving inch by inch. Every once in a while he'd turn around and say hi, and I just kept turning to my husband saying, "I'm going to kill you." But [in terms of acting] I have a huge crush on all the funny women. Amy Schumer and Tina Fey and Amy Poehler and Melissa McCarthy—I want to be in those movies. I really love everything they do. I hope it all turns into momentum.
READ: "7 Books to Improve Your Comedic Timing"
How did you get your SAG-AFTRA card?
"Tootsie." Yeah, that was my first audition, even, and I got cast!
Do you have an audition horror story?
There's a funny story behind the casting of ["Thelma & Louise"]. Somebody slipped me the script and said, "This is great. Every actress in town wants to be in this movie." I read it, but it had already been cast. Then we find out a few months later it all fell apart and there's a different director now. I'm pretty sure it happened three times, that there were three sets of Thelmas and Louises before it was Susan [Sarandon] and me, all with different directors. Finally, Ridley [Scott] said he was going to direct it himself. My agent had been calling Ridley's office every week for a year to say, "Geena's still interested. Can Geena see you?" So I went to this meeting with Ridley with a year's worth of passion and enthusiasm. I had met with my acting coach, and we'd decided that I should play Louise. So I'm pitching him fervently about why I must play Louise. He listens for a while and goes, "So, in other words, you wouldn't play Thelma." There was a very slight pause and I said, "You know what's interesting? As I've been hearing myself lobby for playing Louise, I realize that it doesn't sound right. I should play Thelma." And then I just made shit up about why I had to be Thelma! And I was.
What was your worst survival job?
Once I was acting I was able to make money. I knew from when I was 3 years old that I wanted to be an actor, and I majored in acting at Boston University. The first class was an orientation with about 100 incoming freshmen. The professor comes in and goes, "I have to tell you. You've chosen an incredibly difficult profession. Maybe only 1 percent of you will be able to earn a living as an actor." And I thought, Oh, these poor kids. I wish somebody had told them—like I was the one! I was just so positive. But maybe they were all thinking that, too. I certainly was. Thank God it worked out, because I didn't have a backup plan!
Inspired by this post? Check out our film audition listings!