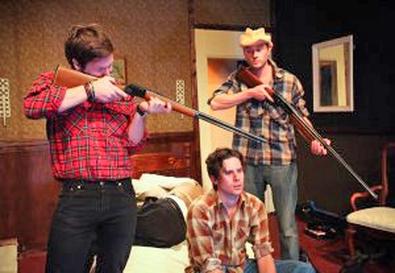 Christopher Durang might always be known as the creator of actors' nightmares, but Sam Shepard will probably be revered forever as someone who wrote juicy roles that are an actor's dream. Perhaps due to the acumen gleaned from his own Oscar-nominated career as a performer, Shepard, in his prolific quest to become a contemporary Damon Runyon chronicling the shabby but proud modern-day remnants of the Wild West, continually invents deliciously dysfunctional underachieving characters into which his peers can sink their teeth—right to the gums.
The characters in Shepard's forlorn 1974 play are true to the dramatist's style: lost, achingly hopeful, and somehow all believably poetic. Kris Lemche is Cody, a young man from the sheep-shearing land of Wyoming who achieved his 15 minutes of fame from his ability to pick winning horses while in a dream state. Kidnapped and handcuffed to a bed in a series of hotels by a sleazy crew of minor criminals trying to make millions on his rare but not always reliable gift, Cody finds his powers fading along with the number of stars awarded each successive hotel prison, leaving his life in jeopardy if the hits don't keep on comin'.
Director Jamie Wollrab and his obviously promising company of eager young players grab hold of this little piece of Shepard and hang on for dear life. And the effort must be applauded, especially for their willingness to go to the gritty, bizarrely improbable places this play leads them. The significant word here, however, is "young," and Wollrab's cast is almost uniformly too short-in-tooth to play these men—people who have lived disappointing lives long enough to find themselves where they've landed in their downward-spiraling existences. Although Cody and three other brief characters are played age-appropriately, his lowlife band of kidnappers are not, leaving the viewer with the feeling of watching a scene performed in a college acting workshop—albeit a very good one.
All these guys, including Wollrab, have a definite future. In the meantime, although this is not to suggest sticking to Neil Simon, let's hope Moth Theatre's next project is chosen to better reflect the ages and talents of its company members.
Presented by and at the Moth Theatre, 4359 Melrose Ave., L.A. Jan. 29–March 6. Fri.–Sat., 8 p.m. (323) 666-2296. www.brownpapertickets.com.