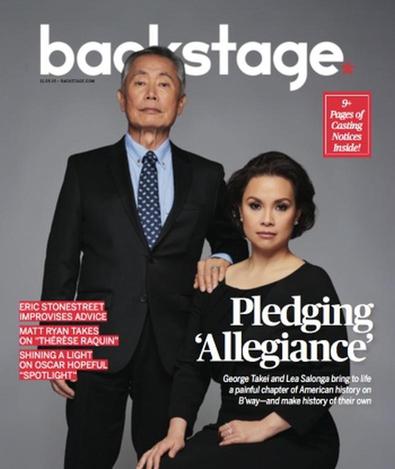 The word "groundbreaking" gets thrown around a lot, but when uttered in the grand baritone of George Takei's voice, it takes on a far more profound meaning.
"This is the first time this story is being told on Broadway," Takei says of "Allegiance," the new musical in which he stars. Inspired by the actor's earliest memories within the fences of a World War II Japanese-American internment camp, the show has been in development since 2009 and opens at the Longacre Theatre Nov. 8. When Takei, seated in the audience before a preview, gestures to the stage and says, "This is groundbreaking," it's not only because the drama sheds light on a little-known detail in our country's history. Of all his trailblazing projects in the half-century since the original "Star Trek" series, bringing to Broadway the first major musical about an Asian-American family is proving Takei's most personal.
"I feel the importance of this story not dying out with me," he says. "And what a wonderful thing, to merge that life's mission of mine with my passion for musical theater. To tell that story to another generation—it is so fulfilling."
Breaking ground is certainly not a foreign concept to his co-star, Lea Salonga, who emerged at age 18 a musical leading lady unlike any other. The numerous awards she received as Kim in the 1989 international hit "Miss Saigon" launched a thriving theater, television, and concert career both in her native Philippines and beyond. "Allegiance" marks the first role she's originated in New York since then, and her sixth appearance on Broadway.
"You hear people blowing their noses into Kleenex, and the laughter," she says. "And you're fed by that." It's worth noting that "Allegiance" has as many joyous moments as sobering ones; Takei plays both a World War II veteran in today's time, and the family's patriarch, Ojii-San, in the '40s, the latter of which provides plenty of laughs thanks to his impeccable comedic timing. Salonga says the development process, from a sold-out run at San Diego's Old Globe Theatre to the Great White Way, has been a blast.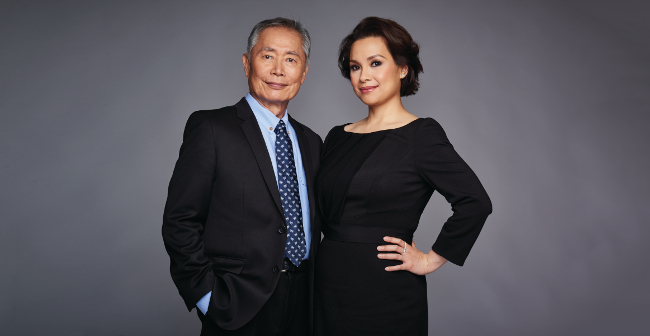 "I don't remember having this much fun in 'Miss Saigon,' creating a role. With this one, I think I bitch and moan a whole lot more," she adds, chuckling. "But in a good way!" Both actors want to make sure they properly represent the over 120,000 people of Japanese ancestry incarcerated after the attacks on Pearl Harbor, a moment in the American narrative that still generates controversy—as Takei points out, "Our education system and our culture has been mute about it."
Although the two worked together on the 1998 Disney animated classic "Mulan," they did not meet face to face at the time. ("I was the fat dead guy," Takei says. "He was that First Ancestor: 'Mushu, awaken!' " Salonga explains, imitating his voice with startling accuracy. "And I was singing [as Mulan].") It wasn't until Salonga heard what composer-lyricist Jay Kuo had written for "Allegiance" that she signed on to the musical, performing opposite Takei in its first reading at the Japanese American National Museum. The story struck a chord in Salonga; plus, she got to flex her acting muscles as Kei Kimura, a woman torn between her brother's patriotism and the resistors' movement in the Wyoming internment camp to which her family has been relocated.

It's clear Salonga wants to do the material justice when she's suddenly handed new notes midinterview. "Uh-oh, we have a lyric change," she says, slipping into work mode to note the revision in their duet. "It's not 'sareru' anymore. 'Ishi kara ishi...dekiru.' "
Takei chimes in, "Oh, dekiru. 'It can be moved.' Sareru is 'we can do that.' "
"Hai," says Salonga. Can she speak Japanese? "Nope. I fake it, but I don't speak it."
"Her pronunciation is very good, though," he says, laughing. "You'd think she's Japanese when you hear her. She's a great actress."
Asked whether this kind of musical could have appeared on Broadway a decade ago, Takei responds, "I suspect not." This is due in large part to the actor's massive social media following, built up over the last several years after he and his husband, Brad, began posting funny memes and "Star Trek"–related ephemera to Facebook. The power of the Internet, Takei explains, is that it enables you to carve your own identity into today's culture. "What you do, whoever you are, that's what your [niche] is. You define your future."
Salonga, who boasts over 3 million Twitter followers herself, says the Web facilitates a kind of cultural democracy. "There are so many different mainstreams. You like what you like and you're not always going to accept what is being spoon-fed by mass media."
That the first Asian-American in a major TV role and the first actor of Asian descent to win a Tony Award have flourished in the social media landscape should come as no surprise; both were forging new paths in the entertainment industry long before the Internet gave more diverse audiences a voice. As Takei points out, "Certain norms have been destroyed, and individuals in society are now creating the norms—[it's] not something that is dictated down to us. We are living in a science fiction world." Not only, he adds, because everyone now carries the portable communication devices "Star Trek" creator Gene Roddenberry envisioned back in the '60s; that series broke down barriers with its commitment to "this idea of diversity, of defining our strength by working together as a team."
It's a concept that lends itself well to "Allegiance," a musical led by Asian performers, stitching a new story into the diverse fabric of American culture. As longtime advocates for actors of color, Takei and Salonga take pride in watching their cast mates shine on the Broadway stage. "Telly [Leung] is going to be a major star. Michael K. Lee is wonderful," says Takei. "When I started out, we were stereotypes: villains, servants, the enemy soldiers. To see them getting these roles..."
"As heroes," adds Salonga. "Handsome, brave, flawed."
"Having romances, in romantic leads," says Takei. "It's wonderful."
There's also the example it provides tomorrow's artists of color. "If it inspires younger people who come to see our show," Salonga says, "someone 10 years old, saying, 'I want to be in theater,' and you have your parents telling you, 'No, nothing will come of it'... And then you see that!" She points at the Longacre stage, her eyes full of wonder. "It's inspiring. It's inspiring to this young kid who is out in the audience to make this their life. To see that it's possible."
---
Pledge Allegiance to This Advice
Throughout their lengthy careers, Takei and Salonga have been asked for actorly advice more times than they can count. "Don't expect the best job immediately," responds Salonga without skipping a beat. "Don't wait for that perfect job and don't refuse jobs. Take whatever. Those are invaluable learning experiences." Having started as a kid in the background of various shows in Manila, she says actors shouldn't underestimate the importance of ensemble work. "You learn the ropes in the ensemble. And you learn how to be part of a company, how to be a team player. Because you have to be—you'd better be a team player doing this!
"Befriend the people who are holding those spotlights," she adds with a laugh. "And the sound, the microphones. You want to make sure you're heard and seen."
Takei's advice boils down to performing in front of a crowd as much as possible. "They're the best critics. Workshops are good and drama teachers are fine, but the best is the audience." A mischievous smile spreads across his face. "And even better if they're paying!"
Want to read more? Check out our Backstage covers here!