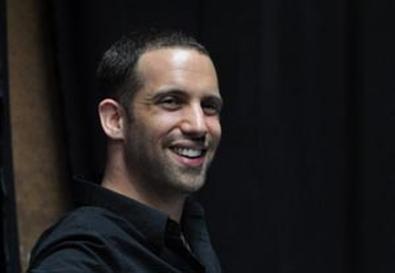 "Comics aren't known for being tactful or gentle," says actor-comedian-magician Gerry Katzman, who notes that being "kind, warm, gentle, and welcoming" are keystones to his success teaching standup to students the past seven years. "You end up making progress so much faster, way faster than you would ever make on your own just going up and failing with no gentle, kind feedback about how to make it better."
His former students concur. Carri Kessler notes, "He gave me confidence, created a nurturing, supportive, insanely familylike environment to feel safe and get real and make amazing comedy in. I am forever grateful for him."
Jennifer Marsala tells Back Stage, "Gerry is an incredible teacher. His caring and dedication to his students and to the craft of comedy writing and performance is truly remarkable. He creates a welcoming and warm environment and is able to really bring out the true talent in everyone he works with."
So just how does he bring out a comic's "true" talent? Katzman starts his 10-week class by helping students figure out their "unique life story." He explains, "They could be very temporal things like 'I just moved back into my parents' house.' Or it could be something like 'I grew up with a Mafia father' [as was the case with former student, now professional comedian and TV writer Nina Manni]. Or 'I worked at Hooters' or Blockbuster or Denny's, or 'I'm a real control freak.' So the first part of the journey in my class is discovering what is your unique life story that's going to be one of your major themes in your standup."
Katzman then teaches students joke-writing techniques—how to make their unique themes instantly relatable to an audience of 200 strangers and how to make jokes "punchy, interesting, compelling, exciting, and insightful."
The end result Katzman's students leave with is a five- to 10-minute professional-quality routine. Katzman's workshops conclude with a student showcase, attended by bookers from the various L.A. comedy venues. "Those bookers invite them to perform almost immediately at all the major comedy clubs," says Katzman. "They're not getting paid at first. It's conditional that they have to bring people, etc. But they're immediately getting into the flow of things."
His former student and Back Stage voter James Dubenskyi notes, "I took his class years ago and still go to his showcases—some of the best comedy nights out there. And that's just his new students!"
Other former students who are now succeeding as comics and comedy writers include Daniel Leary (writer on "The Ellen DeGeneres Show"), Monrok Madan (winner of the California's Funniest Female Contest in 2009 and a contestant on NBC's "Last Comic Standing"), Amir Talai (CBS's "The Ex-list," "Harold & Kumar Escape From Guantanamo Bay"), and many more.
In addition to group classes, Katzman also coaches privately and will work with students outside of L.A. via Skype.

Gerry Katzman, (323) 251-1286, www.standupcomedyclass.com

Katzman was the Readers' Choice winner for this category in 2010.
Runners-Up:
- Todd Rohrbacher, (323) 302-9152,
http://actorscomedystudio.com
- Scott Sedita, (323) 465-6152,
www.scottseditaacting.com
- Donovan Scott, (818) 857-5888