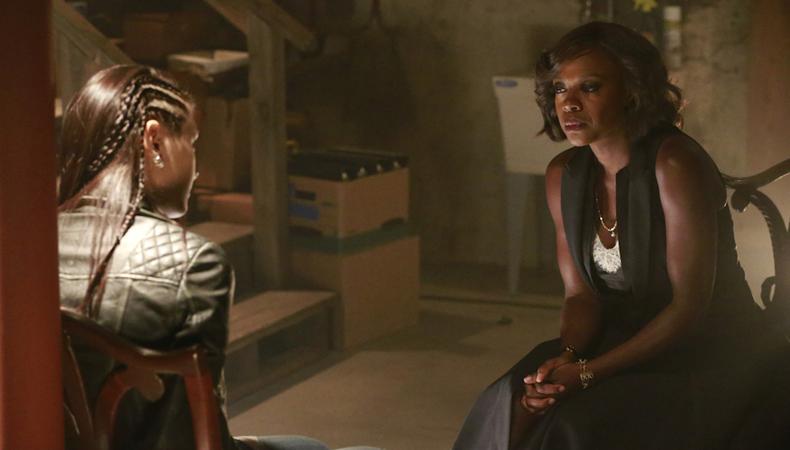 Mapping out a TV series is a bit like walking a tightrope; a showrunner must parcel out enough character and plot information in each episode to keep audiences craving more without teetering into the void that comes with revealing too much.
Peter Nowalk, creator of ABC's juicy legal drama "How to Get Away With Murder," says the key is figuring out which mysteries to introduce and exactly when to solve them. "We always want to keep the plot moving and keep [viewers] satisfied, not just give them answers," he says. "It keeps me up at night, which stories we're not telling fast enough and which we're telling too fast." His work is, in part, an exercise in how to get away with juggling several intricate plot lines at once.
Nowalk, formerly a writer-producer on "Grey's Anatomy" and "Scandal" with Shonda Rhimes—"She taught me everything I know," he says—enjoyed a supremely successful first season of "HTGAWM"; Viola Davis won critical acclaim and a SAG Award as the show's fierce antihero, Annalise Keating, while Thursday nights on ABC became a ratings bonanza for all three series coming out of Shondaland, Rhimes' production company. According to Nowalk, however, only nine of the season's 15 episodes had been outlined ahead of time.
"I had no idea what would happen after that," he declares. Those first nine installments veer between Annalise's gripping legal cases and flash-forwards that hint at the culprit behind the murder of her husband, Sam—all while establishing character arcs and pulpy plot twists. Nowalk decided to forgo flash-forwards in the final six episodes, shaking up the story's structure and allowing new whodunits to unfold.
"The central question had become 'Who killed Sam?' Then [it became] 'How do we get away with that?' " says Nowalk. "I'm glad we took that risk. Having that under my belt and going into the second season, it was nice to know we could change the structure of the show." (Season 2, which premieres Sept. 24, will unveil the identity of another murderer. When pressed for details, Nowalk turns coy: "We wanted to start off our second season with a bang.")
Amid constant surprises and character reveals, the cast of "HTGAWM" must stay on their toes. Nowalk praises his actors, all of whom rehearsed scenes beforehand and came prepared with possible backstories. "An actor's job is really hard from what I understand, because there's so much lack of control," he says. "Luckily we hired all these actors who are theater-trained. They take it very seriously and do their homework. They give me different versions of different lines, or say something that's funnier than I imagined it."
In the pilot, for example, actor Liza Weil turned a reaction shot into a choice that ended up inspiring Nowalk; as Annalise's assistant, Bonnie, she watched Annalise and Sam kissing with unmistakable jealousy. "She played that very dark. That created an entire storyline where Bonnie had a thing for Sam." Although he would never want an actor to deviate completely from the script, Nowalk appreciates flexibility and creativity. "As a writer, I get to write the things and hand it to them—sometimes the day before we're shooting it. I try to encourage our actors to take what's there and find the moment and deepen it."
Whether it's managing a series' complexities or performing them, Nowalk says it's important to both trust your own gut and be receptive to others' ideas. "It's a real lesson in learning to listen to yourself and [knowing] when to ask for help." Had he doubted himself or erred on the safe side, none of the epic twists that made "HTGAWM" a hit would have been written.
Nowalk's philosophy when it comes to taking such risks and reaching for those extremes doubles as excellent advice for all actors and writers working in television: "When in doubt," he says, "just go for it."
Inspired by this post? Check out our television audition listings!