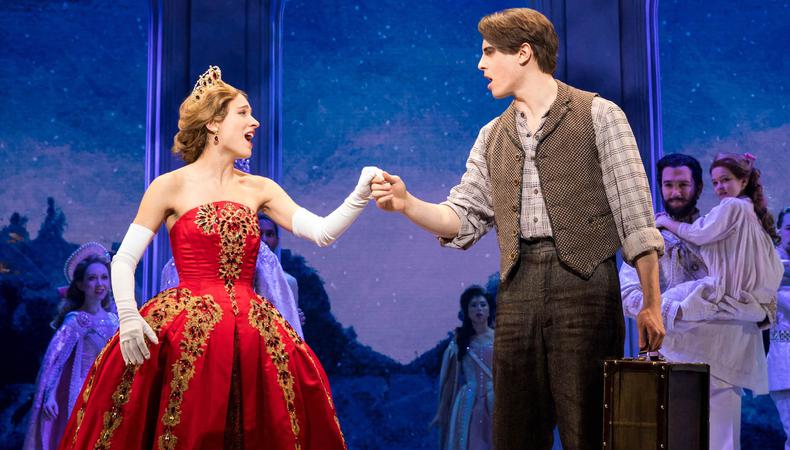 "Anastasia" marks the arrival of a major new Broadway star. Having played Sophie in "Mamma Mia!" in 2012, Christy Altomare isn't exactly new to the New York stage, but she's never made an entrance as grand as her titular role in the new musical from "Ragtime" Tony winners Terrence McNally, Stephen Flaherty, and Lynn Ahrens.
As Anya (who is actually the amnesiac Princess Anastasia), Altomare captivates while singing, dancing, and acting her way from the streets of St. Petersburg to Paris in the hopes of reconnecting with her long-estranged grandmother, the dowager empress. Along for the ride are con artists-turned-friends Dmitry (Derek Klena) and Vlad (John Bolton), who slowly realize that the Anya they picked up as a street sweeper in hopes of swindling the empress is so much more than they could have hoped for.
Tasked with a number of beloved songs from the 1997 animated film, as well as new soon-to-be-favorites, the actor playing Anya had to capture audiences' imaginations eight shows per week while originating a role that will inform others' take on the material for years to come. It's a big ask for any performer, but Altomare doesn't miss a beat.
"She just knocked us out," McNally recalls of her first audition last year. "I'd never heard of her in my life, and we saw hundreds of young women. She was just a name on a list." But by pairing an ambitious vocal performance with an emotionally astute reading of McNally's script, Altomare earned a callback to audition a second and third time. "Each audition got stronger, and [now] she's just blossomed in it," McNally says. "It's thrilling to watch a young actor become who she's destined to be. She is a real leading lady of the musical theater."
McNally says the creative team wanted an anonymous talent for the role ("I don't think Bette Midler as Anastasia would have worked," he quips). He maintains that "you have to take chances when you see talent and you have faith in it. Someone gave me my first Broadway show…so I love the continuity of that process, of seeing a new generation stepping up to take their bow center stage."
That begs the question, then: What constitutes music to McNally's ears in the audition room?
"I'm always impressed by actors who really seem to want the job passionately," he says. It seems to him that some think earnestness is a turnoff—that acting like you could take or leave the job is appealingly calm, cool, and collected. "It doesn't work," he says. "I like actors who come in like, 'I really want to nail this song for you guys. I really want to act the hell out of this scene.' " That means coming in off-book, especially if you're auditioning with sides of his work. "Stay up an extra hour and really make sure you know the lines. When you read a scene of mine and it's all paraphrased, that doesn't make me happy."
Above all else, though, performers auditioning for a musical must be able to sing. McNally admits that despite being a dramatist, he'll go for the better singer over the better actor.
"A musical is a musical, and I don't enjoy musicals if you can't sing," he says. "I go for the singer more than the absolute best actor because I always think if they sing the song that well, they're going to find a way to let it seep into their acting performance."
Altomare, fortunately, can deliver both in spades. Considering other young talent he's helped bring to the spotlight, McNally urges theater-makers to consume what the smaller fish are doing Off-Off-Broadway and in independent theaters in Brooklyn and beyond. It wasn't long ago that one Bobby Steggert caught his attention at the Gallery Players in Brooklyn's Gowanus neighborhood and then went on to star in McNally's own "Ragtime" and "Mothers and Sons." "There's always young talent in New York, you just have to go out at night and see them," he says.
So, you want to be the next Altomare? Say yes to opportunities of all sizes and locales. You never know who'll be sitting in the audience.
Ready to star on the Great White Way? Check out our Broadway audition listings!