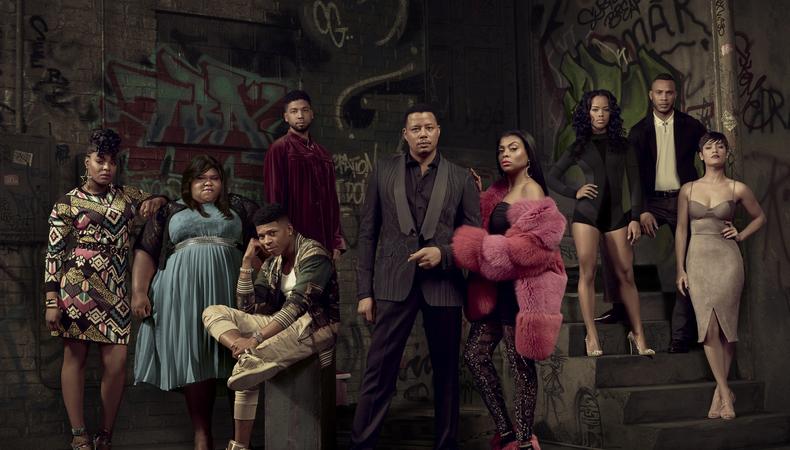 "I don't want to give any spoilers," teases Leah Daniels-Butler of the newly premiered third season of "Empire." "But Mariah Carey is always a lot of fun."
The casting director and sister to "Empire" creator Lee Daniels is responsible for bringing some of the hit Fox drama's biggest and baddest guest stars to a cast headlined by Terrence Howard and Taraji P. Henson, from Marisa Tomei to Kelly Rowland to Chris Rock (with Rock playing a cannibal, no less). The third season, which began Sept. 21, will feature the likes of Taye Diggs and Kid Cudi, along with Carey.
"Everybody wants to be on 'Empire,' " Daniels-Butler says with a laugh—that includes both celebrities in guest roles and lesser known actors as recurring characters. As casting director for both, Daniels-Butler says the two processes differ. "If they're a huge name that already has a core audience and fanbase," she says, the casting team makes wish lists and sorts out the logistics of scheduling and availability. "But if they're unknown and we're going to use them in multiple episodes, they can't be tied to a record label or have any music rights connected to anyone else."
Of those performers, Daniels-Butler says she's usually on the lookout for submissions from agents of "actors who can sing and/or rap. Sometimes I can dig deep and pre-read a lot of actors for one specific part." Although the series films in Chicago, actors hail from all over the country. (In addition, Chicago CD Claire Simon casts talent on "Empire," often through Backstage casting notices!) Pre-reads are held one-on-one with Daniels-Butler, who checks that an auditioning actor's talent is as up to snuff as his or her musical abilities. She also takes the opportunity to get to know the actor as a person.
READ: "How to Be a Successful Actor in Chicago"
"Us casting directors, we want the actors to win," she says. "If they're new faces, as a casting director you're always trying to break new talent and give somebody else a chance. You want them to win in the room."
That second phase in the room includes an introduction to the show's producers and often the directors of episodes. "I try to just make whoever's coming in feel as relaxed as possible," says Daniels-Butler, adding that young performers in particular tend to bring significant nerves into their callbacks. "They're so excited that sometimes they get nervous, they almost kind of ruin the audition. Once they actually get past the jitters, it's getting to who the character is." As with most on-camera work, "Empire" callbacks are about making clear and compelling choices, coming off as personable and easy to work with, and bringing the character to distinct life.
APPLY: 'Star,' Lee Daniels' Other Fox Series, Is Now Casting!
Remember, Daniels-Butler says: You may not fit the part for any number of reasons. But the impression you make can only help your acting career down the line. "You're auditioning for the job after this one. Even if you come in and nail it, you may not get this one." Auditioning actors should also do their homework on the creatives' previous work before coming in, she says—including casting directors. "And in this digital age nobody brings pictures anymore. Always bring a picture with you, regardless of [whether] your agent has sent it."
Most importantly, Daniels-Butler advises, don't let up on your training. Younger actors in particular tend to be more well-rounded, with résumés full of singing, dancing, and other useful skills. "As you get older, you tend to gravitate toward one," she says. "I think now, with music being a huge part of TV and film, if you have that talent, don't suppress it. If you are an actor and can sing, definitely stay in your vocal training because you'll never know when you're going to need it."
And actors should do so as consistently as possible throughout their careers, she adds, mentioning a quote from fellow CD Sandi Logan. "When you think about Michael Phelps—arguably the best swimmer in the world—he gets into a pool every single day whether he's practicing for a meet or not. When we see him we see the best there is. Same with acting, singing, doing anything. If you practice at it every single day, then when we see it, we see the very best you."
Ready to star in a hit TV series? Browse our Chicago audition listings!
And check out Backstage's YouTube channel for more advice from inudstry professionals: