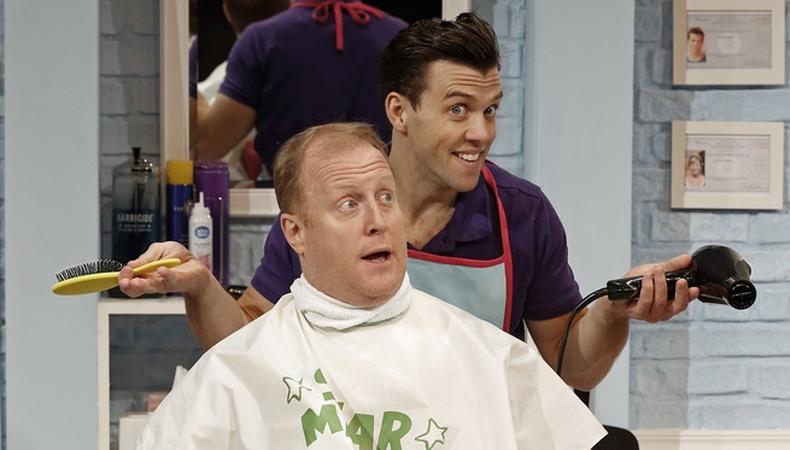 When Jordan Ahnquist got the call to join New York's run of "Shear Madness," he moved from Boston, Massachusetts and started previews within a matter of days.
"I have always wanted to go where the work is," Ahnquist says. "And I have been happy to do that in my early career."
A willingness to follow opportunity has taken the New England native all over the United States. After graduating from Muhlenberg College in Pennsylvania, Ahnquist moved to Wisconsin for an internship with the Milwaukee Repertory Theater where he "got to see how the big kids play." Acting then took him to Utah and Montana and back to Boston where he first booked "Shear Madness," the longest running comedy in the United States (it premiered in 1979 at the Charles Playhouse Stage).
But the move to New York was different. Though the show's run has since ended, Jordan is still in the big apple, now with an agent. However, he is still jumping at chances far and wide, with a recent gig in Florida and a part on the horizon back in Boston. His New York base is just another iteration of following the work, he says.
In order to make ends meet as an actor in Boston, you need to be working at the top rung theaters (like the Charles Playhouse Stage), he says, whereas New York offers a bit more variety and a more diversified portfolio. "I know really talented actors with great careers in Boston, but there are a wider range of opportunities here and more ways to pay the rent acting," Ahnquist explained. "It's a bigger pond though."
Shear Madness ran for a year and a half in New York City, got Ahnquist's foot in the door with an agent and the momentum is still rolling. But the past two years have had their share of starts and stops, including the occasional odd job and an off-Broadway show that the producers pulled the plug on the morning of tech rehearsals.
"It's much harder to get auditions in New York," Ahnquist said. He has actually traveled to other towns to audition for shows casting in New York City, too. And though he has an agent, he is still pounding the pavement going to open calls. "Even if you don't get the part, auditioning can help down the road when a casting director recognizes you."
Predominantly a stage actor, Ahnquist is also taking some on camera classes at Kimball Studio, as even working actors still have more to learn. He's arming his arsenal to be prepared for any work that might come down the pipeline now that he lives somewhere with a bigger variety of jobs.
Get all of your acting questions answered by peers and experts on the Backstage Community forums!