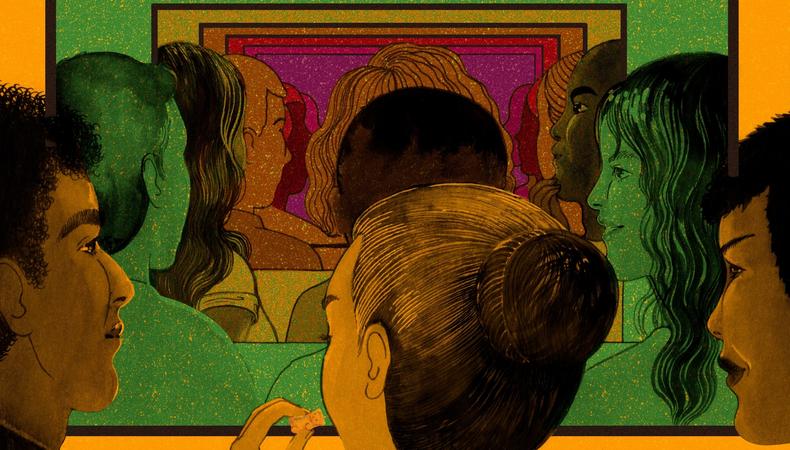 At a time when HBO and streaming services seem to dominate much of the television conversation, ABC's "The Good Doctor" from creator David Shore broke through with audiences. The series hit the top of ratings charts, beating out previous leader "This Is Us" and boasting a strong viewership for its entire first season, starring Freddie Highmore as autistic medical resident Dr. Shaun Murphy. Navigating casting a character with a specific condition—in addition to taking on her first medical show—made the project an exciting challenge for casting director Kim Coleman. She built an ensemble around Highmore that came to feel "like a family." It might not have been the easiest process, but the result is a cast that resonated with viewers from the show's first episode.
How was this job different from other projects you've worked on?
It was my first medical show, so in the beginning a lot of the medical terms were a challenge. I was constantly going to YouTube for pronunciation. It became a challenging audition process for some of the actors and myself. I also needed to familiarize myself with the lead character's condition. I read a lot on autism as well as adults on the spectrum, and I talked to many different organizations. It was very important to humanize this character. He's a regular person, and he has this particular condition, so I just wanted to make sure we were on point with what David had written and what was out there in the universe. We wanted to keep it very real and not portray him as some type of caricature.
What was the casting process like for "The Good Doctor"?
I got the script and familiarized myself with all the characters and the language of the script. As a casting director, my job is to present many different options to my team, so during the audition process, I tried to give them different options for that role and the others. I auditioned many actors, a diverse group (especially for Dr. Murphy), and, ultimately, Freddie Highmore was amazing. He's such a talented actor. You want to root for him. He's so likable. You want to go on this journey with him.
READ: Pilot Season: The Checklist
What do you have to do differently when building an ensemble?
Gender, ethnicity, age—all of those factors have to come into play because these are all new residents that are all in the same stage of their careers. They all had to be contemporaries. In this particular ensemble, if one person stood out, it would be evident. I was conscious of the type of actor, the delivery, and their versatility. Because Freddie is so versatile, I had to make sure they were actors who were as skilled as he is. We had them audition so many different ways, and they were all great.
What advice do you have for actors?
When you leave my office, you're always going to feel some kind of way, but don't do that. There are a lot of other factors that go into casting a particular role. Don't beat yourself up. Maybe this role wasn't for you, but [there's] something else you might be right for. Always continue to study and take classes. You need to make sure your instrument is well-tuned. And be prepared and on time. That's the main thing. Some actors come in [and] they won't be off-book, and that's not helping you or me. I want you to do an amazing job. We're in it together. We're a team.
What can an actor expect from auditioning for you and from working on an ABC show?
I will initially audition an actor, and then I will present them to my creators. We'll send their tape or their audition to the network and the studio, and if everyone is on the same page, they will test. It's the same process if you're doing an independent film or feature film, it just depends on the director. They may want to see them once, then they may want to see them another time. If it's a romantic comedy, you may have the actor chemistry read with another actor. They may do it another time. It depends. Some folks think that in a feature film you just audition and that's it. It really depends on what the role is and what the director is looking for.
What's something an actor shouldn't do in your audition room?
In an initial audition with a CD, I don't think an actor should have any type of physical activity, unless we have discussed that and we know ahead of time. If there's a scene, and in the scene they grab my arm, that's something I think should be discussed. I want to roll with them and be in the scene with them. Something like that they should discuss ahead of time. A couple of actors over the years, if there's a scene where there's a weapon involved, even though it's a plastic knife or gun, if they whip it out, it's like, 'Whoa! Hey, stop, hold it.' Basically, in my office, I just want everyone who comes in to shine. Try to have a lot of fun; I always want them to leave feeling good about themselves.
What qualities make an actor memorable to you?
Professionalism and confidence stand out. Different roles require different talents. I always appreciate an actor who really comes in and may have a different take on a character. I'm always open to that, because it feels like they put in the work and really thought about it. Read the script, take it seriously with the sides. I appreciate that, too. If I'm seeing 150 people, to have everyone come in prepared and knowing their lines, it just makes the process a little easier. Most actors fit that bill, every now and then you get a few who don't, but once I tell them, they're usually on time and prepared the next time I see them. I'll tell them, 'It needs to be off book. Come back when you have it.' I really need them to think about this, and I'll reschedule. A lot of times they do. Sometimes people have personal situations or things going on and if that's the case, come back—it's OK. I try to be very understanding about it. Everyone is in different situations.
What's something an actor should do for more successful audition results?
It's about taking your career and your passion very seriously. It's not so specific. Being prepared and being on time and having confidence. Knowing who your character is and being versatile. A lot of times an actor will come in reading a particular scene, and sometimes creatives will give you a different direction. Actors have to be prepared to do that. Don't just have the one particular point of view in your head. I think that's important, too.
Ready to get to work on network TV? Check out Backstage's ABC casting calls!