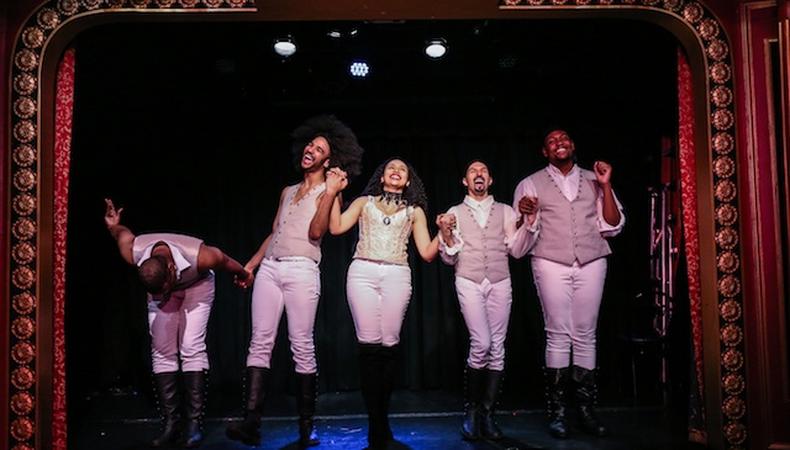 When talking about his love of theater, Gerard Alessandrini can't help but mention the joy that he gets from spoofing it. The playwright has been a staple on Broadway for 30 years, beginning his parody career with "Forbidden Broadway." Now, with the success of his most recent revue "Spamilton: An American Parody," the Off-Broadway hit is taking up residency at Los Angeles' Kirk Douglas Theatre from Nov. 5–Dec. 31—and it's casting! By-appointment auditions are hitting L.A. Aug. 9–11; we spoke with the creator himself about what he looks for in the audition room and why he's tired of hearing actors perform vulgar songs.
What inspired you to create 'Spamilton?'
"I love musicals, and 'Hamilton' was one of my favorites for a long time…. I was so happy that there was a new show that told a dramatic story in a very musical way. To me, that's what great musicals are: They reinvent the way you tell the story with song. So, I loved 'Hamilton,' and since I've been spoofing shows for years, I thought, Well, I have to do this one."
What do you definitively look for in the audition room?
"You have to have people that sing well and really know how to put over a song. So first, we look for people who are just good singers. Then, we have to investigate if they can act, if they're funny...and if they can handle the different styles of music that are in 'Spamilton'…. It's a hard process, because not everyone can do it. You can't be trained to be that versatile."
APPLY: 'Spamilton: An American Parody'
What makes you notice an actor?
"Presence and the twinkle in their eye. If they have the other things in tow—for example, a good voice—it's something lively in the way they communicate the song. It's sort of a communication skill they need to have…. It's not something you can actually really teach or really put your hand on sometimes. It's there for the people that can really do it. It's sort of an inner understanding of material."
What kind of things turn you off to an actor?
"Since they're auditioning for a show that's a comedy, we'll get to the comedy later. I'm not always looking for the comedy right away, so sometimes, when people try too hard to be funny, that can be a turn-off. It's better to approach it from the acting point of view and then let the material or the situation make it funny. I don't really like vulgar. People think it's funny to do a vulgar song that's won awards or something. That usually can ruin it. And, this is probably true for any show, but if someone is not prepared. Like, if they don't know what they're doing or don't have music pulled together [that's a turn-off]."
What songs do you hate hearing during an audition?
"It's hard to say without knowing the song. I do know that if that actor doing the song isn't prepared to do it or hasn't done it a lot...the rule of thumb for an audition is give me your best shot, give me the thing you can do best and then we'll take it from there. Don't try to guess, 'Oh, what do they want to hear?' Just come in and do the best material that you have that you're most comfortable with…. Don't try to double guess what they want. And then, of course, you'll probably have to come back and do material from the show."
A lot of times actors talk about knowing they gave a bad audition when they leave the room. Do you think that they can really tell?
"I really think [actors] need to give themselves a break. They can't start talking like, 'Oh, I should have done this, I should have done that,' because they don't know. They really don't know. The people hiring may have seen somebody else earlier or later. It doesn't necessarily mean they gave a bad audition, it's just really about the numbers and what's needed. That's why, if they do something they feel confident in, they can feel good about that. They don't have to worry about, 'Did I do it right?' If you go into an audition and you don't know the song and it comes out terrible, then, yeah, you're going to blame yourself, and you probably should. That's why if you go in with something that shows you off the best, at least when you leave the audition you'll know, 'Well, it's not up to me, it's up to what they're looking for.' "
Want to be the next parody star? Check out Backstage's Broadway audition listings!