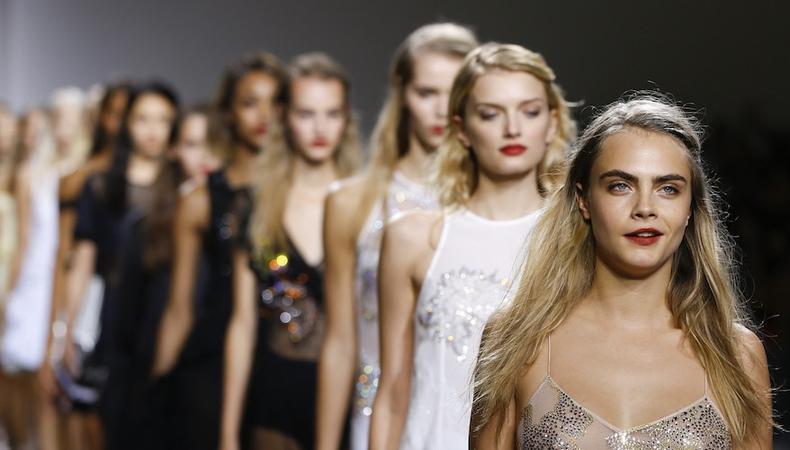 By now you'll have realised that there's an awful lot going on in old London Town. Let us help you sort the Tony winners from the Tony Danzas with our weekly guide to the events every London actor should know about.
Join the fash pack at the London Fashion Week Festival.
Fancy hobnobbing with Cara, Kate, and Gigi? London Fashion Week is in full swing and you can be part of it by joining in with the LFW Festival which is open to the public. Take in a catwalk show, get career guidance from industry insiders—or maybe just hair and makeup tips. Clearly, it's going to be absolutely fabulous, darling! (Tickets from £20)
Get some tips from two great actors.
Playing to packed houses at the National is Lucy Kirkwood's new play 'Mosquitos', starring Olivia Colman and Olivia Williams. On Monday 18 September, the two lead actresses will be back on stage to talk about the 'challenges and rewards' of their roles. A great chance to hear these two performers at the top of their game. (Tickets £7)
Sing some songs from the shows.
On 20 September, why not join some of London's hottest comedians as they celebrate songs from top musicals for charity. Fresh from the Edinburgh Festival, 'Amusical' is a friendly singing competition showcasing the musical talents—or not—of some top comics. Might be a good idea to bring earplugs. (Tickets: £5)
Design a day out in the capital.
The huge London Design Festival kicks off this week. Pop up shops across town, design pub quizzes, a soft, squidgy castle built in the heart of the city, and the V&A's breathtaking 'Relection Room' neon installation, the festival's presence in the capital will be hard to miss. So check out a beautifully designed event near you. (Free)
Get your rainbow vibe on.
Like colour? Like wearing a cape? Then you'll love Colourscape which returns to Clapham Common for its 28th year. Choose a coloured cape and take a wander though the huge multicoloured maze which takes over an acre of parkland. Plus if you go at the weekend, the rainbow tunnels will be filled with live music. (Tickets from £5)
Check out Backstage's London audition listings!