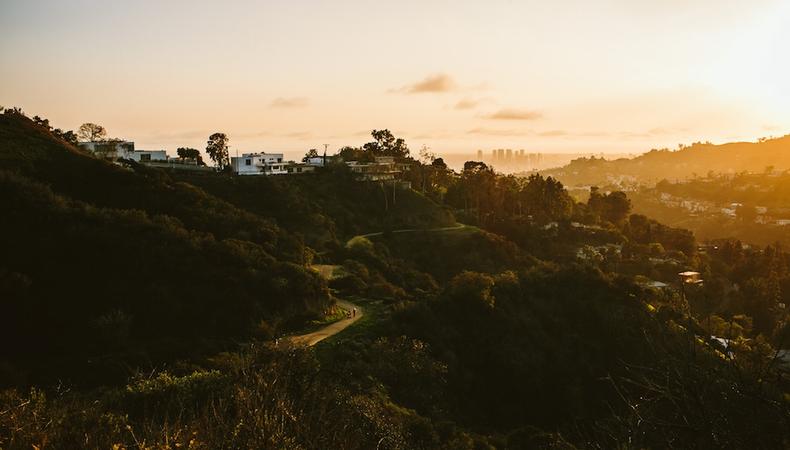 Fitness is crucial for any living and breathing human being. For actors, it's even more so, as your body is basically the package containing the product that is you. Unfortunately—particularly in a city like Los Angeles—a gym membership or workout classes can run up a tab that just isn't feasible after factoring in bills and groceries and gas.
But don't despair at your dearth of treadmill access. Here, we've rounded up the tips and tricks for getting your sweat on all over L.A., completely cost-free. Now, lace up those sneakers and get to it.
Down dog at donation-only yoga classes.
Yoga is a fantastic way for any stressed out actor to rejigger both their mind and body. But shelling out cash to partake in an activity that's meant to be relaxing may end up being counterproductive when money itself is so often a point of contrition for the working actor. Luckily, there are tons of donation-based yoga classes throughout the greater L.A. area so you can say "om" without breaking the bank. Just make sure the donation-based classes have suggested donation, not mandatory ones. And then when you do book that show and are feeling flush, pay it forward and double your donation to make up for the free classes you took. Below are a few, but certainly not all, donation-only studios throughout the city, so research your neighborhood for the option most convenient for you.
Play the boutique fitness field.
Here's the deal: tons of gyms and fitness facilities in the L.A. area offer new member deals or free first-time classes. This means you can presumably hit a few spots in your neighborhood or close to your day job and pay a grand total of $0. It really is beneficial for your fitness future, as well, because you'll get to experience the best (or worst) offerings prior to ponying up for a full-time membership. And most of these studios will want to woo you down the road with discounts and specials when you do have the money to pay for a class pack. Below are a few new member deals.
Take the stairs.
For decades, one of the most popular machines in any given gym has been the StairMaster. But why simulate the action of walking (or running) stairs when you can do the real thing, and in a much more scenic environment? Stairs are a great way to kick your workout into high gear, without ever stepping foot inside a gym. Some sets of stairs throughout L.A. are well-known, while others are tucked away and less populated. A few of the best offerings are below, but exploring your 'hood or asking friends for reference will certainly uncover more.
Hidden Stairways of Silver Lake (Silver Lake)
Baxter Stairways (Echo Park)
Santa Monica Stairs (Pacific Palisades)
Baldwin Hills Scenic Overlook (Culver City)
Brookside Park (Pasadena)
Runyon Canyon Park (West Hollywood)
Get out and hike.
Okay, it's not exactly original, but why live in L.A. if you're not going to take advantage of its copious hiking offerings? There are trails and paths all over the region so you can almost definitely find an option that's location-adjacent, not to mention each and every one is created by Mother Nature and thus—just as she intended—completely cost-free. Here are some of the best spots to get your hike on.
Fryman Canyon Park (Studio City)
Runyon Canyon (Hollywood)
Franklin Canyon Park (Beverly Hills)
Sandstone Peak (Santa Monica)
Malibu Creek State Park (Calabasas)
Silver Lake Reservoir (Silver Lake)
After you've gotten your workout, get yourself a job through Backstage's Los Angeles audition listings!