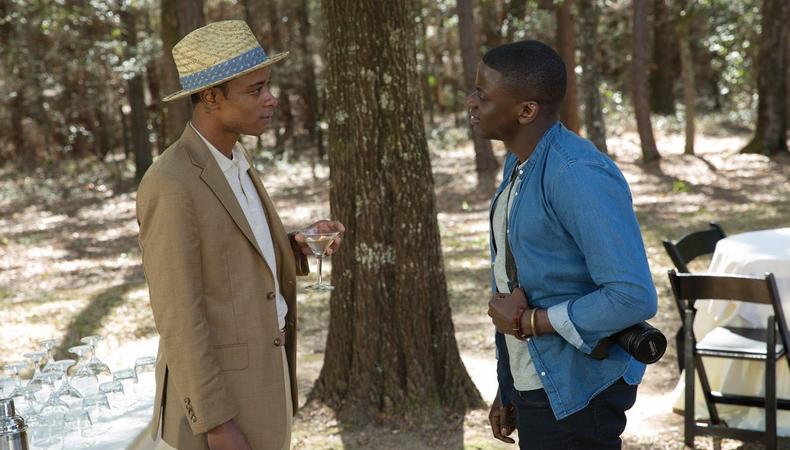 Film Independent rolled out the blue carpet for attendees of the 33rd annual Film Independent Spirit Awards March 3 on the beach in Santa Monica. Hosted by Nick Kroll and John Mulaney and aired on IFC, the ceremony ended with a crowning of this year's winner for Best Feature: "Get Out."
Presented the day before the Oscars by Film Independent, the non-profit behind the LA Film Festival, the Spirit Awards celebrate the year's most exciting big-screen projects made for less than $20 million. For the past four years in a row, Film Independent members have voted on the same Best Picture champion as the Academy of Motion Picture Arts and Sciences: "12 Years a Slave," "Birdman," "Spotlight," and last year's "Moonlight."
"Get Out," writer-director Jordan Peele's Universal Pictures horror flick, beat out nominees "Call Me by Your Name" (Sony Pictures Classics), "The Florida Project" (A24), "Lady Bird" (A24), and "The Rider" (Sony Pictures Classics). Peele also took the directing honor. The Best First Feature award was given to Neon's "Ingrid Goes West," while the international prize went to Sony Pictures Classics' "A Fantastic Woman." "Life and Nothing More" won the John Cassavetes Award, honoring an ultra low-budget project.
Accepting the day's top prize, Peele said, "Our truths are our most powerful weapon against the lies in this world. So keep doing what you're doing.... We believed in this story, we believed it needed to exist. I know that's what everybody here does, so we're so honored."
Claiming the four big acting prizes were Allison Janney for Neon's "I, Tonya," Sam Rockwell and Frances Macdormand for Fox Searchlight Pictures' "Three Billboards Outside Ebbing, Missouri," and Timothée Chalamet for "Call Me by Your Name." All are also nominated at this year's Academy Awards. As was previously announced, Film Independent's Robert Altman Award, given every year to honor an ensemble and its casting directors, went to Dee Rees' Netflix pic "Mudbound."
READ: Do the Film Independent Spirit Awards Predict Oscar Results?
Writer-director Greta Gerwig took home the top screenplay prize for penning "Lady Bird." Co-writers and married couple Kumail Nanjiani and Emily V. Gordon won the distinction of Best First Screenplay for Amazon's "The Big Sick." Of the screenplay based on the dire circumstances of their meeting, Nanjiani said, "People have asked us if it was worth going what we went through to be standing here right now. The long answer is, there is no reward for what we went through." Gordon added, "The short answer is, hell yes it is."
The 2018 ceremony's Honorary Chair, Ava DuVernay, introduced a brand-new distinction to the proceedings: The Bonnie Award. Named for Bonnie Caputo, the first female pilot to fly for a major U.S. airline, the Bonnie will henceforth be presented to a mid-career female director whose work inspires other women in the field. In its inaugural year the honor went to Chloé Zhao, whose film "The Rider" received four Spirit Award nominations. The Spirit Awards Nominee Brunch hosted Jan. 6 by John Cho and Alia Shawkat included other preliminary distinctions; "Quest" director Jonathan Olshefski, "Gook" director Justin Chon, Piaget Producers Award recipient Summer Shelton, and Seattle Story Award recipient Matty Brown were all feted.
Whether "Get Out," over a year after its February 2017 release, can go all the way this film awards season and claim the Oscar for Best Picture, remains to be seen. After his double Spirit Awards triumph, Peele was asked backstage if his chances with the Academy tomorrow are on his mind. "Not at all!" he exclaimed ironically. "That's the last thing we're thinking about!"
For a full list of winners, more information on the Spirit Awards, and to support indie filmmaking, visit www.filmindependent.org.
Check out Backstage's film audition listings!