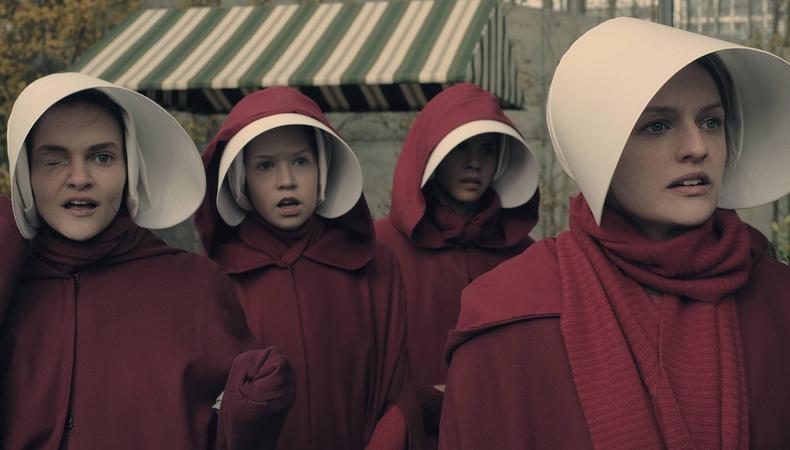 The spotlight was on writers Feb. 11 with the 2018 Writers Guild Awards, honoring the year's biggest achievements in film, television, new media, and more. Hosted by Patton Oswalt at the Beverly Hilton in Los Angeles and Amber Ruffin at the Edison Ballroom in New York City, the bi-coastal ceremony celebrated the labor union and its best scribes in its 70th iteration.
Winning the top film awards were original screenplay contender Jordan Peele for Universal Pictures' "Get Out" and adapter James Ivory for Sony Pictures Classics' "Call Me by Your Name." Both are nominated in their respective categories at the upcoming Academy Awards; given the strong overlap between guild members and writing voters in AMPAS, those results could well repeat themselves at the March 4 ceremony. Last year Barry Jenkins and Tarell Alvin McCraney of "Moonlight" took home the original screenplay prize; at the subsequent Oscars they won for adapted screenplay.
Peele took the stage in L.A. and provided words of wisdom to his fellow writers: "Keep taking chances, take big risks, put your love into it—it does pay off. It can take a long time. But our voices do matter."
Hulu's "The Handmaid's Tale" was a two-time winner, for best drama series and new series. Other TV winners included HBO's "Big Little Lies" and Lifetime's "Flint" in the long form adapted and original categories, respectively, as well as HBO's "Veep" for comedy series.
READ: 'The Handmaid's Tale' Casting Director on Listening in Auditions
The 2018 WGA West honorees included screenwriter James L. Brooks, receiving the Laurel Award for Screenwriting Achievement; writer-producer Alison Cross, receiving the Paddy Chayefsky Laurel Award for Television Writing Achievement; screenwriter and activist Dustin Lance Black, receiving the Valentine Davies Award; and "The Post" screenwriters Liz Hannah and Josh Singer, receiving the Paul Selvin Award. WGA East honored Tina Fey and Robert Carlock with the Herb Sargent Award for Comedy Excellence; Geoffrey C. Ward with the Ian McLellan Hunter Award for Career Achievement; and Hamilton Nolan with the Richard B. Jablow Award for Devoted Service to the Guild.
After being introduced by his "When We Rise" star Ivory Aquino, Black gave a rousing speech encouraging writers to use their platform for positive change. "The work we do in this room is incredibly valuable and necessary," he said. "Get out there and dream." Black was one of many who took the opportunity to rally their guild's community and speak truth to power.
The Writers Guild of America is Hollywood's biggest guild for writers, representing talent in various media and protecting the creative and economic rights of its members. For more information visit www.wgaeast.org and www.wga.org.
ORIGINAL SCREENPLAY
"Get Out," Written by Jordan Peele (Universal Pictures)
ADAPTED SCREENPLAY
"Call Me by Your Name," Screenplay by James Ivory; Based on the Novel by André Aciman (Sony Pictures Classics)
COMEDY SERIES
"Veep," Written by Gabrielle Allan, Rachel Axler, Ted Cohen, Jennifer Crittenden, Alex Gregory, Steve Hely, Peter Huyck, Erik Kenward, Billy Kimball, David Mandel, Ian Maxtone-Graham, Dan Mintz, Lew Morton, Georgia Pritchett, Will Smith (HBO)
DRAMA SERIES
"The Handmaid's Tale," Written by Ilene Chaiken, Nina Fiore, Dorothy Fortenberry, Leila Gerstein, John Herrera, Lynn Renee Maxcy, Bruce Miller, Kira Snyder, Wendy Straker Hauser, Eric Tuchman (Hulu)
NEW SERIES
"The Handmaid's Tale," Written by Ilene Chaiken, Nina Fiore, Dorothy Fortenberry, Leila Gerstein, John Herrera, Lynn Renee Maxcy, Bruce Miller, Kira Snyder, Wendy Straker Hauser, Eric Tuchman (Hulu)
LONG FORM ORIGINAL
"Flint," Written by Barbara Stepansky (Lifetime)
LONG FORM ADAPTED
"Big Little Lies," Teleplay by David E. Kelley, Based on the Novel by Liane Moriarty (HBO)
ANIMATION
"Time's Arrow," "BoJack Horseman," Written by Kate Purdy (Netflix)
EPISODIC DRAMA
"Chicanery," "Better Call Saul," Written by Gordon Smith (AMC)
EPISODIC COMEDY
"Rosario's Quinceanera," "Will & Grace," Written by Tracy Poust & Jon Kinnally (NBC)
COMEDY/VARIETY SKETCH SERIES
"Saturday Night Live," Head Writers: Chris Kelly, Sarah Schneider, Bryan Tucker, Writers: James Anderson, Kristen Bartlett, Jeremy Beiler, Neal Brennan, Zack Bornstein, Joanna Bradley, Megan Callahan, Michael Che, Anna Drezen, Fran Gillespie, Sudi Green, Steve Higgins, Colin Jost, Erik Kenward, Rob Klein, Nick Kocher, Michael Koman, Dave McCary, Brian McElhaney, Dennis McNicholas, Drew Michael, Lorne Michaels, Josh Patten, Katie Rich, Pete Schultz, Streeter Seidell, Will Stephen, Kent Sublette, Julio Torres (NBC)
Check out Backstage's TV audition listings!