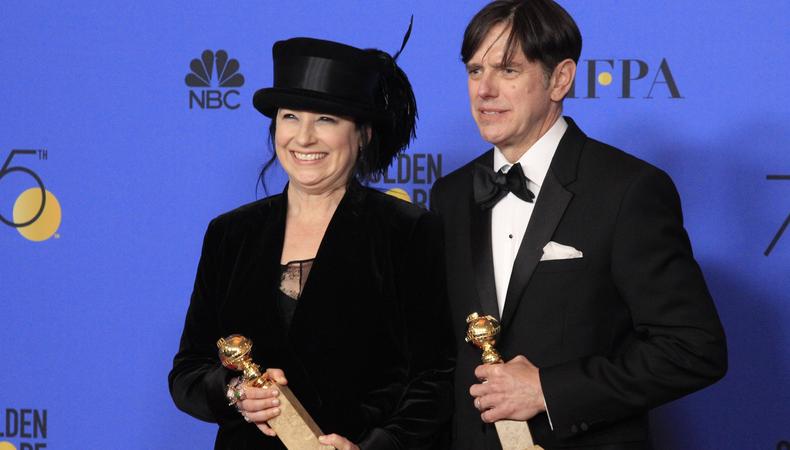 When asked for her best piece of acting advice, Amy Sherman-Palladino sighed and exclaimed, in a very Sherman-Palladino-esque way, "Oy, Jesus Christmas."
The brain behind Amazon's "The Marvelous Mrs. Maisel" told Backstage that she feels for aspiring actors, especially in the audition room. "Acting is so hard," she said. "It's so, so hard. For me there's nothing worse than casting sessions because so much goes into the decision to cast somebody. You'd be surprised how small the [deciding factors] are—'they're good, they're bad'—there's so much that goes into it, there's so much that has to happen. They've got to be the right this, the right that." The reason she has the utmost respect for performers, she added, is "because you're laying it all bare, you're laying it all on the line."
Take "Maisel," the writer-director-producer-showrunner's comedy hit about a 1958 Upper West Side housewife who, after her husband's sudden abandonment, stumbles into a promising career as a downtown stand-up comic. Early in the Golden-Globe-winning show's development, Sherman-Palladino remembers a painful casting ordeal thanks to the astonishing level of talent among the contenders for Midge, the titular role that eventually went to Rachel Brosnahan. "The audition process for this was so harrowing. It was four different scenes, and every girl came in off-book. It was like, 'Jesus, you guys are amazing.' We had such great actors."
It's a reminder of the most practical advice for those in the acting profession: accept that there will be rejections. "The key to anything in this business is to just know your own talent and don't let people knock you down because you're going to go through long stretches, there's going to be a lot of rejection, and that's just the way it is," Sherman-Palladino explained. "Ninety percent of the game is just fending off the rejection. And knowing that not everything is about you. It's not about your talent, it's not about your hair, it's not about, 'If I'd worn the pink shirt.' There are so many bigger things. Keep your eye on the prize and just walk in there and do your shit."
As for audition advice specifically for her shows, Sherman-Palladino offered a crucial tip, one that might not be a surprise for fans of her work: "They gotta talk fast! They have to talk really fast." As with her previous series, "Gilmore Girls" and "Bunheads," a higher-than-average amount dialogue is packed into her scripts. Characters penned by Sherman-Palladino and her co-executive producer and husband Daniel Palladino have a lot to say and not much time to say it.
Auditioners, she says, "Can't wait to act." But once on they have the role, things change. "A lot of actors act in between the lines. They'll say their line and then wait for that close-up and then start acting. We don't do that on our show. Don't wait to act. You better act while you're talking and act while you're doing. You gotta multitask here!"
Looking for an award-winning role? Check out Backstage's TV audition listings!