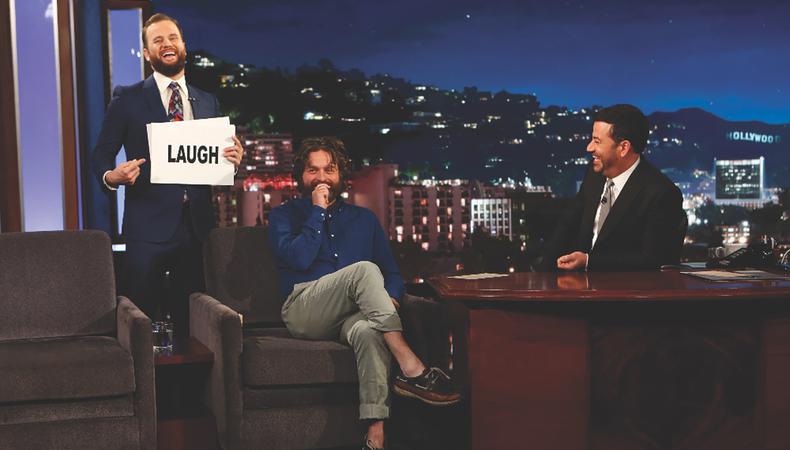 Since the days of Johnny Carson, late-night talk programs like "The Tonight Show" have been a place where audiences convene for the day's headlines, a dose of pop culture, and a celebrity interview or two. "Jimmy Kimmel Live!" staff writer Jeff Loveness equates their purpose to Franklin D. Roosevelt's famed fireside chats, saying, "Roosevelt would talk to people on the radio during the Great Depression and make them feel like everything was going to be all right. I feel like late-night shows are of that spirit."
So how does an aspiring comedy writer or performer get to work for TV's ever-expanding late-night offerings? Beyond taking UCB classes or hitting up local open mics, comedians need to be a special kind of self-starter.
READ: "3 Ways Hosting Is Different From Acting"
For "Last Comic Standing" finalist-turned-"Conan" staff writer Laurie Kilmartin, that meant taking her jokes to Facebook and Twitter.
"You need to have a strong social media presence and you need to be writing jokes and putting them out [there]," Kilmartin says. "Especially with topical stuff, you just need to stand out. Tweeting great jokes… that's going to make people notice at some point."
Social media platforms like Twitter and Facebook are a great way for comedians on the rise to gauge audience reception in real time. Now is the perfect opportunity to be live-tweeting major political events—the presidential election is right around the corner! Get a good Donald Trump joke to go viral and you never know who might see it. (Fingers crossed it's a "Late Night With Seth Meyers" producer!)
Posting jokes online also serves as the perfect backlog for a comedian to build his or her application packet when someone like Conan O'Brien comes knocking. "That's what helped me," Kilmartin says. "When I got this job [at 'Conan'], I was using Facebook. When I was told Conan was hiring and [I had] to do a packet in a week, I had a ton of jokes to sift through."
Loveness, from "Jimmy Kimmel Live!," took his first steps to late night a little differently. Coming from a homegrown improv and sketch comedy background, he recalls spending time as a teen and college student making videos and posting them to YouTube. When his "Wes Anderson Spider-Man" parody video went viral, he got a call from Kimmel's team, landed an internship, and the rest is history.
"I'm from a town of, like, less than 200 people, and I knew zero people in Hollywood…. The only reason I'm here is because we made stuff on YouTube and people saw it," Loveness says. "I would definitely recommend working on your craft for as long as you can [and] do freelance submissions—there's ClickHole, there's the Onion, there's McSweeney's. Just try to make as much stuff as you can at the highest level of output that you can and at the highest level of quality. Looking back after six months or a year, you'll have a body of work that you can be proud of, and from there, pick the best ones as kind of your calling card and then send it to people."
While both Loveness and Kilmartin continue to work on their own material (Kilmartin has a comedy special premiering Dec. 29 on Seeso and Loveness is working with his sketch team in Los Angeles), they each relish writing monologue jokes and sketches for their respective programs and embrace the opportunity to stir a national dialogue.
"I really love the beauty of it," Loveness says. "It's a way of truly making people feel better about themselves, which is really all you want to do in comedy. It's also great for just calling people out. We had Donald Trump on the show, and Jimmy flat-out told him to his face that it's un-American, what he's doing. I was so proud of him in that moment."
Want to start your career in TV? Check out our TV audition listings!