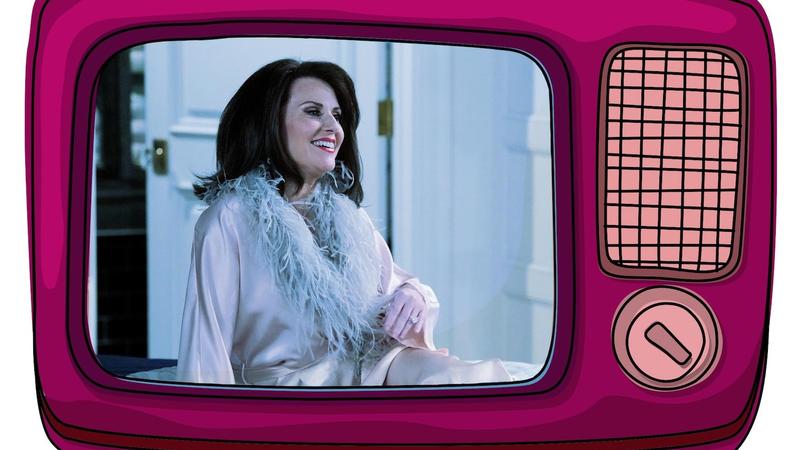 Before we are treated to the 70th Primetime Emmy Awards on Sept. 17, Backstage is breaking down each nominee in major acting categories: how they earned their nomination, what you should remember about their performances, and why we at Backstage can't stop thinking about them. Whether you're in the Television Academy and need a refresher or are just overwhelmed by the sheer amount of peak TV binge-watching options, read on for a 2018 Emmy acting voting guide!
OUTSTANDING LEAD ACTOR IN A COMEDY SERIES
Anthony Anderson, "Black-ish"
Juggling a growing family, career, and his kids' sense of blackness in the lily-white surroundings of upper-middle-class suburbia, Dre Johnson is equal parts modern philosopher and swaggering goofball in this sitcom. The naturally funny Anderson's ability to pull off both continues to impress, as do those moments where he digs deeper—into Dre's suddenly precarious marriage, for example, a bold but tragically relatable storyline.
Ted Danson, "The Good Place"
Widespread critical acclaim for Michael Schur's hilariously idiosyncratic and deceptively ambitious NBC comedy about the afterlife has finally resulted in Television Academy recognition, if only for its leading man (and guest actress Maya Rudolph). The legendary Danson expands his actorly repertoire yet again as Michael, a demon who manages the titular land of the departed. In Season 2, he unveiled unexpected layers of empathy for his human friends, all while never failing to crack us up.
Larry David, "Curb Your Enthusiasm"
As much as we may hate the fictionalized Larry David, we love the performance given by the real David. Nearly two decades after HBO's "Curb" first began, we find ourselves truly elated to have his dumbfounded face wreaking havoc in Hollywood again. Welcome back to the Emmys, sir.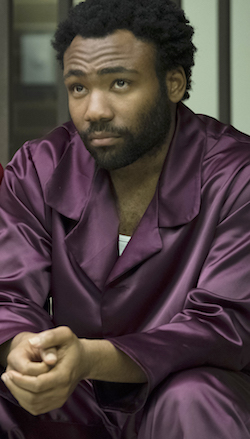 Donald Glover, "Atlanta"
Creating an honest yet intimately specific story is not easily done on the small screen, but Glover has managed it and then some. Portraying Earnest "Earn" Marks, the Emmy-winning director-writer-producer-star of the FX quasi-comedy lends a face to the surreal universe that his "Atlanta" depicts, where characters navigate the ups and downs of life and nothing is as it first appears. There is never a dull moment in Earn's life or Glover's performance.
Bill Hader, "Barry"
Barry Berkman, a veteran-turned-hitman who, in the midst of PTSD and depression, gets bit by the acting bug, is a career-best role for Hader. His co-created HBO comedy allows the actor to use his comedic experience sparingly, only when a dash of relief is needed. Otherwise, it's one of the most nuanced dramatic performances of the season; Barry is haunted by demons and yearning to express himself, deadly serious territory amid circumstances (the Chechen mob, a dubious L.A. acting class, bumbling cops on his tail) that remain delightfully absurd.
William H. Macy, "Shameless"
Macy's Frank—a role for which he's been nominated plenty in multiple awards races—was in rare form this past season, showing us new elements of the legendary actor's ability. He's still an erratic deadbeat of a dad, but Macy is entering more calculated territory with Frank, finding fresh ways to ground his often high-as-a-kite character.
OUTSTANDING LEAD ACTRESS IN A COMEDY SERIES
Pamela Adlon, "Better Things"
As writer, director, producer, and star of FX's gorgeous family dramedy "Better Things," this industry vet gave us what we never knew we needed: pure, unadulterated Pamela Adlon. Watching her Sam Fox, a delightfully acerbic actor and single mom to three girls, feels like our inner monologues set free. The level of authenticity she brings to her character and her series is peerless.
Rachel Brosnahan, "The Marvelous Mrs. Maisel"
Brosnahan began stealing the show as soon as Amazon's Amy Sherman-Palladino series opened on its first scene: Midge Maisel making a speech at her own wedding. That told us everything we needed to know about the titular character. When Midge's husband leaves, Brosnahan shows her range through heartbreak, despair, denial, drunkenness, and, ultimately, triumph. We never stopped rooting for Midge, and Brosnahan's uniquely modern portrayal of a midcentury housewife is much of the reason why.
Allison Janney, "Mom"
There are many benefits to hiring Janney. But what CBS' "Mom" creator Chuck Lorre got was Janney's ability to handle both the comedic and dramatic aspects of her role equally. No one can deliver a moment of piercing, vulnerable honesty then nail a perfectly silly pratfall like this seven-time Emmy winner.
Issa Rae, "Insecure"
Loosely based on Rae's precursor web series, "The Misadventures of Awkward Black Girl," HBO's comedic masterpiece depicts life in Los Angeles for Issa, played with blundering perfection by Rae. Although you constantly feel compelled to grab Issa by the shoulders to swivel her away from an impending bad decision, you never once lose empathy for the not-so-indefatigable heroine, and that's thanks to the creator-star's knack for playing funny, relatable, and painfully insecure.
Tracee Ellis Ross, "Black-ish"
Rainbow is your typical sitcom mother: frazzled but poised, put-upon yet supportive. But Ross and the creators of ABC's most subversive comedy have turned that trope on its head by adding new qualities: goofy, badass, often borderline deranged. This season, particularly in the roller coaster of an ending addressing the possibility of divorce, the actor demonstrated her dramatic (and directing!) chops, making us love the Johnson family and its matriarch even more than we already did.
Lily Tomlin, "Grace and Frankie"
Tomlin is a straight-up legend, and she proved why once again this year. Rarely are older women visible in media, but in this Netflix favorite, Tomlin continues to delight as a woman with a tenuous grasp on her sanity and social standing. Few can deliver a dry punchline quite like her.
OUTSTANDING SUPPORTING ACTOR IN A COMEDY SERIES
Louie Anderson, "Baskets"
Anderson's drag act as the mother to Zach Galifianakis' aspiring clown is the kind of stunt casting that could easily skew cartoonish. But the Emmy winner gets it right by leaving showmanship at the door, gingerly imbuing his Mrs. Baskets with maternal subtleties and, ultimately, paying a fitting tribute to his own real-life mom.
Alec Baldwin, "Saturday Night Live"
As his devastatingly daring and spot-on impersonation makes clear, Baldwin is no fan of Donald Trump. But even he must admit the outcome of the 2016 election had one upside: an opportunity to continue to skewer the guy live on national TV. Baldwin has been tearing up the screen while mocking the most unpresidential president in American history; could he win a second consecutive Emmy for doing so?
Tituss Burgess, "Unbreakable Kimmy Schmidt"
Is Burgess given all the funniest material on Netflix's "Kimmy Schmidt," or does he turn every one of Titus Andromedon's antics into comedy gold on his own? Season 4 finds the aspiring star directing children's theater and pitching TV shows—and punching Greg Kinnear. It's a fully realized and still groundbreaking performance we shouldn't take for granted.
Brian Tyree Henry, "Atlanta"
Watching actors with active, intricate inner lives think onscreen allows us to see parts of ourselves. This is Henry's greatest skill as Alfred, aka Paper Boi, a rapper trying to reconcile street cred with gradually growing success. He often does or says very little, instead letting subtle reactions play out across his passive face—reactions that speak to oceans of frustration, existential dread, or, most poignantly, empathy.
Tony Shalhoub, "The Marvelous Mrs. Maisel"
The similarities between Shalhoub's Abe Weissman and Brosnahan's portrayal of his similarly neurotic daughter are uncanny at times. Shalhoub gets some of the biggest laughs when Abe attempts to command his household while his daughter's marriage falls apart and spills into his comically regimented life. His "I need the room" outburst will stand out as one of the highlights of the first season.
Kenan Thompson, "Saturday Night Live"
After 15 seasons on NBC's live sketch show—a record, by the way—Thompson is inarguably the backbone of "SNL." You'd think he might be sick of giving his all every Saturday night for going on two decades, but you'd be wrong; the pure, genuine joy Thompson brings to every sketch is palpable. Though his best performance this season is hard to pin down, his turn as lobster Jean Valjean is one for the books.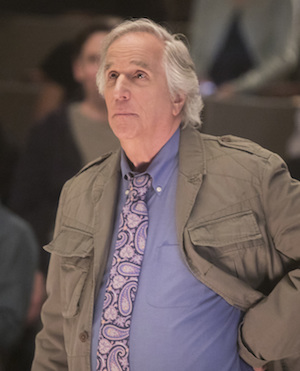 Henry Winkler, "Barry"
Gene Cousineau may, unfortunately, be a familiar figure to working actors: just short of a scammer, he's an acting teacher with a cult following and a performer with no notable success of his own. The great Winkler lends his hilariously hangdog expressions to the borderline-exploitative schmuck who counsels, criticizes, and encourages his disciples, fanning the flames of their optimism while reeking of desperation himself.
OUTSTANDING SUPPORTING ACTRESS IN A COMEDY SERIES
Zazie Beetz, "Atlanta"
Much like the series she stars on, this fascinating actor's Emmy recognition is due as much to her dramatic nuance as her comedic chops. As Van, far more than just an on-again, off-again girlfriend to Earn, Beetz conveys both aimlessness and a yearning to overcome it, a convincing sense that, given the chance, she could run circles around all the men in her life.
Alex Borstein, "The Marvelous Mrs. Maisel"
Borstein's Susie feels like a character we've never seen on TV, and her chemistry with Brosnahan kept us coming back. The contrast between the colorful, uptown world of the Maisels and Weissmans and Susie's dark, smoky downtown scene made for the perfect comedic setups for both women. It's satisfying to see Midge soften Susie throughout the season, and Borstein is able to walk the line between rough and vulnerable like an expert.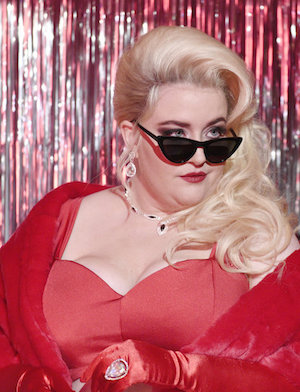 Aidy Bryant, "Saturday Night Live"
It may have taken six years and countless mom wigs, but Bryant has stealthily become one of the most enjoyable "SNL" cast members week over week. Whether it's a brief, wordless cameo in a sketch or her accent-heavy Sarah Huckabee Sanders, Bryant kills it every time and leaves viewers waiting for her to reappear on the Studio 8H stage.
Betty Gilpin, "GLOW"
Much of this Netflix '80s comedy's success is due to its ensemble of wildly different but equally convincing women. Often stealing the show is Gilpin, playing the headstrong, demanding, fabulous but frazzled starlet Debbie—and her alter ego in the wrestling ring, the sunnily patriotic Liberty Belle. What distinguishes Gilpin is her ability to deliver a sarcastic line or reaction shot with off-kilter hilarity; she doesn't look like the cast member who'll crack you up, and then she does.
Leslie Jones, "Saturday Night Live"
Jones' two Emmy nominations feel like the culmination of years of hard work in the comedy world and iconic performances on NBC's variety hit—but you also get the sense her career is just warming up. Whenever she appears on the Weekend Update desk, audiences get ready for hilarity; at this point, it's a Pavlovian response.
Kate McKinnon, "Saturday Night Live"
The MVP of "SNL" still has that enviable ability to turn mediocre sketches into brilliant ones with a simple head tilt or widening of the eyes. Her co-stars often laugh so hard they can barely keep it together on the air. Her evolving impersonations of Kellyanne Conway and Jeff Sessions, just two examples, are as blisteringly damning as they are hysterically funny.
Laurie Metcalf, "Roseanne"
It's great to see Metcalf back, funny as ever, in the role of Jackie Harris, which deservedly earned her Emmys aplenty during the series' first run 30 years ago. This ABC sitcom, if nothing else, provided further proof of Metcalf's peerless punch-line delivery in the midst of a career-high year for the actor, who's earned two consecutive Tonys and an Oscar nod.
Megan Mullally, "Will & Grace"
Another revival of a show we sorely missed, NBC's "Will & Grace" returned to give fans weekly lessons in comedic timing and inventive slapstick. As the acerbic and vodka-soaked Karen Walker, Mullally and that inimitably high-pitched sarcasm of hers once again dominated the screen. Equally good are Karen's less shrill moments; her mourning of beloved Rosario broke our hearts.
Ready to win your Emmy statue? Check out Backstage's TV audition listings!