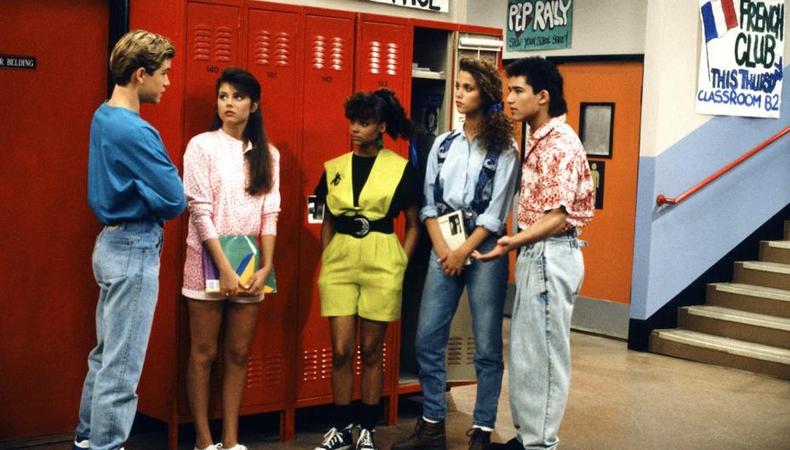 Wanna go back in time? You're in luck! A chunk of this week's events are specially designed to transport you to a specific time and place. Rest assured, you'll be able to cull some inspiration and even some cool selfies from these happenings. But if you're looking for some straight-up career nourishment, we've got you covered. Read on!
Revisit the haunt of Slater, Zach, Kelly, and your "S.B.T.B." pals.
If you're feeling all the '90s nostalgia lately or just want to step onto the "Saved by the Bell" set for a burger and a shake, you're in luck. After completely selling out in Chicago, a recreation of Bayside's iconic cafe The Max is headed to L.A. in May for a special event entitled "Saved by the Max." Why am I telling you this now? Because tickets go on sale Feb. 2 and, trust, they won't last. (Tickets: $35, includes dinner)
See a modern classic in a new way.
If you've never seen "Working Girl," the 1988 film starring Melanie Griffith and Sigourney Weaver, head to the Billy Wilder Theater on Feb. 2 and join Weaver for a Q&A with Jen Yamamoto after a screening. The plot deals with of-the-moment issues of women in the workplace that were progressive both in '88 and now. (Sad, right?) It's made extra poignant because Kevin Spacey plays kiiiind of a creeper. Super relevant. (Tickets are sold out online, but some will be available day-of)
Revisit a Disney favorite on the big screen.
If, like me, you remember and long for that hot second in the '90s when Disney's "Snow White and the Seven Dwarves" reappeared in theaters in all its glory, you're in for a treat when the El Capitan screens this timeless classic Feb. 2-7. See how this 1938 animated masterpiece still captures hearts almost exactly 80 years after its first release. You can bet there will be some singing and dancing in the aisles, and we hear Snow White herself might make an appearance. (Tickets: $10-22, includes popcorn and a drink)
Marvel at the finest special effects the '80s had to offer.
You might have heard some buzz about how the Rock is trying to revive the never-would-have-been action blockbuster "Big Trouble in Little China." Barring whether or not that actually comes to fruition, the original is compulsory viewing for anyone who loves the "Indiana Jones" franchise or cheesy '80s flicks in general. Catch it at the Vista Theater at midnight on Feb. 3. Then, when and if the remake hits theaters, you can brag to your friends that you suffered through (or really liked) the original. (Tickets: $11-38)
Meet fellow industry creatives and figureheads.
Join forces with folks from all over the entertainment industry on Feb. 7 for an Original Content Marketing Event. In attendance will be renowned director, producer, and stunt master Michael Sarna, along with actors, filmmakers, artists, and creators from every sector. The sole purpose is to learn and meet other creatives with a lofty goal: change entertainment. You never know who might play a pivotal role in your next big move! (Free)
Check out Backstage's Los Angeles audition listings!