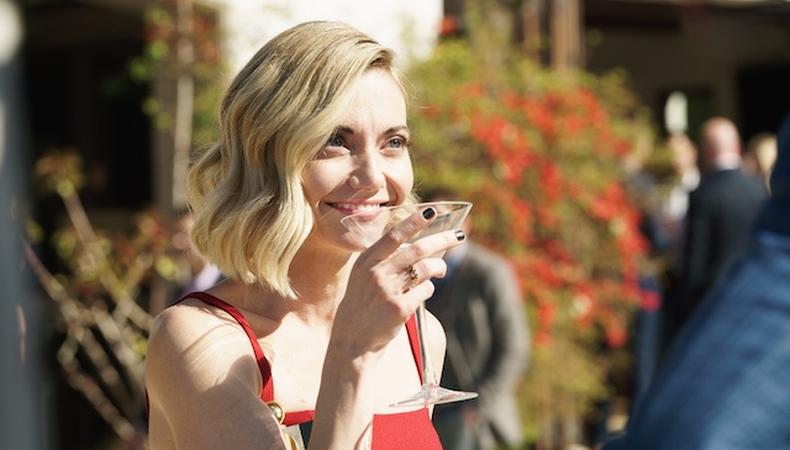 Have you been tuning in to "Get Shorty" on Epix? Now's the perfect time to catch up as the dark comedy series' acclaimed first season hits its final pair of episodes Sunday, Oct. 1, and Sunday, Oct. 8. One of the breakaway standouts from the deep-seated ensemble is none other than Megan Stevenson, who plays April Quinn, a high-powered studio exec who used to be Rick's (Ray Romano) assistant. She joined Backstage for an exclusive Office Hours on Sept. 18 to discuss the series and to offer other working actors advice on how to succeed in the business. Check out the full Office Hours correspondence on our online forums page here, and catch the top three highlights below.
1. Stevenson landed 'Get Shorty' through old connections.
Recalling how she was first cast as April, Stevenson explained that her agents submitted her for the Epix project,—and she happened to already know the CD. "The casting director, Rachel Tenner, knew me well because she had cast me in a Comedy Central show I did the previous three years. So it was knowing her that helped get me in the door initially," she said. "I was excited about playing April because she's a strong, dynamic character living in a man's world and doesn't let anyone take her down. She's a total power woman, and I enjoyed opening up that part of myself. It has helped me in my own life."
2. Sometimes, you have to take the big-city plunge.
When asked by a San Francisco-area actor if they should move to Los Angeles and pursue a career in acting, Stevenson advised that L.A. is the place to be. "It helps to be in the city so you can start meeting casting directors, producers, and agents and be available," she said. "What I would say as far as getting an agent and how to get exposure is to get involved in an acting studio that puts on showcases or start taking improv classes at UCB or Groundlings." It's not always easy to meet the industry folks who can take your career to the next level, but you have to "try to get your face in front of them any way you can." It's all about the leg work.
"When I was starting out," Stevenson continued, "I went to this place called Actors Connection in New York, and they had agents come for you to meet and do a scene for. It'll be good for you to be in L.A. because there are MANY actors there, so you can ask around and get good advice from people on how to be seen. It's different for everyone, but having other people around you that are doing the same thing will be a good network for you to have."
3. Auditions are all about preparation.
"I would say, acting-wise, prepare the material as best you can so you feel comfortable with it and have a strong sense of what you're bringing to the role," Stevenson advised when asked for her top audition tips. "Whatever helps you, do that, whether it's practicing with friends or just working on it on your own. Just find what works best for you. Mentally, I would just say to tell yourself to have the goal of having fun in the room and really owning the space. It's your two minutes in there, so really take it on as your time. If you mess up and need to start over, then do it! Imagine you're on set and it's a work in progress. Try to forget that it's an audition and trick yourself into thinking that you've got the role and are rehearsing to shoot it. And remember that there will be many auditions and roles, so don't take each one too seriously. Have fun and try to enjoy the process. Easier said than done, I know!"
Want to hear more from Stevenson? Catch up on everything she had to say right here.
Ready to get to work? Check out Backstage's TV audition listings!