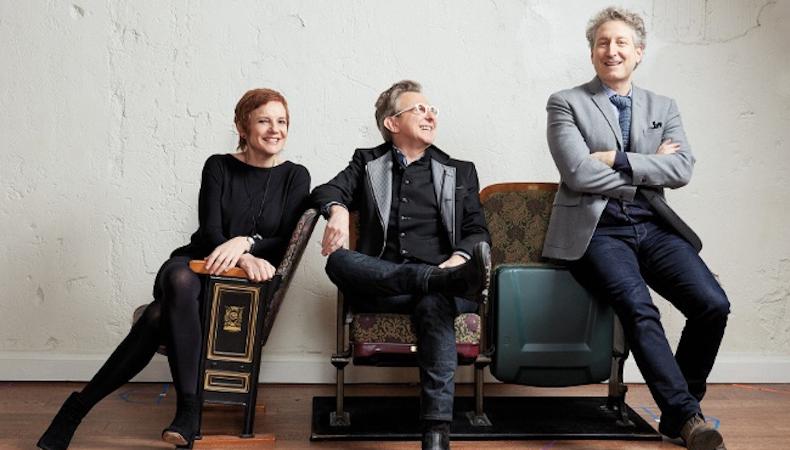 In his office atop the New Amsterdam Theatre in August of last year, Thomas Schumacher, president and producer of Disney Theatrical Productions, sat down with Broadway casting directors Tara Rubin and Bernie Telsey to discuss inclusion on the stage and screen. The three then reconvened in 2017 to assess the improvements made in the last year.
Between the three of them, they've had a hand in some of Broadway's most diverse, revered, and long-running productions, including "The Lion King," "Hamilton," and "School of Rock." Here they chat about casting trends they've spotted, #OscarsSoWhite in 2015 and "Moonlight" this year, and which medium is leaps and bounds ahead of the game.
READ: The CD Behind History's 'Hamilton'
Thomas Schumacher: Before we get started, I think it's important to acknowledge that we three are white, middle-aged, fairly successful theater makers, so we'll be talking from a certain position of privilege, even though I believe we've been working for decades on the right side of this issue. Let's start with defining terms: Is there difference between "diversity in casting" and "color-blind casting"?
Tara Rubin: I think of color-blind casting as an early term used to describe casting an actor without respect to the actor's ethnicity or race. But the term seems passé today.
Bernie Telsey: Right, we don't say that much anymore.
BT: When we first started casting we said "color-blind," because most of the material was probably about white people. But color-blind was a way to say, let's try to cast and be open to all different ethnicities.
TS: Unless you were casting "A Raisin in the Sun," if the character wasn't explicitly written as a person of color, it was presumed to be white.
BT: In the '80s, when we were casting assistants, I think many people felt they had the freedom to cast Shakespeare color-blind because those plays and characters are already so well-known, so an African-American actor could play Julius or any other Shakespeare character.
TR: I think the most successful practice of color-blind casting in New York City theater in the early days was in classical theater.
TS: When do you recall seeing a piece of casting that would have been non-traditional casting, color-blind casting, diversity, whatever you want to call it, where it really struck you, my gosh, what a bold choice?
BT: "Carousel"! Carrie Pipperidge. Because it was a piece of popular theater.
TR: It was powerful, a mixed-race couple with a family of mixed-race children. It was an inspiring experience for me to see diverse and inclusive casting work so beautifully in a revival.
BT: It made people have to look at it as a choice, and then go, "Yeah, it makes total sense." I think for years there was a focus on why that won't work, because a role was written originally as a white person.
TR: But looking back, even before "Carousel," Robert Guillaume played the Phantom in the Los Angeles production of "Phantom of the Opera." That was very early in my career, and I certainly wasn't involved in the decision, but I remember taking pride in it.
TS: Do you think there's been a greater resistance [to inclusivity] in commercial theater?
TR: I guess you could call it resistance, or maybe it's just that the directors and writers don't always imagine the world of the play in a diverse way. And so, to me, that's the biggest challenge in casting, because casting directors are always in service of the creative team's imagination, and we need to find ways to do that but also challenge and hopefully help them see the world they are creating inhabited by all different kinds of people.
TS: Do you feel the producer or director has to bring that idea to the table, or can you do it?
BT: We can bring it up, but we can't force it, because then it becomes about convincing, and that isn't productive. If we bring up diversity when casting starts, sometimes that's too late, as teams have already begun to work with the material in a certain way, particularly if the characters were originally conceived as white. Casting can be very hard for teams, because no one wants to have to do the rejecting. It's already tricky, because most of the time, it's the first time the whole team comes together. So, the diversity concern or color-blind casting doesn't become a priority. But the sooner these discussions can happen, the better.
TS: Bernie, didn't you do a movie called "Dan in Real Life"?
BT: Yeah.
TS: Norbert Leo Butz arrives and the family jumps out of the car. One of his children is Asian, and it never gets brought up once.
BT: Never gets brought up, and no one is confused. But then again, that started with Peter Hedges, the director, saying, we've got to start showing what all the people in my world look like.
TS: Did you know Zelda Rubinstein? I got to know Zelda really well because I was the program coordinator for the Michael Dunn Repertory Company, which was an entire theater company of little people, sponsored by the Mark Taper Forum. My greatest joy was going to rehearsal, because these actors got to play parts they never would have been able to play. And Zelda always said, "All I want to do is get cast as the neighbor." On "Picket Fences," she got to play police dispatcher Ginny Weedon, a character whose stature never came up. It wasn't ever part of the story.
BT: But you have to have someone at the top. And we casting directors are not at the top, right? We are servicing the producers, the creative teams. Someone at the top has to say, "This is a priority."
TS: Do you have permission in a musical to cast diversely in a way that you don't in a play? We did it with Tara [Rubin] on "The Little Mermaid."
BT: Yes, but again, because the person at the top—you, Tom—is saying it has to be that way. I think it's easier in a musical, but someone needs to say it early on. I've been working in casting since I was 21 as an assistant for Meg Simon and Fran Kumin, and I've seen casting directors always talking about diversity, because for them, it's just more people to play with in their talent pool. But you can still go into a room and you can bring it up and people will still give you seven reasons why not.
TS: Do you think it's generational?
TR: Well, if you're a person who has been directing without considering diversity in casting for five decades, to suddenly begin to consider it requires quite a change in your imagination. Having said that, Hal Prince is the person who cast Robert Guillaume in "Phantom of the Opera."
READ: Randall Park Finds the Funny in 'Fresh Off the Boat'
TS: [Laughing] He also broke a few other rules as well, so we'll give him some credit.
TR: But then, on the other hand, I find it sometimes with younger directors, and early-career playwrights particularly, because so much of what they write is autobiographical. So when you say, "Let's cast the neighbor with this Asian-American actor who people love and who we think would be exciting," they say, "But the neighbor can't be that because my neighbor wasn't." And so there's that personal connection that adds a layer of resistance to thinking diversely.
BT: It can be an easy thing to resist. As you were talking, I was thinking through all the projects I'm working on—the Off-Broadway play, the play at my own theater, a television show—whatever the project is, it's the easiest thing to say no to. We all fall into it, me included.
TS: Is there a time when you should say no?
TR: I haven't encountered one.
TS: What if you cast a white guy as Walter in "A Raisin in the Sun"?
BT: Yeah, I thought of that walking over here. I don't think you can do that in a Lorraine Hansberry play.
TR: I'm not sure why you would do it. The reason we strive for diversity and inclusion is to offer more opportunities to actors of color and to offer an audience the opportunity to see a story told by people who might help the audience experience the story in a new way. However, I don't know why we would need to see Caucasians give life to the Younger family. Their race is essential to the events and story of the play.
TS: I saw a revival of a golden-age musical and was surprised last season by how beloved it was. Noticing the all-white cast, I couldn't breathe while I was watching it. I was so outraged, and [former AEA Executive Director] Alan Eisenberg happened to be across the aisle from me. At the intermission, I said, "How does this even happen in 2016?"
TR: We talk about this a lot at the office. We expect credit for inclusion, and actually we probably shouldn't. It should be the norm, a standard that we can hold ourselves to.
TS: You know, I love you for so many reasons, and one of them is that. That you call us to be our better selves. So I'm going to take solace in Bernie, whom I'm hoping to be more cynical [Laughs].
BT: My first experience with "Aida," a show that was about race among the three main characters, from day one [director] Bob Falls said, "We're gonna mix it all up. The slave girls are not all going to be black, and Pharaoh's guys are not all gonna be white."
TS: Nobody was lost. Toni Braxton went into "Beauty and the Beast" as Belle, and no one ever mentioned that. You look at "The Lion King," which has been going 19 years, and [Disney Theatricals is] probably the largest consistent employer of people of color [on Broadway]. Interestingly, Courtney Reed in "Aladdin" for many years didn't divulge her ethnicity because she could go do "In the Heights" and then do "The King and I" and then do Jasmine and then "Mamma Mia." I mean, she can do anything. She's the Anthony Quinn of Broadway.
TR: But I have to say, Tom, you keep it from being anomalous. It's what Bernie is saying, it has to come from someone who is the ultimate authority in making sure that diversity is an umbrella under which we cast, and not just a goal that we aspire to or, or an exercise.
BT: When I was an assistant casting, theater used to be ahead of film and TV, because of the early days of color-blind casting in Shakespeare.
TS: Do you not think that's still true today?
BT: No. TV is ahead of everyone. And they used to be completely behind.
TS: Well, there are certain cultural reasons for that. Look at "Fresh Off the Boat" or "Black-ish." As the American population has so dramatically changed, this enormous population of people of color watching, wanting to see their stories told, has affected linear television.
READ: 'Black-ish' CDs on the Art of Casting
BT: And many people at the top, because they're run by corporations, are demanding inclusivity on screen. And not just the day players. It's the series regulars.
TS: TV is for the viewers. Turn on the morning or afternoon news in any city in America, and the anchors will be a whole spectrum of races. Yet we still see the occasional production on Broadway that ignores this audience desire. I still think we're ahead of Hollywood, though.
BT: [To Tom] Sometimes you go to these Broadway shows and come to me afterwards, saying, "There's one person of color in the ensemble. Why?"
READ: 'Quantico' Star Yasmine Al Massri Opens Up About Racial Tokenism
TS: Often in a blonde wig. When we were casting the first production of "Mary Poppins" in London, I wouldn't let the show be cast with the classic all-white London cast. And at one point, one of the British creators said to me, "How about him? He's Italian." And I'm thinking, Ellis Island is the last time Italians were considered non-white, you know? It really hasn't happened since then. It is shocking.
Want to know what's casting in London now? Click here.
TR: I wonder if the fact that young, non-Caucasian actors can see more people who look like them onstage and on television will encourage them to study acting.
BT: That's the great thing about "Hamilton" at the moment.
TR: Yes, proof that the opportunity exists.
TS: If you go to the Junior Theater Festival in Atlanta and you see all these middle school kids who've come from all over the country, it's remarkably diverse.
TR: The Jimmy Awards, [which is] high school.
BT: Yes, totally diverse.
TS: Now, let's talk about "Hamilton," because a segment of the press talks about this as the first time that diverse casting has ever happened.
BT: I think because the script of "Hamilton" is about all those historical players that are not, you know, Mr. Snow or Carrie in "Carousel." Because it's George Washington, it's going to get so much more attention in its diversity choices than those we've been making for 20 years, and that other people have made. Look, Jefferson is black! George Washington is black! These figures are so well known so it's more apparent.
TS: Will it be hard to keep casting that show?
BT: Very. That show is so demanding. We need seasoned talent. It's about training. Plus there are so many principal roles.
TS: It's fascinating that Leslie Odom Jr., who is extraordinary and was amazing to watch, was replaced by Brandon Victor Dixon. It's a big deal that someone at Brandon's level replaced him.
BT: Two-time Tony nominee now. And Joshua Henry is in the Chicago cast. It's because people want to do those parts. That's the other great thing: it's not just the success of "Hamilton," because Brandon and Joshua can certainly be cast in original companies. These are great roles in a great show.
READ: 3 'Hamilton' Stars Who Get Their Start With Backstage
TS: Indeed. Now I want talk about Hollywood. I'm interested in what you two make of the Oscars over the last two years. Was [2015] just a bad year for the Oscars?
BT: I sit on the Academy's Casting Directors Branch, so I hear both sides. I mean, yes, Hollywood is not making enough films about people of color, but I think "Oscars So White" is not really justified as an attack on the Academy itself. Number one, it's not some office of the Academy, it's not the board of directors who are making these decisions. If you really want to point fingers about the lack of actors of color nominated, it's the actors who are the ones who pick the nominees. But that said, there's not enough work and there's not enough diverse material being made. Stories of people of color are not being told in blockbusters, and other movies are not being cast in the diverse way that we talked about when we started this conversation. I believe we are going to see a sea change as everyone is aware of what has to happen. That's the good that came out of the bad press.
TR: It was particularly satisfying to see "Moonlight"—a movie about people and issues that the men pictured in the by now notorious photo from the Freedom Caucus would most likely condemn, or just plain not understand—win an Academy Award!
READ: 'Moonlight' CD Reveals Casting Challenges for Film's 3 Chirons
TS: I find it interesting that the pendulum has swung this year, and will continue to swing. And, who knows, maybe last year's "Oscars So White" controversy helped. As an Oscar voter, I understand why it was an issue; actors of color deserve much more representation. But I would say that it is much deeper than the question of just actors of color, which is what we saw shift this year. It is about people in every area of production. It is about women in different production roles. It is about people of color. It is about people of different nationalities in roles throughout the film industry, which can be a very homogeneous crowd. I think that is what needs to be said.
BT: This year's Oscars were heartening and I would love to see every part of the entertainment industry, on and off-screen, continue to make strides in terms of diversity and inclusion; although there's a lot of work we still need to do.
TS: Making the movies more diverse is a big agenda item with Kevin Feige at Marvel, but there's been controversy, too. Although it's your point… you never get credit for what you have done right.
BT: Oh, no, you don't.
TS: Last season, the Met started doing "Otello" where the tenor doesn't wear blackface, and it was controversial within the opera world.
TR: I believe the character is Othello, the Moor of Venice. However, in opera, reality is not exactly our underpinning. I'm conflicted about blackface yet conflicted about having a white person play the role at all. So just don't do "Otello." There are other operas. Do something else.
TS: Yeah, like having "Aida" done with white women, which was done for years. Then Leontyne Price built her career on the role. Our version of "Aida" was based on Price's children's book about what happens to Aida and why she got in this awful position. But "Aida" was just about the only opera African-American sopranos could do, when you think about it.
TS: What about other areas of diversity? I felt Michael Arden's production of "Spring Awakening" was so beautiful.
BT: Stunning.
TS: I just loved his choices. I know we've all seen Sam's Gold's "Glass Menagerie" this season. Does casting physically challenged actors ever come up in your world? Is that a barrier too far?
BT: We're trying to do it right now with a running musical, to cast a person in a wheelchair.
TS: You know, high schools do it all the time. And I remember doing this with an actor in L.A., Victoria Lewis, who grew up with polio and walked with a pronounced limp. And, of course, everyone always wanted to do endless productions of "The Glass Menagerie" with her, because there's only two ways in "Glass Menagerie": she actually is disabled, or she's not and it's all in her head or in Amanda's head. But Vicky struggled to get cast in plays where it wasn't about that disability.
TR: We've been dealing with this at CSA. We recently held a workshop with actors who are differently abled. The actors chose to work on scenes with casting directors, and a few colleagues and I did a musical theater workshop with some of the actors who were singers. They gave us all kinds of very practical information. One woman with cerebral palsy said, "This floor is very good. Sometimes the floor makes it really difficult for me to walk in and out of the room, but this floor is great to walk on." It was at Bernie's old studio. To me, this is one of the next big steps: you turn on "Law and Order: SVU," the character who witnessed the crime on the corner, who says, "He went that way, and he was a Caucasian male." Why can't that guy be in a wheelchair, or a woman who walks with a frame? These actors have very little accessibility to roles. They show up at open calls, but it ends there for most of them. They don't have the opportunity to develop their skills because they're not working.
TS: This new "Menagerie" I find fascinating because many people that I know at all levels of our business felt that it was exploitative to cast Madison Ferris as Laura. Now you could argue about the dramaturgy, because casting an actress with muscular dystrophy who isn't actually ambulatory is not what the character is about in the show. On the other hand, she's an actress who brings her own unique realities to the show. So, I just don't agree that it's exploitative. I found it deeply moving.
BT: My hope is that auditioning actors with disabilities will become the norm. I think it's important to tell stories that represent people with disabilities, but even more than that, I want to see these actors playing roles that weren't written specifically for an actor with a disability.
READ: 9 Theater Companies Celebrating Actors With Disabilities
TR: I thought it was groundbreaking. There's been so much discourse about the extent of Laura's actual disability over the years. Here is a production that takes the point of view that the character's physical mobility is limited, but she finds a way to move anyway. (In a play in which the conflict between moving on or escaping and the stasis and loss of freedom associated with loyalty is a major theme, it seems to me to be brilliant casting.) So, kudos to David Caparelliotis and Sam Gold for finding an amazing actress to tell that story.
TS: We shouldn't expect a suddenly level playing field for actors like her, any more than happened when Michael Arden cast that beautiful production of "Spring Awakening" last year, by having Ali Stroker, who was in a wheelchair, choreographed into the show without ever acknowledging for one minute that there was someone in a wheelchair.
TR: An African-American kid who's 16 and wants to be an actor comes to New York and could see "Hamilton," "Aladdin," "Natasha, Pierre, and the Great Comet of 1812" all these plays, and say to himself, "Oh, people like me work on Broadway all the time. I'm going to go become an actor." He sees the opportunity is real. That just doesn't happen for actors with disabilities right now. They need to know that there could be a career for them, so that they get the training, so that they do get to be the character in the wheelchair instead of some able-bodied actor who is sitting in a wheelchair.
BT: I feel like audiences are changing. People of color are coming to the theater.
TR: "Aladdin" attracts a diverse audience. "The Color Purple" was attended by a very diverse audience both times I saw it.
BT: But Disney Theatrical, institutionally, has always been at the forefront with diversity in casting. I keep saying the way it would only go further on Broadway is if there was some sort of mandate, as bad as it sounds. But it worked in television. If Equity said, "Tom, you wanna do this show? How many contracts are you going to have in the ensemble? Six of them have to be actors of color." As much as none of us want it to be mandated…
TS: That's a version of what Joanna Merlin tried with the Non-Traditional Casting Project [now Inclusion in the Arts]. That was how she was perceived when she was pushing that at the beginning. It wasn't what she was saying, but I think it was how she was perceived. And of course nobody wants their creativity stepped on. But now individual producers like me can say, if you want to do this show, this is how the ensemble is gonna look, this is how the leads are gonna look.
BT: But then how do you get the Broadway League to educate the other producers so they can be tougher with the creative teams that we work for? At least say it. Other than just the casting directors. I mean, the best thing that happened to Hollywood was the lack of diversity becoming so public. Because it's making everyone move faster, whether it's storytelling or casting or what they don't want to be accused of.
TS: Then it means all these other producers will want to push this agenda because of "Hamilton." They're gonna think it's the "Hamilton" effect, and they won't have perceived that it's anyone else's.
TR: It won't be hip if you don't do it. I'm hoping that after "Hamilton," there will be a perception that if we don't make sure that we're casting with diversity in mind, we won't be as hip as "Hamilton," and therefore we have to do it. So even if the reason for it is as base as that, I'm perfectly happy.
TR: We also need to be increasing opportunities for writers so that the stories of all races and ethnicities are being created.
BT: That's changing, I think. More non-white writers are coming up and having their work produced.
TS: We commissioned David Henry Hwang twice to write a play that wasn't about Asian people: "Tarzan" and "Aida." At that time we were among the few to offer him a job to write something that wasn't his heritage. It's an interesting conundrum on both sides.
BT: I don't think that people are even aware of how blind they are to it. I know I am at times.
TS: I certainly use language that is antique. One of the Open Doors kids I mentor joined us last summer an intern. He refers to "my identity markers." He's never going to refer to his ethnicity, his cultural background;it's his "identity markers," right?
TR: One of my daughters said, "I mean, here I am, a cisgender female."
TS: I know. I get lost. But we have unconscious bias because we're all the same generation. We're trying really hard to fix the problem, and that may make us the problem at some point. We're going to be the coot. We're just this close… and who's gonna come up next, and it'll be irritating to us, and we'll find out, "Oh, I can't say that."
BT: Yeah, I get that all time.
TS: Apparently we all still have work to do.
If you're inspired to have Broadway better reflect the world we live in, audition for your part!