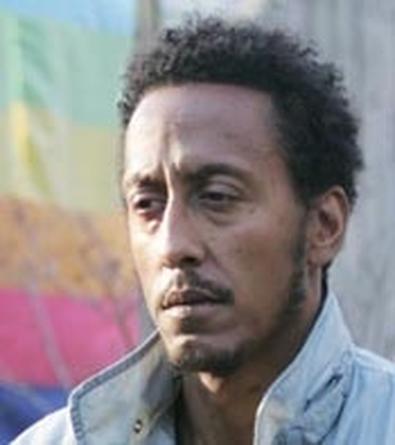 On a Monday night in 1999, Andre Royo waited for a phone call as he guarded the velvet rope at the Cheetah Club in Manhattan, at the time the preeminent hangout for hip-hop royalty such as Lauryn Hill and Sean Combs. On this particular evening, almost no one was going to get past him — not until the crowd on the sidewalk was big enough to spill onto West 21st Street, and certainly not until he got the call. To three young men hoping to get in, Royo said, "You can come in. You got the wrong clothes. You need to have at least three girls with you."
Among low people in high places, there are few more powerful than the guy who works the rope at the hottest club in New York. And if such a job were to fall to an actor trying to escape the obscurity of Off-Off-Broadway and background work on Law & Order, there is no telling how it might be leveraged.
Royo's phone rang. It was a friend who was dating John Singleton, and she told the doorman they were minutes away. When the couple arrived, Royo ushered them in, and the woman introduced the movie director to the struggling actor, whose other survival jobs had included a brief stint as a men's room attendant at the Hard Rock Cafe.
"I just made sure when he got there I parted the Red Sea," Royo recalls. "He looked at everybody looking at him as he walked through, he felt that power, and he said, '...Listen, I'm doing this movie Shaft. You should come in.' I said, 'Okay. You give my girl your information and I'll come in.' I was just looking at him, trying to play it cool, like I'm not really pressed.... The rest is history."
Actually, there is much more to Royo's story, not least his riveting portrayal of Bubbles, a heroin addict on the HBO series The Wire, a performance that often gives the show the feeling of a documentary. Nevertheless, the Singleton anecdote may reveal all one needs to know about how Royo makes Bubbles so convincing, especially when it comes to the character's artistic cunning and ability to do whatever it takes to survive.
Building a Career
Royo grew up in the Bronx, went to college for a time in Florida to study marketing, got bored, and dropped out to work construction back in New York. The union job paid well but, according to a report on Mosaec.com, veterans told him to be careful: By the time he was 40, he would be laid off, and the only thing he would know how to do is shovel cement.
Enthralled by acting, Royo studied at Uta Hagen's HB Studio in Manhattan and soon was part of a company at Room 203, a theatre on the Lower East Side. "We had seven, eight actors, two writers, and it was like our version of The Little Rascals," he says. "We had to paint and do all the construction within the theatre, and the payback was they'd let us put up shows there."
The troupe performed several nights of sketch comedy to raise money for full productions, such as The Tempest or an original play. Around the neighborhood Royo became a minicelebrity. He had his headshot in a frame on a wall at the dry cleaners and got to eat for free at a local pizzeria. He felt like he'd made it. "Living check by check, I was making my money waiting tables," he says. "So acting wasn't about money, and I wasn't really scared about getting another part.... It was just acting."
Once Room 203 became better known and audiences occasionally included people like Gérard Depardieu and Gina Gershon, however, Royo felt the itch for something bigger. "You bump into them, you talk to them, you see them in the audience, you want more," he says. "I want more than just free pizza; I want more than my picture in the cleaners."
A teacher at HB Studio got him auditions for a soap opera and some movies, but "I ran into a brick wall," says Royo, who is of African-American and Cuban descent. Casting directors would tell him his look was "really, really unusual," which was code for "not black enough" or "not Latino enough." Commercial CDs were a bit more honest, telling him his look was "too original" and that he would distract the audience from the product. "They pretty much said they hoped I get lucky," Royo recalls, "and that I have a friend that writes."
A friend did help, getting him a part as a dancer in a hip-hop video. Royo got $50 for the day. "I thought, 'Fifty dollars. Wow. This is fantastic. This is the life.' " He decided to spend less time at the theatre and more time pursuing film and television work. "I just started putting my energy out there," he says, "figuring it would come."
The Next Dimension
Soon after Royo played Tattoo, one of the entourage of Jeffrey Wright's character in Shaft, Royo's manager told him he had an audition for "a junkie snitch" on The Wire, but the actor didn't want it. He felt he had played similar parts already. Beyond that, he did not want to add to the stereotyping of blacks as addicts, drug dealers, and convicts. "Of course, that was quickly changed when I checked my bank account," says Royo, who recalls telling himself, "You got no money right now. Worry about all that later on in life. Right now, let's just get the ball rolling."
Royo's acquiescence was rewarded by creator and executive producer David Simon, a former newspaper reporter who had assembled a writing staff averse to stock situations in portraying the complex problems of urban America. "They were really talking about story lines," the actor recalls, "and really trying to express that this wasn't going to be just an average cop show, and the character wasn't going to be some cliché comic relief."
However, Simon and the producers were frank with Royo, telling him the story lines would change every year and he couldn't be guaranteed any more than a total of seven episodes. Working within a narrow margin, Royo was determined to create a memorable, three-dimensional person who happened to be a junkie. For guidance, he observed and talked with heroin addicts at shelters. He studied the performances of Al Pacino in The Panic in Needle Park and Richard Pryor in Lady Sings the Blues and followed Daniel Day-Lewis' practice of staying in character on and off camera.
According to a report in The New York Times, so thorough was Royo's portrayal that people shooed him away from the craft-services table, thinking he had crashed the set. "I knew in my heart that if I only had seven episodes," he says, "I wanted them to feel my character, to feel me." When The Wire concludes this spring, Royo will have appeared in 49 of the program's 60 episodes.
The actor says the next challenges are to avoid getting typecast and to find scripts written with a depth and complexity similar to that of The Wire. He has had some luck with good roles in smaller films, such as G (2002), a hip-hop retelling of The Great Gatsby in which he played the Nick Carraway doppelgänger. He also has a featured role in The Mercy Man, due to be released this year.
Royo did plow familiar territory last fall at the Public Theater when he played a war veteran-turned-crack addict in The View From 151st Street, but he says he made the character much different from Bubbles and earned some good reviews in the process. Most important for Royo, time has taught him patience. "There's so much work out there," he says. "Everybody can get a part; everybody can get a shot. You just have to be good at what you do and hope that people can see the talent and will want to work with you."
Outtakes
About his castmates on The Wire: "There was absolutely no ego. Everyone came on the set and said this is about Baltimore. Baltimore is the star."
On being part of a cast in which most of the actors are people of color: "We don't know if we'll be involved in a project that had that many people of color working with great characters and great story lines ever again. There was something powerful in that."