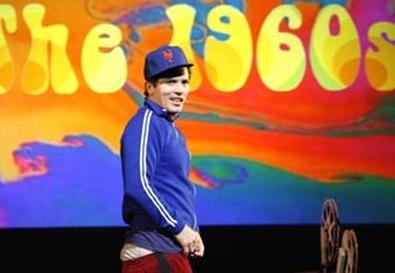 You would think that after writing and starring in four one-man shows on and off Broadway, John Leguizamo would have run out of ideas. But "Ghetto Klown," his latest solo effort, is yet another entertaining and insightful examination of the star-author's relationship with his family, lovers, and career.
After focusing on Latino stereotypes ("Mambo Mouth," "Spic-O-Rama"), his growing up in Queens and his shaky but loving bonds with his parents and brother ("Freak"), and his colorful romances ("Sexaholix…A Love Story"), Leguizamo turns a comic spotlight on his roller-coaster professional life. Part standup act, part memoir, "Ghetto Klown" traces Leguizamo's showbiz journey, from delivering impressions of movie stars on the public address system of the No. 7 subway train, to working with (and sometimes fighting with) those stars, to his stage shows, to a failed TV variety series, to reinventing himself in all three media.
Still energetic in his mid-40s, though he does have to stop to catch his breath after the numerous dance routines, Leguizamo fully inhabits a dozen different personages, in addition to being himself, for nearly two and a half hours. These characters are much more than comedy sketch cutouts. His gift is for delivering his observations through a satiric lens while never being condescending or shortchanging a figure's humanity. He's not above slipping in a rimshot-worthy punch line. (My favorite quip of the night: "My first marriage was like a tornado: a lot of sucking and blowing at the beginning, but in the end you wind up losing your house.") But the jokes are never made at the expense of the insights.
Leguizamo's acting is on a par with his writing. He whipsaws from pathos to high jinks without skipping a beat. One minute we're holding back a tear during a heartbreaking confrontation with his steely father, and the next we're laughing our heads off at a dead-on imitation of Al Pacino disputing line readings on the set of "Carlito's Way." There's plenty of insider Hollywood gossip to satisfy the biggest pop-culture fan, with hilarious tales of Kurt Russell's pot smoking, Steven Seagal's macho posturing, and Sean Penn carrying the Method a bit too far.
Fisher Stevens' sharp staging seamlessly incorporates Peter Fitzgerald's detailed sound design and Aaron Gonzalez's scene-setting projections, although there are occasional blocking problems when Leguizamo goes too far upstage right on Happy Massee's urban-stoop set, blocking him from view from a significant portion of the house.
At the top of the show, Leguizamo jokes that his story should be a lesson in what not to do. He's wrong. "Ghetto Klown" and his previous works are worthy examples of turning the ups and downs of your life into art.
Presented by WestBeth Entertainment, Daveed D. Frazier, and Nelle Nugent at the Lyceum Theatre, 149 W. 45th St., NYC. March 22–July 9. Mon., Tue., and Thu., 7 p.m.; Fri. and Sat., 8 p.m.; Sun., 3 p.m. (212) 239-6200, (800) 432-7250, or www.telecharge.com.