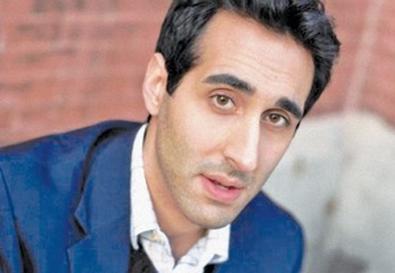 Allison Strong, Union City, N.J.
When I turned the key to my grandmother's door a few weeks ago, I expected to find her waiting for me behind it as she always did. Instead, all I found was an apartment full of memories. Ever since I was a child I've come to Colombia during my summer vacations to visit my grandma. This year I came to accompany my mom and aunt as they put her apartment up for rent and parted with many of her belongings. I expected to feel abandoned. I expected to feel an even stronger hurt from the loss I suffered a little over a year ago. I expected so many things that, thankfully, never came to light.
Before I left New Jersey, I was obsessing over the number of auditions I would miss while I was gone, the potentially important phone calls that would go straight to voice mail, and my jam-packed schedule as a musical theater major at Montclair State University. But from the moment I stepped into Apt. M-303, a sort of peace came over me, a sense that everything was going to be okay. Here I would be acting the part of the supportive daughter and niece, and my only duty was to witness my grandmother's final wishes being fulfilled.
The summer before she passed, Mamita, as we all called her, expressed her desire for us all to go to Santa Marta, a major tourist destination where the Sierra Nevada meets the Caribbean Sea. In her honor, we stayed at her favorite hotel there and enjoyed a few days on the beach relaxing. My grandma's second wish was for us to maintain a relationship with her relatives, so we took a five-hour car ride up the winding roads of the Colombian mountains to the city of Manizales to visit them. The water we had to shower with every morning could have frozen a Good Humor bar on contact, but the hospitality and love that family engulfed us with warmed our hearts. My grandmother's last and most important wish was for us to keep her apartment so we could always be free to return. Knowing that we couldn't sell or permanently occupy it, we managed to find a nice tenant who would keep the original furnishings and layout intact.
Now, after spending three weeks in Colombia and witnessing all three wishes successfully granted, it's time for me to say the goodbyes I wish I didn't have to. Just today we started taking down picture frames, flipping through ancient photo albums, emptying closets of everything from good china to bed sheets, and packing our bags for the U.S. In three days, I'll be locking the front door without knowing when I'll open it next. I can't anticipate what I'll feel the moment I do, but I can expect to walk away with 19 years of wonderful memories packed neatly in the corner of my mind, thankful for the place that held them for so many years and the woman who made them all possible.
Derek Lui, Los Angeles
Can we be our own judges? Do we see ourselves differently than others see us? My August was full of surprises. I auditioned for a lead role in a comedic feature. I was well-prepared. I spent a lot of time breaking down the script, working on the character, and making different choices. I walked in the audition room with confidence and believed I had a good chance to nail it.
I am sure some of you have experienced this. Let's face it, auditions don't always go like you planned. Sometimes you disappoint yourself in the room, sometimes you may not be able to deliver as good as you want, but sometimes you just have this gut feeling that you are hitting all the notes right. The casting director was laughing so much during my audition that both he and his cameraman had to cover their mouths with their hands so it wouldn't affect the filming of the audition.
Furthermore, before the audition, I asked the casting director a question regarding the character to make sure I was not going in the wrong direction, and he asked me to try out my choice first before he gave me an adjustment. Right after I did my read, he said, "See! I know I don't have to tell you. You got it right. That's really great. It's very funny." I went home feeling very happy, thinking that I might get the part even though I tried not to expect anything. Unfortunately, I did not get the part. I was still glad to have given a performance that I was proud of—even though, deep down in my heart, I was disappointed.
During the same week, I had another audition for a horror feature. It was one of those days you felt like you were a bit off. Even though I went in fully prepared, I felt I wasn't doing too good of a job during the audition. When I left the room, I was disappointed at myself because I thought I could do so much better. I was very sure I would not get it. So I told myself to move on, not beat myself up, and I promised myself to do better next time. Then I got the part. The director told me I did a good job in bringing something different to the character that they had not envisioned. I was shocked, and of course I was excited that I got the part. I just didn't really know what they saw in me that was unique. But then, we all know that's how things work in auditions. All we can do is just bring as much as we can to the table. The rest is not under our control.
Too many variables can affect the outcome of a casting decision. But life works in a similar way. Whether it's a job interview, a first date, a business meeting—we try our best to leave the best impression, but in the end, what people perceive in us may not necessarily be the image we are trying to portray. And the thing is, you will be perceived differently by different people, even if they all see you at the same time in the same light.
As actors, it's our job to create or bring in an image to fit in another's vision. As people, do we define who we are by ourselves or must we let others decide who are? Is there a perfect balance between them? I don't have an answer. Do you?
Nick Martorelli, Philadelphia
Rewind to a few months ago. My high school sent me an email with details for an alumni reunion weekend, and there was a panel discussion that caught my eye. Three alumni were returning to talk about their lives in the arts, and one of the speakers was going to be an Oscar-winning film producer. Being an aspiring producer myself, I rearranged my schedule so I could make the trip down to hear him speak. I'm not sure what scenario I envisioned regarding The Producer. Maybe I imagined talking to him and getting contacts so I could move straight to L.A. and start getting coffee for important people in big offices. But I'll confess that I did have those general fantasies as I pulled into a parking space and hurried to the panel discussion.
I'll cut to the chase and say I didn't get any contacts or shortcuts from meeting The Producer. He and his fellow speakers had heartwarming and cautionary stories to share, as well as quotes of inspirational wisdom. After the structured conversation came to an end, I said a brief hello to The Producer before chatting for 15 minutes or so with Dr. Fles, my high school English teacher. More than any other single teacher, Dr. Fles was an influential force in my education. He encouraged me to be a writer and would always challenge me to think deeper, or to think harder, when creating and analyzing text. But more than anything else, he was the teacher who inspired me to work harder, the teacher whom I most wanted to impress. He inquired about my acting career and gave me his email address, asking me to keep him informed about upcoming shows.
Flash forward to a few weeks ago. I thought I had lost Dr. Fles' email address, until a chance keystroke showed I had already saved his email in my contacts folder. With no expectations, I sent him a quick note about my production of "Henry V," which had one more week to run. Imagine my delight when I got an email from him saying he and his wife would attend the final performance. I was at the theater super-early the next day to set tickets aside, and I was nervous backstage before the show. He hadn't seen me perform in more than 10 years, and I was playing a high school English teacher who was modeled on Dr. Fles himself. I forced myself not to scan the crowd for a familiar face, and met up with him afterward in the theater lobby.
He loved the show, and he especially loved the classroom setting. He called my performance very "realistic," which is a high compliment coming from a professional English teacher. I had told the entire cast how excited I was to have him come see the show, and for him to like it was the best review I could have received.
Octavia Spencer, Los Angeles
For me, August 2010 will forever be deemed the month of clarity. Through the heat waves, restless nights, and bouts with bugs, there are three things I'm certain of: I will never see my scale register 125 pounds again (I haven't in 15 years. Okay, 20); most people are revisionists when it pertains to history; and grace like all things gets better with practice.
One of the highlights of my workday is when the 1st A.D. says over his walkie, "That's lunch." I look around at my crew and fellow cast mates and notice that we all have a glint in our eyes. The "I wonder what he's making for us today" glint. He is our caterer Wild Bill, of Tomkat's. Bill is based out of Nashville and is beloved by this little rotund Alabamian and our entire crew. Every day he prepares exquisite meals usually consisting of the customary salad bar (for those intent on getting in the RDA of leafy greens) a choice of fowl, fish, vegetarian, and red-meat entrees; a dessert bar with confections the local baker would envy; and peas, lima beans, or butter beans fresh from the farmer's market. Oh, and every Friday we have a live band. Pretty soon, my costumes will have to be let out.
At times I wish lunch was all I had to think about. But it's not. As I research the civil rights movement, I am haunted by the ghosts of Mississippi. Don't get me wrong, it isn't the only state that has those skeletons in its closet. However, it happens to be where this story takes place. So here is where I am: Mississippi circa 1962. Emotionally, it's a dark, somber place. Violent. I cringe when people try to tell me the way it was—their version of the story. As if the historians have somehow gotten it all wrong. I drink it all in but remind myself to save any outbursts for the screen.
And just when I think this pot is about to boil over, that venom will spew, that heads roll, the universe sends me grace. It comes in the form of the generosity of present-day Mississippians. It's a humid August night. I'm in Jackson, attending a charitable event where 500 people are expected. It's sold out. They pay top dollar to be here. Some have even given tens of thousands. Gulp!
I look around the room and realize that the median age of those in attendance is 55, thinking that some perhaps have their own stories. I don't ask and hope that they don't tell. They don't. But they are all excited to be here, beautiful smiling faces. For once, I am thrilled to be living in the present, experiencing the now. The past? Let's just say I've decided to let it be what it was without apology or commentary. It's not my place to judge but to be an example of where we are today.
Note: Octavia Spencer wrote this month's entry from the set of "The Help," based on the best-selling book of the same name. She is playing the role of Minny Jackson.
Richard Rella Jr., New York City
The Oxford English Dictionary defines faith as the spiritual apprehension of divine truths or intangible realities. Actors, in general, have an amazing amount of faith. Faith that our bodies will instinctively recall the choreography that we tirelessly rehearsed for weeks. Faith that our minds will hold the seemingly endless iambic pentameter verses. Faith that our voices will not crack on the soaring falsetto sections of 1960s classic rock songs. And, above all else, faith that our abilities can and will entertain people who are not related to us. This month, my faith was tested in many ways.
The uncertainty that accompanies this unstable career has often led me to question whether bills would be paid on time, let alone whether I'd be able to save enough money to ever buy a home for my family. After years of scrimping and searching, my wife and I purchased our first home on Staten Island. It is a lovely three-bedroom house with a front- and backyard for my daughter and a washer and dryer for my wife. Even as I write, I do it from the comfort of my study, which my daughter affectionately refers to as "daddy's woom," instead of my bed that doubled as my desk for the past two years.
The New York company of "Tony N' Tina's Wedding" finally closed this month. I was hired three years ago as an understudy and have performed in six different roles and in more than 500 performances. It was the longest-running engagement of my young career, and it taught me many things. Aside from working on my improvisational and singing skills, I learned the importance of teamwork and commitment. But as "Tony N' Tina's Wedding" closes in New York, my manager negotiated my first directorial contract for a charitable production of "Tony N' Tina's Wedding" at the Piazza in the Village in Dallas at the end of September. Thus I am reminded that opportunities to perform are in abundance and all around me. I simply need to keep myself open to the new and exciting challenges this career demands.
Finally, and sadly, my grandfather, Emanuel Lewis Mangano, passed away on Aug. 12. He was 89 years old and had begun to suffer from dementia. As my family continues to grieve this month over his passing, I am reminded of the words of my uncle, Francis Mangano, who succinctly spoke the eulogy at my grandfather's funeral: "As people of faith, we must believe that this is not the end for him. We must believe that Grandpa is beginning a new life: one where he's no longer weak, no longer cold, and has a full recollection of his time with us. Let us not say goodbye to him. Let us say thank you for all he has done for us, knowing we will be together once again someday."
Faith. Who knows what lies beyond this shallow world of fancy cars, new houses, and the busy lives we all lead? As a Christian, I am called upon to unquestioningly believe that we are all going to be in a better place when our brief time here on earth has passed. While we are here, we have to believe that our God-given talents and abilities will guide us to true and meaningful happiness and satisfaction. In the words of Helen Keller, "Optimism is the faith that leads to achievement. Nothing can be done without hope and confidence."