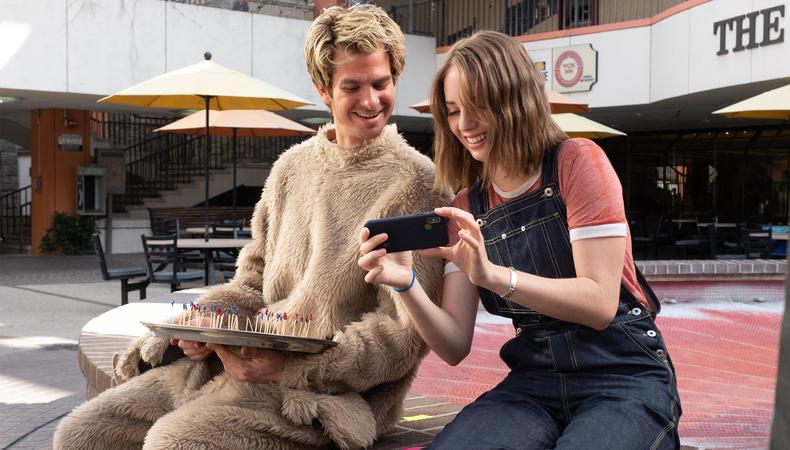 Gia Coppola's choice of words when trying to articulate our social media–saturated culture is, well, evocative: "I kind of felt like I was just vomiting emojis," she says.
So, of course, in her new film "Mainstream," which depicts an insidious journey through the depths of the mediated world, a character does literally vomit emoji. As she hits rock bottom, she retches shimmering cartoon diamonds into a bathroom sink.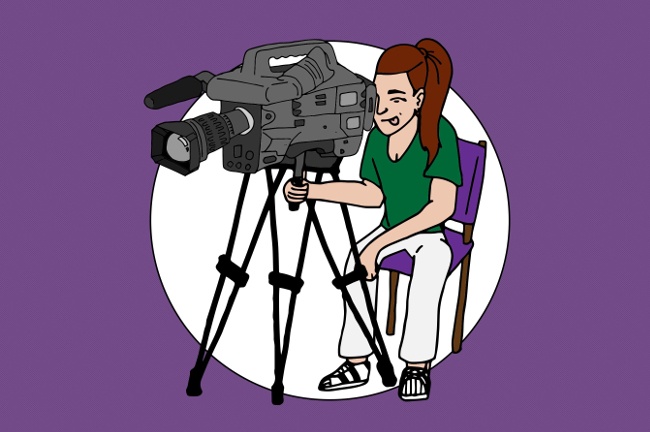 How to Become a Film Director
"That's what she's feeling in that moment; that's what I'm sort of going through," says Coppola, who directed the film and co-wrote it with Tom Stuart. "I was just really fascinated by [the question], How do you take this world that's so analog and not really tangible and tell a cinematic story about it?"
"With every art form, you want to hopefully connect…. And if you can do that with one person, that's enough."
The film, which was released May 7 by IFC Films, stars Maya Hawke as a bored Los Angeles–based artist and Andrew Garfield as her eventual muse. Only too late, however, does she realize that in creating an internet superstar, she may have also created a monster. It's a love story as allegory—or maybe it's the other way around. Regardless, audiences will be particularly taken aback by Garfield's performance, which grows more manic as the film wears on and additionally calls upon his physicality in ways none of his prior on-camera roles have.
"He's obviously super intelligent and very passionate about some of these themes, and so it felt like, you know, he could be a kind of mentor in guiding what I was trying to express and say," Coppola says of Garfield, who is also a producer on the project. "And he's very physically talented. There were all these elements to him that were fun to play with and showcase that I hadn't seen him do before."
Her collaboration with Garfield and her choice to give both Garfield and Hawke space to inform the characters as they were written on the page were very much in keeping with how Coppola prefers to work with actors. "I feel like you come up with the idea, but then once it gets into the actors' hands, they know the characters better than you do, almost," she says.
READ: Andrew Garfield's (Strange) Pre-Show Ritual
As this was only her second feature, Coppola doesn't claim to be an oracle of filmmaking advice. However, she does insist: The more singular your voice, the better. "I think as long as you tell stories that feel true to your own experience, those are the most interesting stories," she says. "No one else has your story."
She also gives the directive that every creator in every facet of the industry has been given before: Use the tools and technology and platforms available to you and put something out there.
However, given that "Mainstream" essentially details the dangers of investing too deeply in your online presence and persona, where does "make your own stuff" fall in context with the movie? Like social media itself, Coppola's opinion is a mixed bag.
"I feel very open to technology, and I think there are a lot of pros and cons," she says. "I think it's very interesting how you can be creative with new technology, and we've especially witnessed that with what's been going on during the pandemic, trying to find ways to connect with each other. But, of course, there are downfalls."
One of those downfalls, she says, is the potential threat to movie theaters, a space she considers sacred. "With every art form, you want to hopefully connect [with the audience] and make them feel seen or heard or less alone, and if you can do that with one person, that's enough," she says.
As such, she doesn't want "Mainstream" viewers to have a definitive opinion after they've watched the film. Rather, she hopes they simply look inward and figure out how it makes them feel in their own time.
She does however have one morsel she'd like audiences to ponder once the credits have rolled. Consider it a kick-off point for naming those feelings: "I guess the overall sort of idea," she says, "is all that glitters is not gold."
Looking for remote work? Backstage has got you covered! Click here for auditions you can do from home!