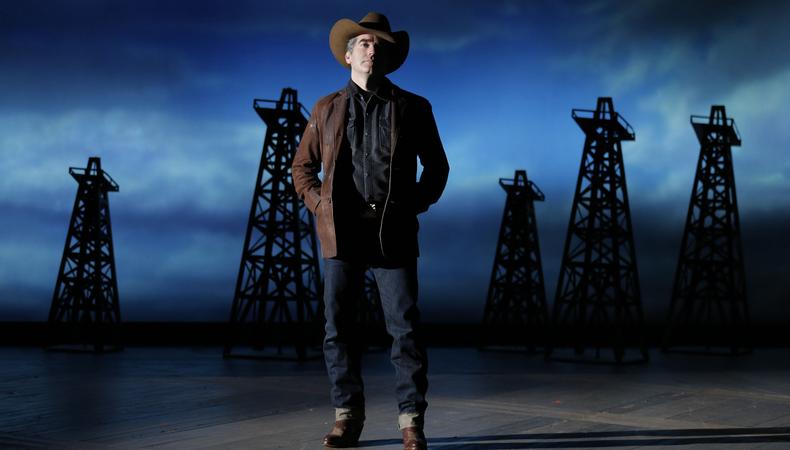 The authors of the new musical "Giant" possess the same soaring ambition that motivates their larger-than-life characters. Book writer Sybille Pearson and composer-lyricist Michael John LaChiusa have set themselves a daunting task in wrestling Edna Ferber's sweeping 1952 novel about the creation of then-modern Texas into shape as a three-hour show. That they have succeeded as much as they have is cause for celebration. At its best, which is often, "Giant" is compelling musical theater, full of interesting, complex characters and striking, multilayered songs. Pearson's taut book scenes have grit and depth and work hand-in-glove with LaChiusa's melodic Aaron Copland–flavored score. If the whole is never quite the sum of its parts, that's probably because Ferber's epic resists distillation.
It's 1925, and Jordan "Bick" Benedict, the scion of a Texas ranching clan, is supposed to marry Vashti Hake, the plainspoken daughter of a neighboring ranch family. However, on a trip East to buy a racehorse, Bick falls in love with the beautiful, strong-willed Leslie Lynnton, daughter of the wealthy horse owner. He marries her then and there, to the consternation of his rough-and-tumble older sister, Luz, who raised him after theylost theirmother when he was 5. Also in the picture is Jett Rink, a lowly ranch hand whom Luz treats as a surrogate son. The jealous Jett hates Bick and eventually becomes a dangerous opponent after striking it rich with oil. As the years pass, Bick and Leslie have son Jordy and daughter Lil Luz, who grow up to present complications of their own. Bick and Leslie grow distant, in part due to Bick's acceptance of the grinding poverty and smothering racism endured by the Mexicans he employs. When Jordy rejects joining his father in the family business and marries a Mexican girl and oil supplants cattle in the Texas economy, Bick finally must face his demons.
Director Michael Greif stages the show seamlessly on Allen Moyer's spare set, which combines with lighting designer Kenneth Posner's washes of color on a cloud-strewn scrim to effectively suggest the tale's vast open spaces. Greif is very good with transitions, using them to melt across years and places to finesse some of the huge story leaps.
The superb Brian d'Arcy James gives Bick weight and dimension, leavening the character's unlikable qualities with an innate decency. Kate Baldwin brings considerable substance to Leslie, particularly successful dramatizing the hardness that creeps into her, though Baldwin sometimes lacks fire. Both sing superbly, as does PJ Griffiths as Jett, but the sexy actor can't find the wild neediness that made James Dean so memorable in the role onscreen. John Dossett almost steals the show as Bick's no-nonsense Uncle Bawley, especially in his terrific first song "Look Back, Look Ahead." Other supporting standouts include Michelle Pawk's turbulent Luz, Bobby Steggert's strong but sensitive Jordy, and Katie Thompson's gallant Ashti.
"Giant" began life as a four-hour, three-act musical, and the collapsing of its first two acts into the one on display now hasn't been entirely to its advantage. That noted, I can't wait to see it again.
Presented by the Public Theater, in association with the Dallas Theater Center, at the Public Theater, 425 Lafayette St., NYC. Nov. 15–Dec. 2. (212) 967-7555 or www.publictheater.org. Casting by Jordan Thaler and Heidi Griffiths.
Critic's Score: B+