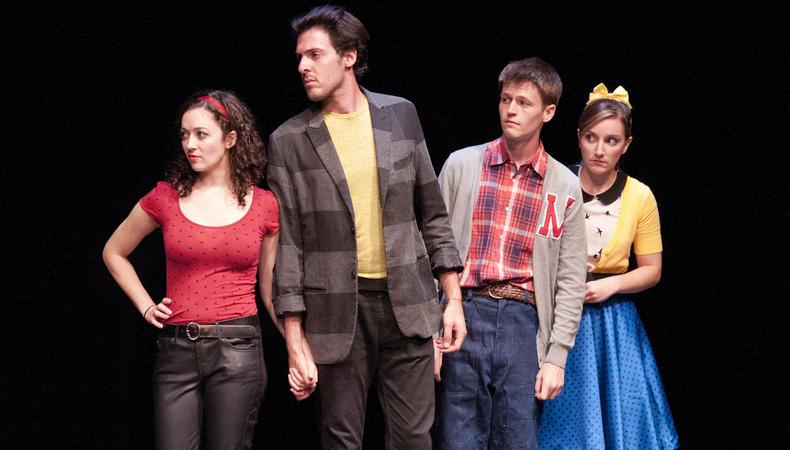 "How dangerous can slugs be?" asks the nasty yet naive small-town mayor (Artem Kreimer) in Colby Day's "Giant Killer Slugs." Oh, Mr. Mayor, don't even go there!
Day's comedy is a familiar lampoon of the mid-20th-century creature feature: the kind of over-the-top B-movie that gained a new lease on life in midnight showings as its camp value appreciated with the passing decades. The most obvious precursor to "Slugs" is the 1982 musical theater version of the 1960 Roger Corman film "Little Shop of Horrors," a work that comes to mind frequently here, mostly because Chris Ams' stylized slug puppets look like first cousins to Audrey II, the menacing "Little Shop" houseplant. But countless other stage, film, and TV spoofs have likewise had their fun with the genre.
In Day's scenario a comely local scientist, Dr. Kate Andrews (Jessica Frey), has inadvertently created slimy mutant gastropod mollusks that devour the townspeople in rapid succession. Also pursued by the critters are a group of "city slicker" teenagers: hormonally driven kids with faces and wardrobes out of an Archie comic book. At the heart of the story is Merritt (Shane Zeigler), the decent but moody local sheriff, a widower who only wants to move on to Denver to start a new life.
"Slugs"—directed by Daniel Johnsen—is an ambitious effort. The cast numbers 18, with very little doubling. Above and behind the stage is a screen onto which Cormac Bluestone's filmed prologue, elaborate title sequence, and interpolated establishing shots are projected. Bluestone has also fashioned an effective musical score and sound design, giving the quietest cricket chirp the same attention as the noisiest TNT detonation.
Johnsen has difficulty getting the right tone from his actors. There's a tendency to want to play everything big in something like this, but when what you're spoofing is already a camp-fest, you run the risk of overkill. The most effective turns, then, come from those actors playing things straight. Zeigler's brooding Merritt is nuanced and funny. So is Blake Williams as one of the more straitlaced city kids. His line "Thanks for giving me feelings" is one of most amusing in the play, due to his straightforward delivery. Also fine is Tobi Aremu as Charlie, a local kid who wanted to be a physician but lost his scholarship money. "Nothing beats working at the county morgue," he says, to nobody in particular. It gets a giggle—again, because it's delivered in the way a dedicated Method actor stranded in a second-rate monster movie might have delivered it 55 years ago.
Other droll, unexpected lines are sprinkled throughout the script, but the play doesn't earn as many laughs as it should. I wish there were more startlingly out-there moments to take the comedy up a notch, such as the sequence in which the mayor's secretary, Candy (Jenny Donheiser), gets everyone's attention by unaccountably stripping to her bra, sparking a range of double takes. That's more killer than a hand-puppet slug, giant or standard size.
Presented by Pipeline Theatre Company, in association with Theater for the New City, as part of the Dream Up Festival at Theater for the New City,155 First Ave., NYC. Aug. 22–Sept. 2. Wed.–Fri., 9 p.m.; Sat. and Sun., 8 p.m. (No performances Sat., Aug. 25, and Sun., Aug. 26.) (212) 868-4444 or www.smarttix.com. Casting by Lexie Pregosin.
Critic's Score: C