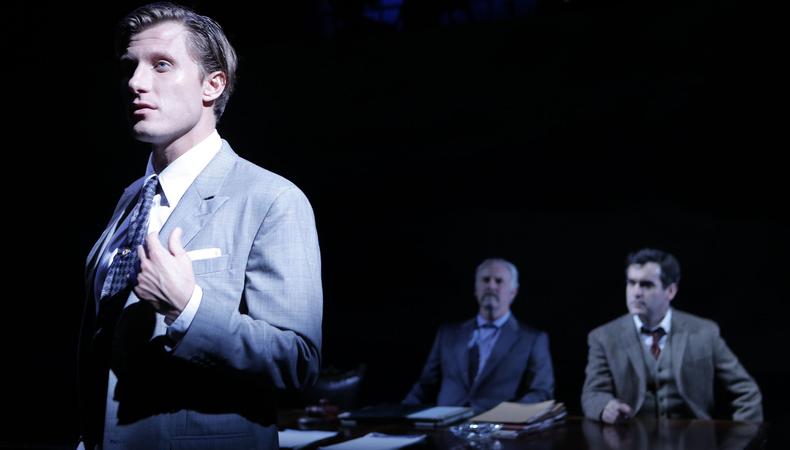 PJ Griffith uses the word "intense" a lot. He uses it to talk about everything from his rock 'n' roll roots to the wrath of superstorm Sandy, which derailed previews of Michael John LaChiusa and Sybille Pearson's new musical "Giant," in which Griffith plays wily ranch hand turned oil tycoon Jett Rink.
"It was intense," says Griffith, using his favorite adjective to describe the powerless week in lower Manhattan. "Thursday, we came back into a studio uptown because there was still no power, and we had this kind of magical rehearsal where we literally sat in a circle and did the show…We were all kind of just crying and talking to each other. It was a nice experience."
With the lights back on, Griffith is preparing to master the Public Theater's stage in the new musical, based on the book by Edna Ferber about a wealthy Texas landowner. Griffith originated the role at the Dallas Theater Center earlier this year, but musical theater is somewhat new territory for the singing actor. Though he's starred on Broadway in "American Idiot" and "Mamma Mia!," his roots lie in rock 'n' roll.
"It's so funny working with Kate [Baldwin] and Brian [d'Arcy James] because I'm from a totally different world than them," Griffith says. "I don't really approach it from kind of the normal, legit music theater lens."
What was your initial audition like for "Giant"?
PJ Griffith: It was a little intimidating. It was the biggest of big guns just sitting in a room. It was Michael Greif, who I've been dying to work with since I saw "Rent" on tour as a teenager, and Michael John LaChiusa sitting in Ripley-Grier rehearsal room. It was good. They've been really cool about me. I have a crazy weird chameleon of a role, that they were really encouraging me to just play and goof around in the audition.
How has your role changed since you did the show in Dallas?
Griffith: My part specifically has almost a head-to-toe rewrite. It's amazing. My wife just came to the show and she said, "I can't believe it's the same show."
What has that experience been like for you?
Griffith: I've never done anything like it. The whole preview process, we really haven't done the same show twice. It's a game of just forgetting every night and experiencing things for the first time. We've been keeping a close eye on the rise and fall of Mitt Romney for my second act speech. After the first debate, I got a bunch of rewrites and a new speech, talking about oil well depreciation and tax exemption on oil and brand new stuff that we put in for the first preview. Romney really wasn't even the forerunner; he was kind of a joke when we first did this. It's interesting to watch, especially, Romney's manipulation of words like values and using his passion for American values to push forward his own agenda. I thought that was a cool way to approach Jett in that speech where he's basically saying, "If you give me money, I'll guarantee that your politics stay the same. "
Another influence that you bring to the role is your rock 'n' roll background from show's like "American Idiot" and your band, Blue Movie. How has that helped you on this show?
Griffith: Pop rock stuff is kind of where my heart's always been at and where my career thus far has been at. I feel like in that sense of play, there are scenes where I've had Iggy-Pop-rolling-around-the-floor moments, which we eventually kind of weeded out. They kind of have tried to cage the fury sometimes. Michael John LaChiusa's creating new genres of stuff. He blends hints of rockabilly and kind of jazz stuff. Almost like Elvis-y rockabilly type stuff.
Well, your pants in the show are tight enough for rock 'n' roll.
Griffith: [Laughs] Right? The audience is right on top of us, too. I'm keeping it real. It's a long musical.
How has being a musician helped you as an actor?
Griffith: It's a different lens to look at performing. The going out there and not knowing what to expect, without really stressing and rehearsing and just, the like open and roll with the punches when shit goes down on stage. My band has played every basement in the East Village and every shithole around. It would take a lot to really phase me onstage if shit starts going down in this multimillion-dollar production.
What's the worst thing that's ever happened to you onstage?
Griffith: I was doing "Parade" at the [Mark Taper Forum]. We were spinning around in this crazy scene, and I was totally responsible for this table and Michael Berresse stepped on it and the table exploded in my hands. I don't know how this happened. In the middle of the show, the table exploded into a million pieces, a table of wood and nail. And shattered into the audience at the Taper. It was ridiculous.
You've done a lot of theater and music. Do you have aspirations to do film and TV?
Griffith: I have a little tiny role in "The Dark Knight Rises" as the sniper in one scene. I had one line and my line was "I've got something." I spent two-three days on set and learned how to fire a sniper's rifle and said one line, and I have gotten more high fives for that one line. No one cares about coming to any artsy theater that I've done. "I've got something" in Batman has made me a myth among friends. We did it in two takes; it was five minutes of work and 13 hours of sitting around. That makes me one mega hit blockbuster cooler than anyone I know.
Another side of your career is that you were a model, correct?
Griffith: No! I wasn't a model by any means. When I was doing "Mamma Mia," somebody from Abercrombie came to see the show, and was like, "Hey, would you be interested in this?" I did an Abercrombie campaign like "Stars on the Rise" in 2004 or something. It was a kind of ridiculous. I was looking angry, standing on a ladder, holding my shirt.
Those are the photos that come up when you're Googled, in case you're wondering.
Griffith: Awesome. That's great. That's my legacy. It's nice to know that if I died today the world would think of me angry on a ladder with my shirt off.