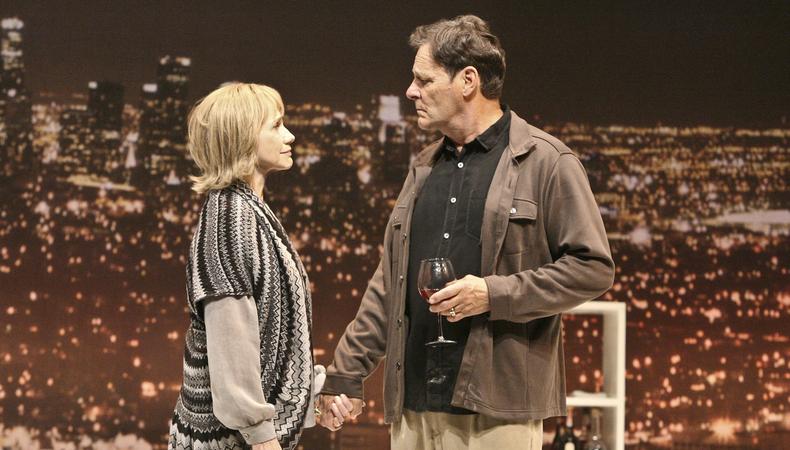 In "The Gift," two couples—one middle-aged and comfortable to the point of boredom, the second younger and brimming over with life and possibility—encounter each other at a tropical resort. Booze is consumed, mutual admiration is overexpressed, flirting takes place, and perspectives on life and art are detonated and then reassembled. One year later, when the four meet again, a shocking proposal is made, and everything changes.
Joanna Murray-Smith, who spins this delicate dramatic web, is no Edward Albee or Yasmina Reza. The bomb lobbed squarely into Sadie and Ed's plush L.A. living room just sits there, and nobody—not director Maria Aitken or her likable cast of Kathy Baker, Chris Mulkey, Jaime Ray Newman, and James Van Der Beek—knows what to do with it. Murray-Smith is a skillful playwright who is turning over questions of art and responsibility, but her play falls off the tracks right when it should be getting interesting. A work crafted to rip our guts out offers a spot of psychological indigestion instead.
The dilemma is filtered through the perspective of Sadie and Ed, who despite being wealthy have reached a stasis that renders them as plain as their names. Sadie thinks about the zest her life no longer contains. She both props up her husband and needles him. An expert character actor who played a different kind of stabilizing spouse on TV's "Picket Fences," Baker makes for a solid tour guide through the conundrum. Feelings of longing, envy, and, yes, love are at war within Sadie. Baker never emotes, but the toll that this existence has taken is clear.
Playing the character who actually takes a journey, Mulkey has the showier role. In Ed we get a man with solid if uninspired beliefs who is given a fresh mode of thinking to go along with his new life. Starting out as a wisecracking boor with a voice that suggests Tom Arnold, Mulkey ultimately brings Ed into the murkier territory of stunned silence, tears, and moral outrage. He plays this last emotion for dark laughs, which feels like a misstep.
Van Der Beek and Newman make for an attractive couple. In their hands Martin, a conceptual artist, and his Ph.D.–turned–arts journalist wife, Chloe, deliver a whiff of mystery, suggesting that these younger lovers also have something deeper and more sinister bubbling beneath their pretty exteriors. Van Der Beek, who has grown up smoothly from his "Dawson's Creek" days, is especially good at playing around with subversiveness. Newman—a veteran of Neil LaBute plays at the Geffen Playhouse—makes Chloe dangerous and knocks out of the park a monologue about pain and suffering.
Aitken's technically handsome production includes a storm at sea that is beautifully realized via the efforts of media designer Howard Werner and lighting designer Peter Kaczorowski. The true tempest is to come, but "The Gift" offers no umbrella to its buffeted characters, except perhaps the questionable notion that "art trumps all obligations."
Presented by and at the Geffen Playhouse, 10886 Le Conte Ave., Westwood. Feb. 7–March 10. (310) 208-5454 or www.geffenplayhouse.com. Casting by Phyllis Schuringa.
Critic's Score: B-