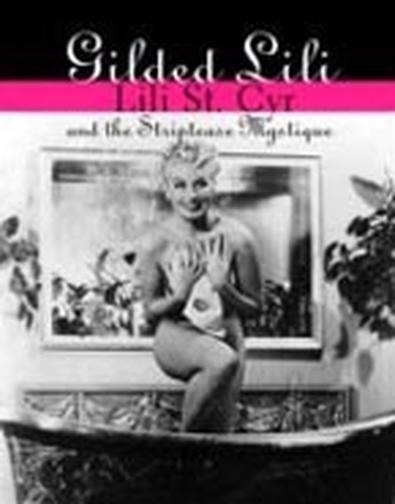 by Kelly DiNardo
The name Lili St. Cyr will mean nothing to most people today, although it may ring a bell with certain musical theatre enthusiasts, thanks to mentions in Pal Joey and The Rocky Horror Show. In the 1940s and '50s, though, this "classy" stripper — famous for her onstage bubble baths, portrayals of scantily dressed historical and biblical figures, and run-ins with the law — was a boundary-breaking pop-culture phenomenon and a precursor to Marilyn Monroe (who, arguably, emulated her).
However, unlike other sexually transgressive figures — Oscar Wilde, say, or Mae West — St. Cyr seems not to have shown a particularly compelling persona.
According to Kelly DiNardo's new biography, St. Cyr (born Marie Van Schaack in Minneapolis in 1917) started out as a glamour-craving young woman who, though originally labeled a "klutz," quickly developed a dancer's grace. She came to prominence during World War II, notably in Montreal. DiNardo's depiction of that city's racy wartime nightlife makes for fascinating reading.
As for St. Cyr's life and career, not so much. In the first 100 pages of the book (published by a corporate sibling of Back Stage), DiNardo zips through St. Cyr's lineage, childhood, early-career watermarks, and four of her six marriages. The remainder of the book is a downhill glide as St. Cyr moves from hard-edged Las Vegas in the '50s to tawdry carnivals in the '60s. St. Cyr seemed conflicted about her work, at times coming off as a proud iconoclast and at other times seeming a little ashamed or simply weary. She worked into her early 50s and wound up a heroin-addicted recluse, dying in 1999. "Viewed through the prism of her drug addiction and death," DiNardo writes, St. Cyr was "disregarded as a cautionary tale of a woman who paid the price for exploiting her sexuality. Yet viewed through the entire kaleidoscope of her life, the vision changes."
Academicians can argue whether biographies do injustice when they focus too much on the subject's ignominious end. Certainly, the final chapters of even abundantly happy lives tend not to be the sunniest. Still, readers will strain to view St. Cyr's life as a mixed blessing when the final pages of DiNardo's biography reveal the squalor and sadness of her final days.
Back Stage Books, 2007, hardcover, 266 pages, $24.95.