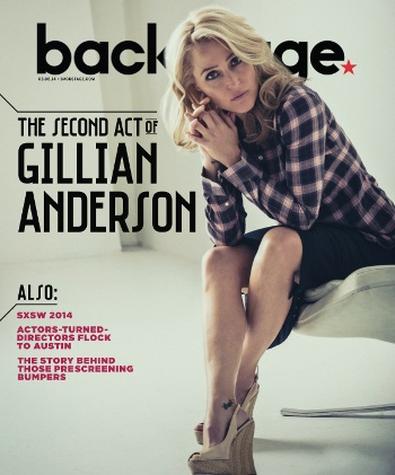 Gillian Anderson graces our cover this week, and she chats with Backstage about her roles on "Hannibal" and "Crisis", both on NBC. Check out a sneak peek from the feature below!
---
Gillian Anderson on the Power of Performance... and Sir Ian McKellan
Gillian Anderson considers herself to be a student of acting, citing Cate Blanchett as a hero. She's seen Blanchett onstage in London, and can often be found in the audience of a play—even going backstage after a particularly moving performance and weeping at an actor.
To illustrate her respect for the craft, Anderson invokes Sir Ian McKellen. "You've got the opening of 'The Lord of the Rings,' " she says. "It's the first scene, where you've got these rolling hills of Middle-earth, and you hear a horse-drawn wagon coming. And then you hear Ian McKellen's voice. In those first words, he has to fill that landscape and embody this character before you even see him, and [he has to invoke] the history of these magnificent books. In the first syllables that he utters out of his mouth, you are there with him."
Anderson contends that the flawed casting of a different actor—one without the weight and experience that McKellen brought to the role—could have changed the audience's experience. "A good script can be ruined by the wrong actor," she says. "The right actor can, I think, shift people in how they go about their lives. I feel that way about art in general, but I believe film—the medium that we work in—is transformative and can change the world."
Inspired by this post? Check out our audition listings!