Gina Rodriguez admits her training at NYU's Tisch School of the Arts (she was one of a handful of teenagers admitted at 16) was "an extreme experience. I had to really believe in myself. They like to remind you that 99 percent of you won't make it. And I used to say, 'Well, seeing that I am the 1 percent...' "
Now the titular character on "Jane The Virgin," the CW's much-buzzed-about one-hour dramedy, Rodriguez is enjoying star-is-born raves with good reason: A versatile, accomplished actor, she exudes positivity and is impossible not to fall for, both onscreen and in person.
Ben Silverman, formerly a producer of "Ugly Betty," was bowled over by Rodriguez's performance in 2012's Sundance standout "Filly Brown." The fictional tale of a hip-hop artist on the train to fame, the film didn't reach a wide audience but did become Rodriguez's Hollywood calling card. If "Ugly Betty" blazed a trail for strong Latina protagonists in prime time, "Jane" builds the next generation's freeway using comedy, drama, and every tonal genre in between. An assertive young working woman determined not to live her mother's life, she also happens to be in love and, yes, a virgin saving herself for marriage who winds up having the 21st-century equivalent of an immaculate conception.
By Page 3 of the pilot, Rodriguez knew she was reading her dream role. By the time creator-producer-writer Jennie Snyder Urman got to the third actor on her audition list, she knew she had found her Jane. "As I left, she said, 'It can't be that easy,' " Rodriguez recalls. "And when she said it, I almost started crying." Weeks of screen tests later, Rodriguez says she was "pulling hair out waiting to hear. I was training for this half-marathon, and it was helping me to get out of my head. I live in Santa Monica and it's two miles to the beach, so I run there, sit on the sand, and start praying. I'm like, 'God, if this is supposed to be my story, then it's my story, and if it's not, give me the strength to keep moving forward. I lay my career at your feet.' I leave the beach, start running, and my phone rings. Jennie goes, 'You got the role, baby!' And I started screaming in the street."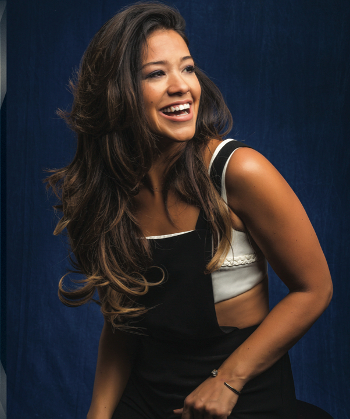 Rodriguez freely admits "Jane The Virgin" is "the job I was praying for, waiting for." Born in Chicago, she is the youngest of three sisters raised by Puerto Rican parents whose first flirtation with the arts was salsa dancing. "I was like, 'This is brilliant.' My household is very similar. I also grew up in so many different cultures and ethnicities, it was difficult for me to encompass all of my upbringing into a story in general. I would say as an actor it's very hard to find a story like yours unless you write it yourself, which will be done, but in the meantime, I read this script and thought, OK, here we are giving so much more. We are the heroes. But the show's main goal is to tell a story from an American girl's perspective. We all migrate here and have the American dream. You're going to know I'm Latina, but I don't need to tell you in the first two seconds that we meet."
Like "The Bridge," "Jane The Virgin" includes Spanish dialogue with subtitles, but without issue or apology. "The concept of my mother speaking to me in Spanish and me responding in English, that is my upbringing to a T," Rodriguez says. "And it's funny, my parents are mad that I am not more fluent, but I am really good and understand 100 percent and I am conversational—but when I do an interview in Spanish, I get a little nervous."
Of course it is not quite her story, based as it is on the Venezuelan telenovela "Juana la Virgen." Like not-really-ugly Betty, Jane wears no makeup and is positioned as a normal young woman—though Rodriguez does not look that way today post–photo shoot. "I don't look like this all the time, but I don't have a problem exposing myself. There's something not only freeing but vulnerable in knowing who you are and having comfort and confidence in your own skin. I think America [Ferrera, who played Betty] did a lot of amazing things for women who weren't born naturally thin, and America is gorgeous. We are all gorgeous in our own beautiful, unique, perfectly imperfect ways. Me being not a 2-pound girl is exactly like America and I think that's the No. 1 correlation, with the fact that it's a Latino family. 'Ugly Betty' opened doors for the idea that people should take risks on stories that aren't as traditional and stereotypical, because stereotypes exist for a reason. That was very helpful to have those people that came before us; the Moses, if you will...the parting of the seas."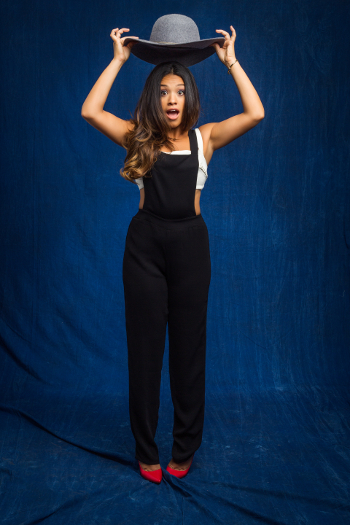 Rodriguez trained at NYU with the likes of guest teachers Philip Seymour Hoffman, William H. Macy, David Mamet, and Phylicia Rashad. She also left her training with detailed future career specs. "I want to affect people, I want to create change, and there are sacrifices that come along with that," she says. Her first Hollywood sacrifice was "Devious Maids." "My agents said, 'Will you just read it?' I read it and I was like, 'Nope.' And they were like, 'Just read it again.' I was like, 'Guys, I am going to need you to back me up on this, but I will read it again. And again, it's just not a part of my particular journey.' And then my agents go, 'We respect you, we are behind you.' My father and my mother were the ones that were like, 'What? What are you talking about? You are an actor, you transform, that's what you do. Don't be a sacrificial lamb!' "
These days they delight in the story their daughter told them days before the show had even aired. "I got pulled over by a cop the other day when I'd just got out of my garage. I didn't put my seat belt on and I am looking at directions to U-Haul because I am helping my friend move. He pulls me over and I say, 'I did everything wrong, I didn't have my seat belt on, I was looking at the directions.' And he says, 'You're that virgin girl, aren't you?' This 55-year-old white man! I said, 'What?' and he says, 'You're the girl on the billboards.' "
The girl on the pink billboards seemingly blanketing Los Angeles streets and New York subways wants to work with Demian Bichir ("He acts his ass off") and be the Latina Meryl Streep. "I've been saying that since I was 15. She transforms and gets gritty and peels off layers of her skin. She's not afraid. And I'm not afraid either. Jane is a gift I can give, a platform I can use to talk to girls and women and say, 'Yeah, I'm not makeup-ed up, I'm not weaved-up, and I am beautiful.' "
Inspired by this post? Check out our television audition listings!