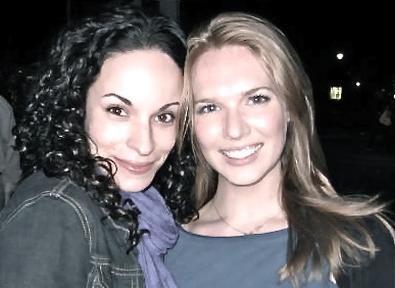 Our meeting lasted three hours. Sitting in a dingy, fluorescent-lit office while mice scampered around, Meg McInerney and I were sipping tea and coffee, respectively, and gushing about the three loves of our lives: theater, teaching, and girl power. We were also bonding over our common goals: to provide young artists with an inspiring acting/theatrical experience and to create theater that challenges communities. We were half venting and half brainstorming. We weren't satisfied with our current situations; we didn't feel creatively simulated; we wanted to do something...but what? Looking back, it was the best meeting of my life. I found my creative soul mate and, though I didn't know it at the time, I was about to embark on a fun, crazy, life-changing adventure. That day, Meg and I decided to take a big risk: We would quit our teaching jobs, move on from acting professionally, and start the Arts Effect All-Girl Theater Company.
And so it began Sept. 12, 2007, at 440 Studios in New York City, with 10 9–11-year-old girls we found through former teaching jobs and nannying gigs looking at us, excitedly awaiting their instruction. Could we create an experience we would have loved as girls? Could we empower these 4th and 5th graders through theater? We started that very first class with two questions: 1) Why is acting important? The girls glanced around at each other until Marcela (who is now 17, still a student of ours, and also an assistant teacher) said, "Acting is telling someone's story." Slowly the others followed: "Acting is being real." "Acting is telling the truth." "Acting is stepping into someone else's life." That's the thing about kids—like audiences, they're smarter than you think and it's best to never underestimate them. Question 2) What matters to you as girls in the world? The hands shot up, the floodgates opened—one student smiled and said, "No one's ever asked me that before." Meg ran across the street to K-Mart to buy an audio recorder.
Six years later, the Arts Effect All-Girl Theater Company exists as a nurturing, empowering space for girls to come together and artistically explore their world. Through a unique combination of intensive acting training, creative writing, debate and discussion, mentorship, and public service, members of the company become change agents utilizing the power of the theater arts to share their voices, challenge their communities, and inspire their peers. It's been brutally hard at times, often a blast, and always rewarding. We've produced three original plays, brought theater arts programming to communities throughout the Northeast and the Midwest, and across the globe to Indonesia, developed arts-based storytelling workshops for youth trafficking victims, and created content for the likes of Equality Now, MTV, and LittleMismatched. Most importantly, we've had the privilege of listening to girls.
That's the key to our creative process: listening. (It's not coincidental that it's also the key to great acting.) We begin each project by bringing our girls together for weekly sessions, asking questions and listening. Members of the ensemble share anything and everything going on in their lives, completely uncensored. After countless "me too" moments (connection through storytelling), we identify the running theme in the girls' experiences: body image, social media, sex, and slut-shaming are recent examples. Then "The Idea" emerges. From there it's a rollercoaster ride of character development and script writing through journaling, improvisation, and just messing around. Our goal is never to create a piece of cute teen theater, but to tackle hard-hitting material that sparks conversation and reflects reality.
Throughout this whole journey, the girls train. Meg and I are Strasberg devotees, and we've found the Method to be the perfect acting technique for teen girls. Teach a girl sense memory and she'll learn empathy, understanding, connection, and the importance of vulnerability. As we've prepared for any of our projects, such as "KEEP YOUR EYES OPEN," "facebook me," and "SLUT," we always learn as much as we teach. I'm not sure you fully understand the power of acting until you teach it, explain it, and share it with someone. The more we challenge the girls to risk and invest, the more we dare to leap. Watching the girls strive for authenticity of story, character, objective, and voice motivates us to do the same.
It's an exciting exchange that extends to the community. So much so that the girls have even attracted the attention of their (and our) heroes, such as Gloria Steinem and Hillary Clinton, women who have discovered a kinship with the girls because they understand the courage it takes to put yourself out there. Trailblazers who've offered their support and enthusiasm because a group of girls had things to say and asked them to listen.
Opening night of the sold-out run of our first play, we watched our badass crew of actors, feminists, and activists command the stage and speak their truths as Amy Poehler held our hands and cried with us. It's that inspiring to watch a girl recognize and own the power of her voice.
The Arts Effect All-Girl Theater Company's production of "SLUT," directed by Katie Cappiello, will run through Aug. 25 at the Lynn Redgrave Theater, 45 Bleecker St.